The Greater Mana Expedition
Whereas our last post showcased the well-known beauty and photographic magic Mana Pools has to offer, through this blog I wanted to illustrate some of the lesser-explored and more secluded areas of this national park. What many don't know is that there are private concessions that run the whole length of the lower Zambezi River Valley. Great Plains Conservation has acquired the Sapi Concession, a truly wild tract of land that incorporates all elements of the breathtaking Zambezi valley. Our group embarked on what is known here as the Greater Mana Expedition, with a combination of three camps collectively hosting us on a six-night adventure through the concession. A festive group of close friends looking forward to doing some amazing exploring here together! In fact, due to my full-hearted enjoyment, I apologise for the lack of photographs. I truly hope what I did manage to capture, however, does these little-known areas of Mana Pools justice…
After boarding our Pilatus PC-12 and landing at the Chewore Airstrip, our adventure was well underway. We started at Acacia Camp before moving onto Sky Beds Camp and eventually ending off at River Camp. The expedition spanned six nights across these three incredible camps, all located in the Sapi concession. The ultimate goal was to visit and experience the lesser-known parts of this glorious National Park. There were no fences around us, meaning we had little limitation in what adventuring could be done. A combination of game drives, bush walks and sumptuous food stops were how we filled our days! Not to mention some lion tracking on foot which also got our blood pumping…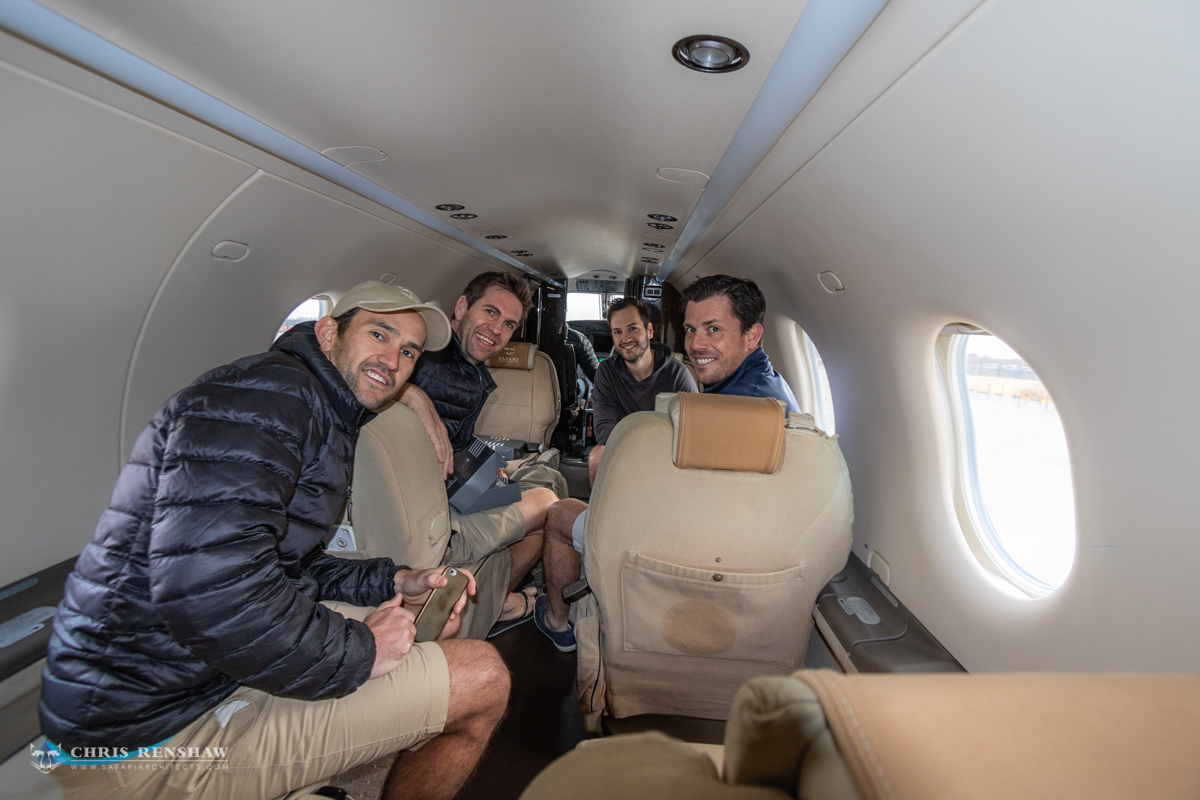 These scenes are typical of the floodplains that run the length of the Zambezi valley: the Mana elephants spend their time moving between the tree lines, the floodplains and the river to feed. These frequent movements of these resident giants make the perfect scene for on-foot game viewing, an activity Mana Pools is famous for. We explored, walked and marvelled at this beautiful and intense sliver of Africa, with the mighty Zambezi River always near by as constant companion.
On day three, we headed to our new camp, Sky Beds. This is in the drier interior portion of the concession, nestled in amongst some massive mahogany and African ebony trees. The concept is simple: you sleep on a raised deck under only a mosquito net, completely immersing yourself in true African wilderness. You will not need to leave the camp, however, we did some fantastic walks in the dry river bed, saw fantastic bird species and watched the natural watering hole below from the deck. This camp definitely had a truly spiritual feeling about it, all of us felt at one with the bush and completely rejuvenated when we departed. Oh, and let's not forget the pack of African wild dogs that we tracked on foot: they were relaxed but as the bush was thick we decided to keep our distance.
The last camp, River Camp, was my personal favourite. I am biased though… coming from an aquatic science background, I am an avid fisherman. Therefore, the thought of getting on a boat and spending time searching for monster tigerish was incredibly attractive! We also underestimated the amount of land animals we would see from the boats and close to camp itself! We were treated to a symphony every night – lions roaring, the rasping bark of a leopard, all reaching a crescendo with the high-pitched cackles of hyenas. The Zambezi valley was definitely alive and well!
Once out on the boats, the tiger-fishing competition commenced. Understandably after a few hours of no fish, spirits started to dwindle. Fortunately, however, the cooler box had some ice cold beverages waiting for us, so we quenched our thirst while waiting for the beasts to awaken and bite.
Eventually, our fish friends did get hungry, and once this happened amateurs became professionals and the "fish lust" had struck! We were also all intent on catching the biggest fish once we saw what lay in these waters. Well done to all who had luck landing and safely releasing some of these massive fish. In addition, I must say congratulations begrudgingly to Justin, who just happened to catch the biggest fish of the day!
Not many things can beat an African adventure with good friends whilst watching a golden sunset over the Zambezi River. Thank you Great Plains Conservation for the amazing experience and the vision you have so successfully implemented surrounding this special piece of Africa. It will thrive, and will continue to reward guests with life-changing experiences and unrivalled magic!
Regards,
Chris and The Safari Architects Team