Southern Africa Safari
To be able to explore three different countries whilst taking in multiple experiences without rushing… Sound impossible? Not when you have your own aircraft, amazing destinations and experienced guides to lead you through a magical safari experience.
The Safari Architects team spent the festive season doing just that – being festive, whilst on an epic safari with an incredible family through the wilderness of Southern Africa. Our destinations included South Africa, Botswana and Namibia. Starting in the beautiful icnoic Sabi Sands, moving up to the waterways and islands of the Okavango in Botswana, exploring the desert dunes of Namibia, and ending in the famous Cape, this safari was sure to be a truly memorable one.
Mala Mala was the first stop on our journey, and with a global reputation for some of the best wildlife viewing in Africa, it did not disappoint. What we experienced in three days was beyond incredible and thoroughly surpassed our expectations. Mating leopards and a cub, wild dog chases, lions (including a four-male lion coalition) rhinos interrupting drink stops, elephant herds, grumpy buffalo bulls, striding giraffes, zebras and so much more. It is difficult to put into words the effect these sightings had on all of us, therefore to help illustrate the magnitude of these experiences, we have put together a few photographs from our time at Mala Mala.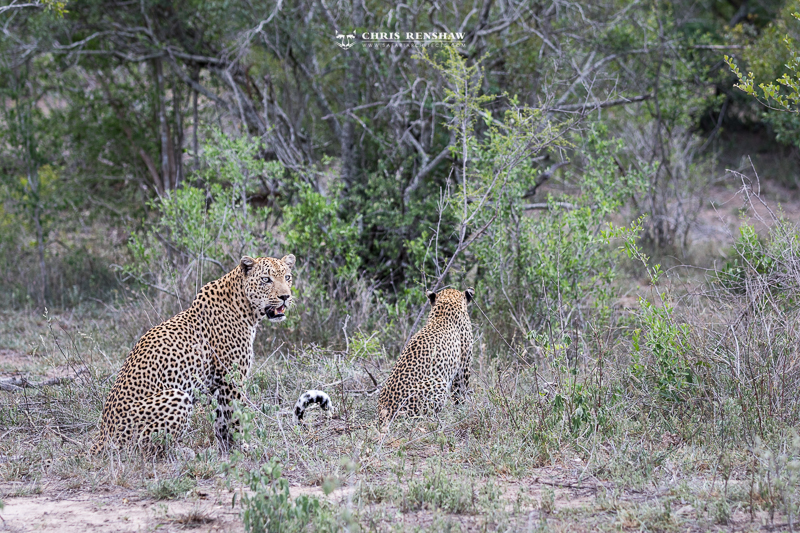 A true highlight from our time in the Sabi Sands was a sighting of the Mantimahle male lions, who are becoming a formidable force in the Sabi Sand Game Reserve and Mala Mala. They sauntered in from the Kruger National Park during the night and once we got the news, we knew we had to find them! We were treated to a fantastic sighting, the males walked slowly through open clearings on a mission down to the Sand River. Our experience only became more exciting as the lions approached the river. There, they bumped into a small group of buffalo bulls which caused an interesting game of "cat and buffalo" to ensue.
For any guide with many years of experience, seeing a leopard cub is a privilege. However, to find them in a den with their mother at only eight weeks old is extremely rare. Therefore, being able to share this with guests who are visiting Africa for only a brief time was something extremely special. This small cub entertained us for almost an hour, nursing from its mother and then being left to play on its own. Climbing rocks, chasing a butterfly and finding its way into the flimsy branches of a nearby Bushwillow tree. It was a spectacle we will hold dear to us forever.
After a magical few days at Mala Mala, we enjoyed our last evening game drive with a drinks stop in a quiet and serene grassland in the northern reaches of the property. Whilst quietly enjoying our drinks, we were enthralled to see a female rhino and her calf slowly making their way towards us. In the distance, a lone hyena was strolling across the open plains. Moments like these are priceless and we feel so fortunate.
The next leg of our adventure saw us leaving South Africa and making our way toward the Okavango Delta in Botswana. Little Vumbura Camp was our first stop, located on a tiny island surrounded by the waterways and channels that make this place so glorious. A plethora of wildlife lives in this magical place and the best ways to experience them are through a combination of boats, mekoros (dugout canoes), game vehicles and helicopters. The crystal clear waterways of the Delta have an immediate cleansing effect on one's soul. There is nothing that compares to the magic of this unique wildlife spectacle. Teeming with wildlife and birds in abundance, in addition to being as remote as one can be, there is no guessing why this is considered one of the top wildlife destinations of the world.
Wildlife viewing in the Vumbura concession is always fantastic. We were treated to every animal encounter imaginable, the highlights being a male lion feeding on hippo in the middle of a flooded area, three tiny lion cubs, wild dogs and their pups and over twenty Sitatunga antelope from a bird's eye view in a helicopter. Our time at Little Vumbura was calmly brought to an end in style with a surprise drink stop in an open floodplain. With our feet in crystal clear water, we toasted to a remarkable few days.
As we sipped our crisp G&Ts, listening to the sounds of the bush around us with Bruce Springsteen in the background, we noticed a pair of mating lions in the distance roughly about 150m away. They were totally un-phased by our presence as we stood in awe of this rare marvel.
Mombo Trails Camp on Chief's Island was our next stop. We changed modes of transport this time around and opted for a helicopter flip with no doors instead of our trusty Pilatus PC12 aircraft, and what a way to see the Okavango Delta in all her glory! From the air, in a helicopter, it is far easier to get perspective of the sheer size and magnitude of this watery paradise. The team was even lucky enough to see about 20 shy Sitatunga antelope feeding waist deep in water. Until now, none of our Safari Architects team have ever seen so many!
It is said that Chief's Island is where animals go when they go to heaven. It has a diversity of habitats that is able  to accommodate a huge variety of animals, meaning game viewing here is utterly breath-taking. Having had great fortune until this point, we shifted our focus from quantity of game to specific interactions. In this case we were after black rhino and cheetah. After a few days of hard work and more lions and leopards, we were blessed with some amazing interactions and unique encounters. To start with, we experienced watching a wild dog hunt, although unsuccessful, the whole process of the most successful hunter in Africa applying their trade was fascinating. On the way home, already buzzing with adrenaline, we bumped into what we were hoping for, a cheetah literally five minutes from Little Mombo Camp. Gobsmacked!
Another first for Chris and Mike was the privilege of following a caracal hunt. Rarely seen and hard to spot, to even get a glimpse of one is special. She allowed us follow her for about fifteen minutes while she hunted for birds in thickets. The last creature, that had thus far averted us, was the black rhino. Having seen a hundred rhino-shaped rocks, and with two hours left of our last game drive, we still had hope. Therefore, when four (yes, four!) black rhinos emerged into a clearing, to say we were ecstatic would be an understatement. What a magical experience! An elephant joined the scene too, and after a while the short-tempered beasts were in between us. The elephants and rhinos then engaged in some interaction and from a safe distance, we marvelled at the scene in front of us.
Mombo and Chiefs Island truly blessed us! We even saw a beautiful leopardess, known in the region as "Pula". "Pula" translates to rain or blessing in Setswana, and to include her in the myriad of creatures we saw, this title was only fitting.
After nine days on safari between the Sabi Sands and the Okavango Delta, our guests were in for a real surprise at our next destination. In complete contrast to our experience thus far, we headed west toward Namibia and the desert of endless sand, Little Kulala in Sossusvlei. Completely different terrain than our destinations before, the harshness and ruggedness of the land exuded a unique kind beauty. Adventure awaited, and we were here to explore! The famous Deadvlei of Sossusvlei, climbing the world's largest sand dune aptly named "Big Daddy", to quad biking in the reserve and magical sunsets with views overlooking this vast red utopia.
Hot air ballooning over one of the oldest desserts on the planet at sunrise is one of those ethereal moments in one's life. On our last morning, the team floated up at sunrise and got a chance to see the rolling dunes and vistas in the magical photography hour. The morning light caught the tips of the fire coloured dunes perfectly, which Mike truly managed to capture effortlessly and beautifully!
Bidding farewell to the dunes, we boarded our aircraft and after a quick flight from Namibia to South Africa, we were in Cape Town. An action packed few days awaited us with the team from African Lynx travel. On our first morning in Cape Town we were greeted by our guide, Rodger, and off we went on our new adventure. This was going to be a true all round experience of what the Cape has to offer. An informative drive led us to a viewing point over looking Kalk Bay and then a short walk down into the village. We stopped for coffee and pastries at the Olympia Café & Deli, now an institution within the Kalk Bay community. The old fish-and-bait shop, once simply named Olympia Cafe, was renamed in 1977 to Olympia Café & Deli and to this day welcomes pastry loving patrons from all over the globe.
With our appetites satisfied we headed to Cape Point to enjoy views that only the Cape can offer. Stopping at a secluded private bay, we put our feet in the ocean, had some fantastic local coffee and told endless stories of our travels so far. Rodger then entertained us and told us to save our energy as we would be climbing Table Mountain later that afternoon. After a short break and downtime at our hotel, The Cape Grace, we headed out to conquer one of the new seven Natural Wonders of the World. A little tougher than one would think, we ascended Platteklip gorge. With our heads down and the motivation of a cold beer at the top ringing in our minds, we eventually made it! On a clear day, the view can rival or beat any on the planet. We took it all in, had a few laughs and reflected on our magical trip.
The last experience for us, on our final evening together, was shared at The Pot Luck Club. It was an evening of reminiscing, storytelling, laughter and great fun. We spoke in length about each new experience we had had and the trip's highlights whilst indulging in some world class cuisine. The evening and the entire safari was characterised by the laughter and never ending banter between this special family and our guides. Two weeks together and we truly felt like one big family!
From our Safari Architects team, thank you to the Gallea family for allowing us to plan and host you on this adventure and for being so open to what Africa has to offer. You welcomed her into your hearts with open arms, and she left with you a piece of herself that we hope will stick with you forever…
Chris, Mike and the Safari Architects team.