A week in the Linyanti and Okavango Delta
We kicked off this year with another Botswana adventure to the infamous and incredibly beautiful Linyanti and Okavango regions. Crystal clear swamps, rolling floodplains and shaded woodlands were just some of the amazing terrain we explored. Expecting everything to be rather dull and dry as a result of the severe drought Southern Africa has endured; we were rather blown away by how much water the region has had in recent weeks. The bush is transformed into a green jewel, flourishing and blossoming with all the new summer's growth. 
Water everywhere… This was most definitely the theme of the trip! We had not seen so much rainwater in Botswana for as long as we can remember. The transformation was not a hindrance or something that put a "dampener" on our spirits. The Linyanti and in fact the whole of Botswana, much like South Africa, has experienced one of its worst droughts in recent history. The areas we visited have perennial river water via the Okavango Delta and the Chobe River systems (which have been pushed to their limits now), but the surrounding habitats and grasslands were like the Sahara Desert just a month ago. If we could show you a picture of the difference a month and 300mm of rain does, it could make anyone believe in miracles!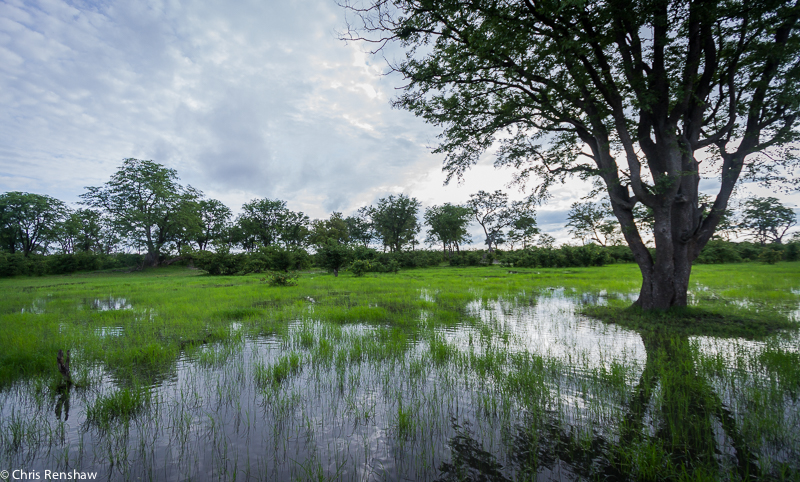 The first 2 nights we stayed at Wilderness Safaris' Kings Pool Camp. Whilst in the Linyanti Concession we popped into see Duma Tau and Linyanti Tented Camp.  From there we moved into the Okavango Delta, staying two nights at Wilderness Safaris' Jao Camp and Sanctuary Retreats Chiefs Camp. Linyanti Tented Camp (LTC) is in a very remote corner of the concession. The camp itself has two separate main areas, servicing 4 rooms each. Two different groups could easily take over a side each and not interact with each other at all. It's a great private option in an incredible location that's very comfortable too.
Linyanti tented camp(LTC) is located in a very remote corner of the concession. The camp itself has two separate main areas, servicing 4 rooms each.Two different groups could easily a side each, and not interact with each other at all. A great private option, that is in an incredible location and is very comfortable.
During our quick visit to Duma Tau Camp, we met up with Mama Bee and her team and explored their region. Located on a large body of  water, their floating deck in front of the camp is is a place that one can spend a whole afternoon or evening, soaking up the sounds of Africa, letting the slow ebb and pull of the water rock you off to sleep.
After a short 30-minute flight skirting storms and wet weather, we landed in the middle of the Okavango Delta at Jao camp. Although it was rainy season, the floodplains were exposed as the seasonal flood from Angola had not yet arrived. This allowed us to traverse the Jao flats and , marvel at the incredible diversity of water life watching all the larger creatures enjoying the greener surroundings. The lodge itself is fashioned on a treehouse model, looking out over the Okavango.  You can almost imagine what it would be like to be Simba in the Lion King… everything the light touched belonging to his kingdom.
Our last stop was Chiefs Island. Not only a very, very special place within the Okavango Delta but also within  the Moremi National Park. Chiefs Island is steeped in history and has, arguably, some of the best wildlife viewing on the planet. It's a true Paradise for all wildlife. We stayed at Sanctuary Retreats', Chiefs Camp. Located in the Northern reaches of the island, guests are ideally placed to bear witness to all the splendors around. Oh, and the beautifully designed lodge is in immaculate condition post their recent re-build!
After a fantastic week spent in these magnificent places that appear refreshed and vibrant since receiving a deluge of rain, we came back revitalized and ready to begin the 2017 safari season. Just like the parched earth, we soaked up all the incredible goodness that a week in the Linyanti and Okavango exudes. We cannot wait to feel that immersive feeling again.
Perhaps next time you'll be with us?