Africa On Our Doorstep
Just a little over two years ago, I guided four fantastic guests through Namibia on an amazing adventure. Now in 2019, I was asked to guide them again through four new countries on another life changing safari. Excitement had been building for a long time as the trip was booked more than a year prior, and it was finally time to leave.
Our first surprise for the guests was the fact that we had upgraded our aircraft to a Citation M2 jet, otherwise known as a Mustang. This incredible machine is the second of its kind in South Africa, and we were excited to see what it could do! What would normally be an hour-long flight to Mala Mala took us a mere 30 minutes in this impressive, fast and luxurious machine.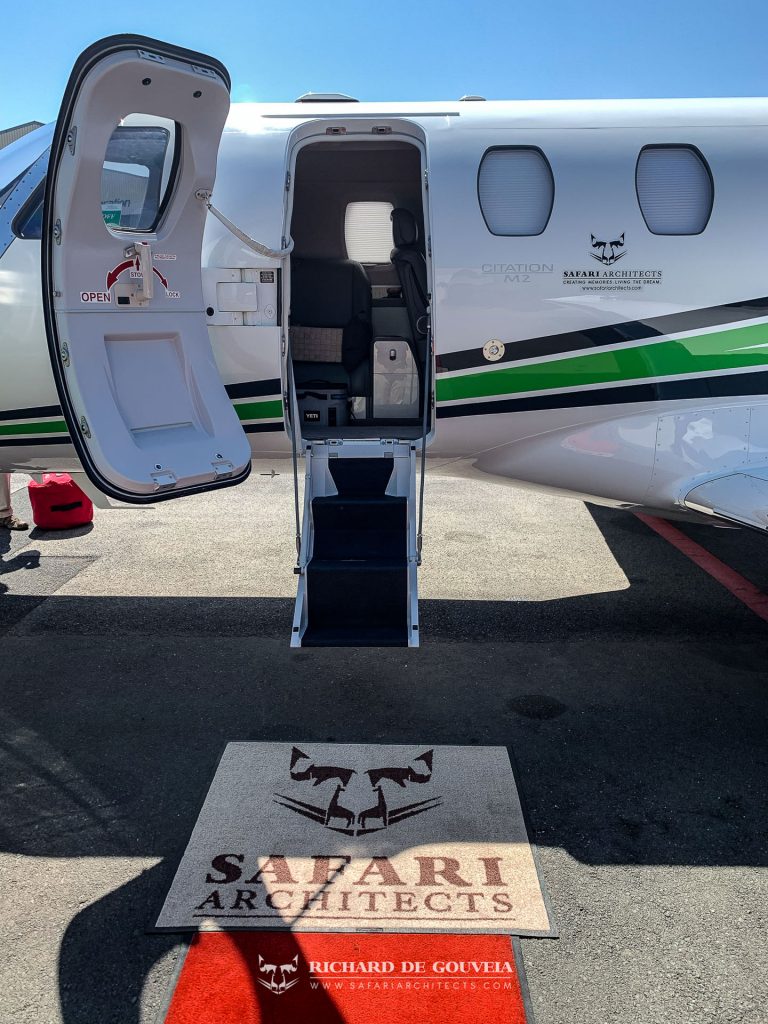 As always, Mala Mala is a treat and an over-indulgence into big game viewing! From our arrival we enjoyed incredible sightings, which carried on right through our entire trip. Our first sighting was a lioness from the Kambula Pride who had with her, her three-month-old cubs. The cubs were hungry and were trying to get to their mother's milk while she lay napping in the riverbed. One of the cubs even tried to dig under its mother to get some nourishment! Over the next few days, we enjoyed numerous sightings with her as she moved the cubs up and down the Sand River.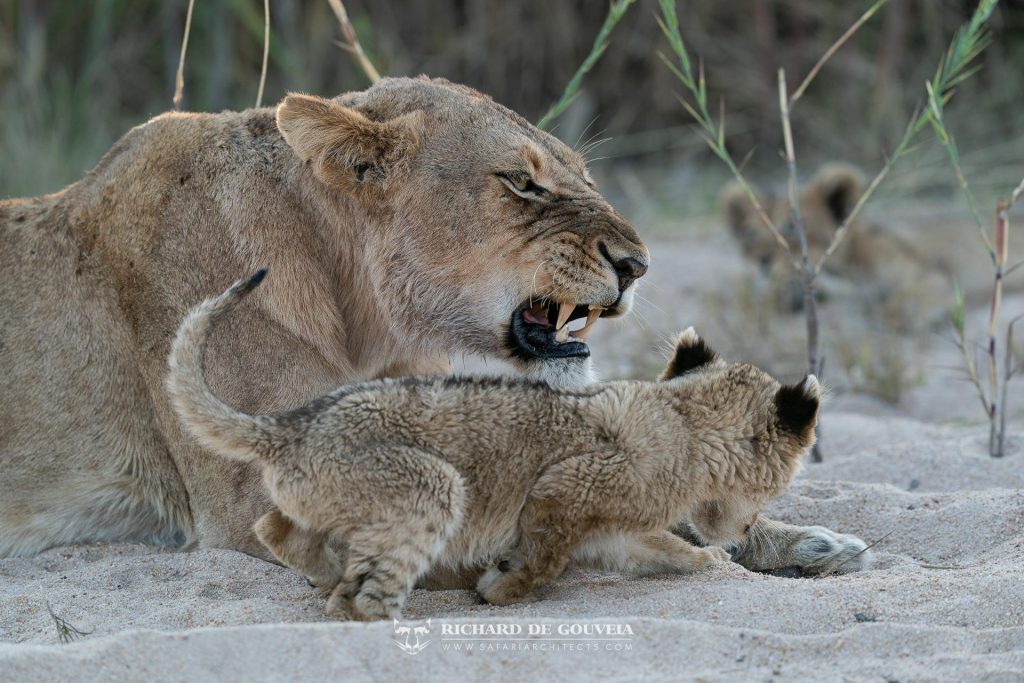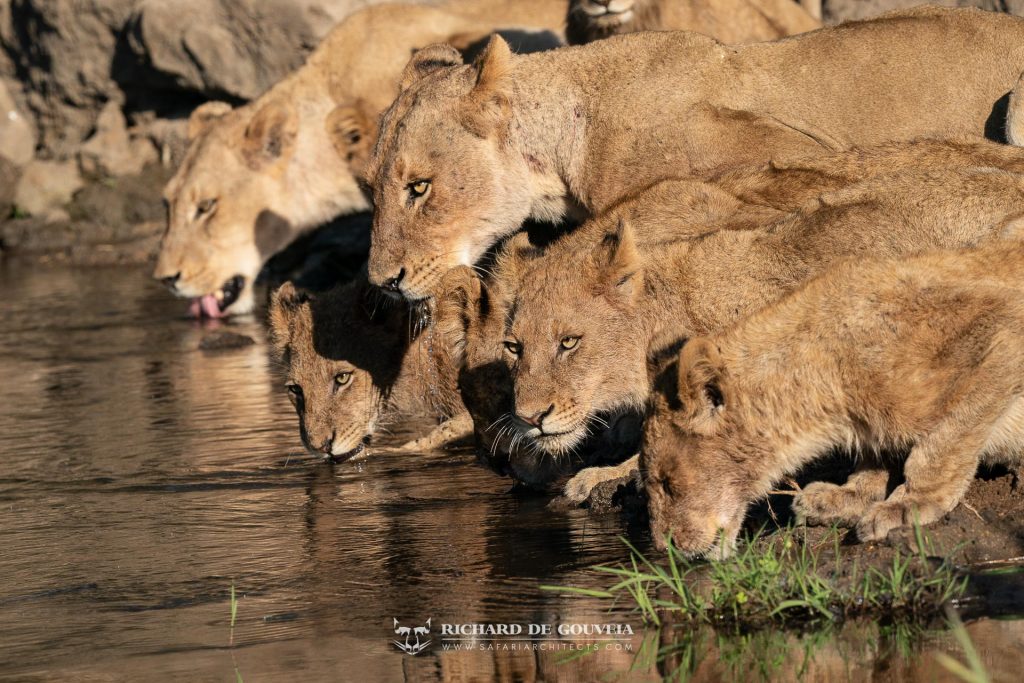 We were lucky enough to see a brother and sister cheetah, resting peacefully after feeding on an impala they had hunted down in the morning. They were not the most active animals on this particular day, but their beauty and constant need to look around kept the sighting interesting, especially when one decided to take up a position on an ancient termite mound at sunset.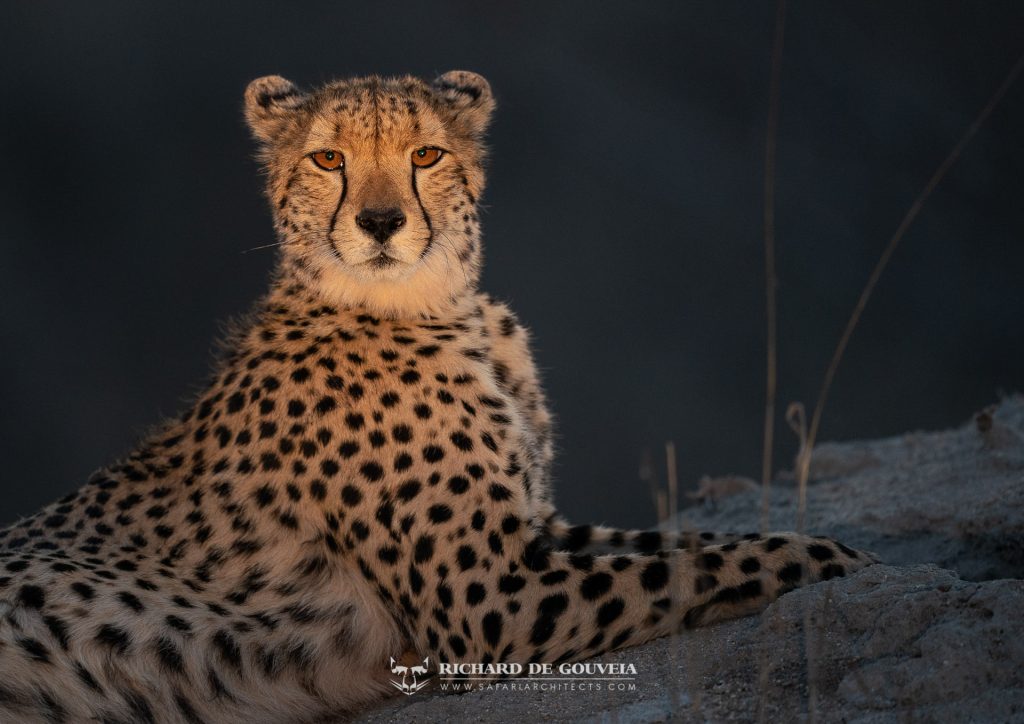 Hereafter, the sightings came in thick and fast! From watching leopards interacting along the riverbed, spotting wild dogs at their den site and watching plenty of rhino and buffalo on the move, we were beyond spoilt. One of the highlights was following a herd of elephants as they moved in single file towards the river for a drink! We kept looping in front of them and having them pass by us. Each time they got more and more relaxed with our presence which gave us the opportunity to feel like we were part of the herd.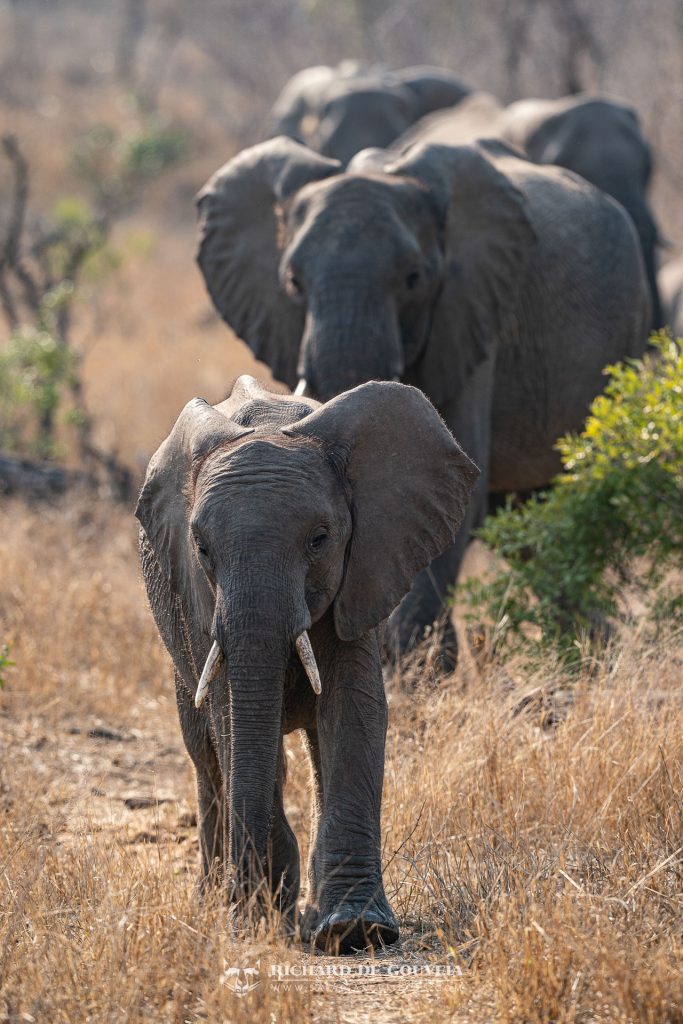 After Mala Mala, we hopped back aboard our M2 jet and got cruising to the north of Botswana. Once on the ground we boarded a boat which took us to Namibia and then onto our floating home, the Zambezi Queen. This luxurious house boat floated along the Chobe river offering countless sightings of elephant, buffalo, hippo and crocodile. We literally saw thousands of elephants daily and the mornings were dedicated to heading out on the skiffs to do some sightseeing and birding.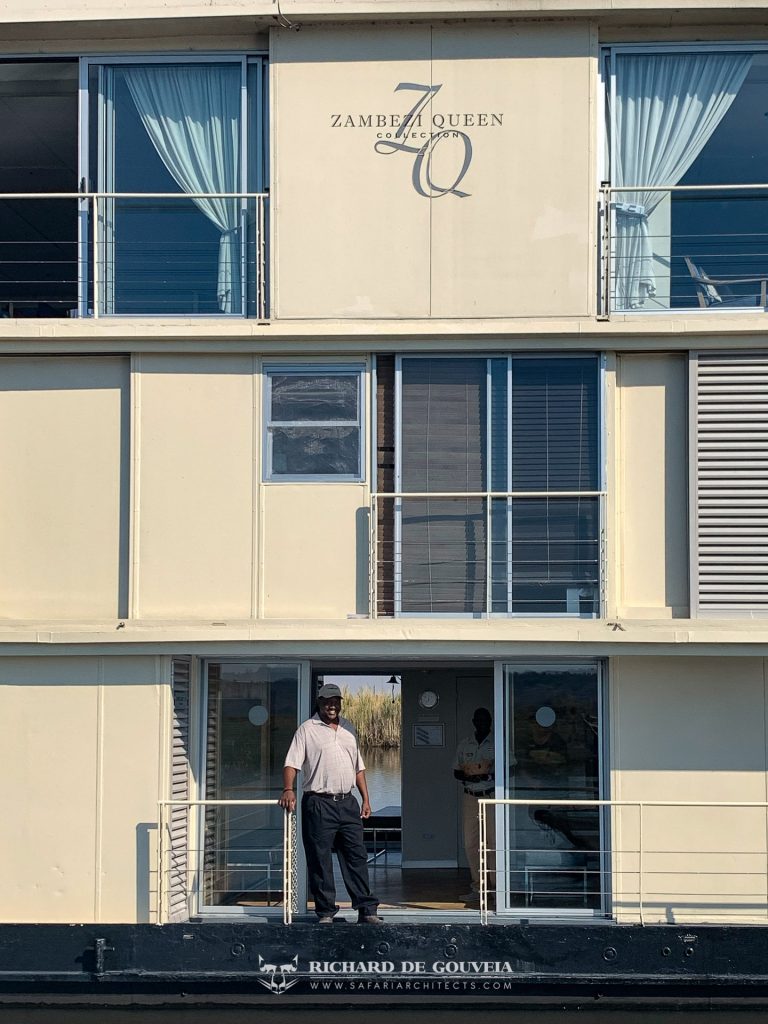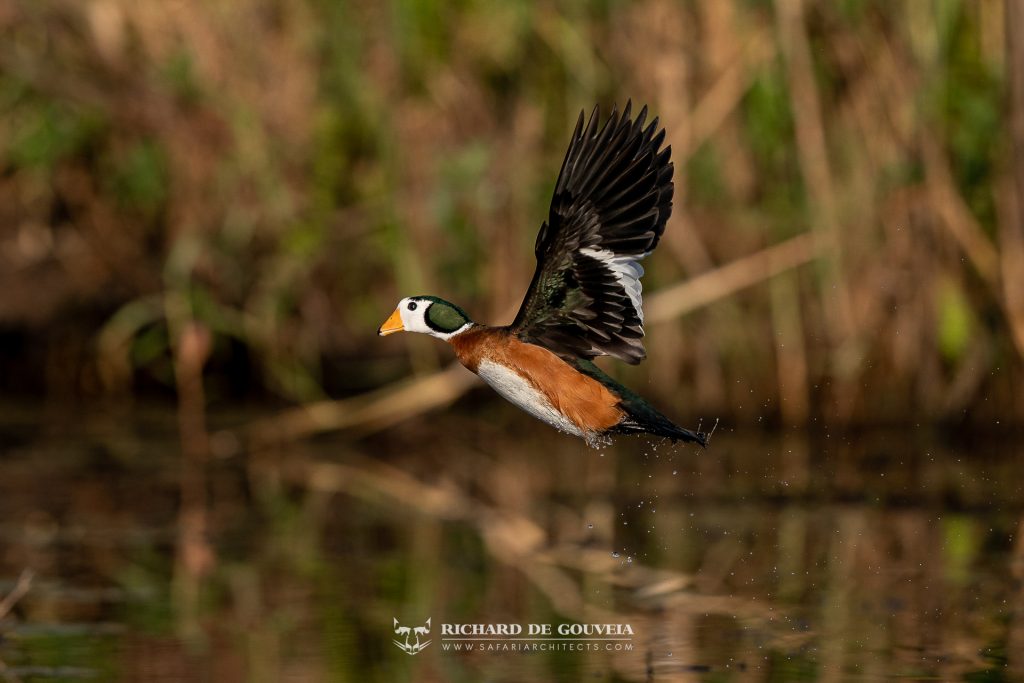 On one of the afternoons, we headed out in the skiffs to photograph the elephants and other game coming down to the Chobe river for an afternoon drink. We found a dead buffalo at the water's edge and a lioness was approaching from the distant tree line. She was heading in to chase off a crocodile who had moved in to try and capitalize on a free meal. It was a surreal sighting. A huge herd of elephant moved along in the background while the lioness approached her meal directly in front of us.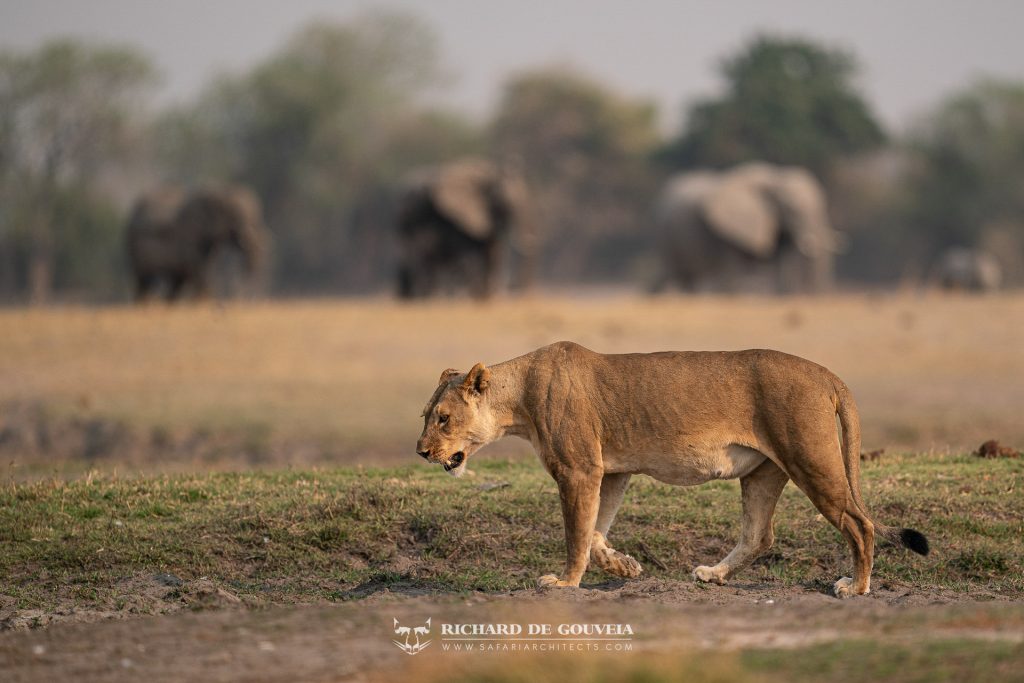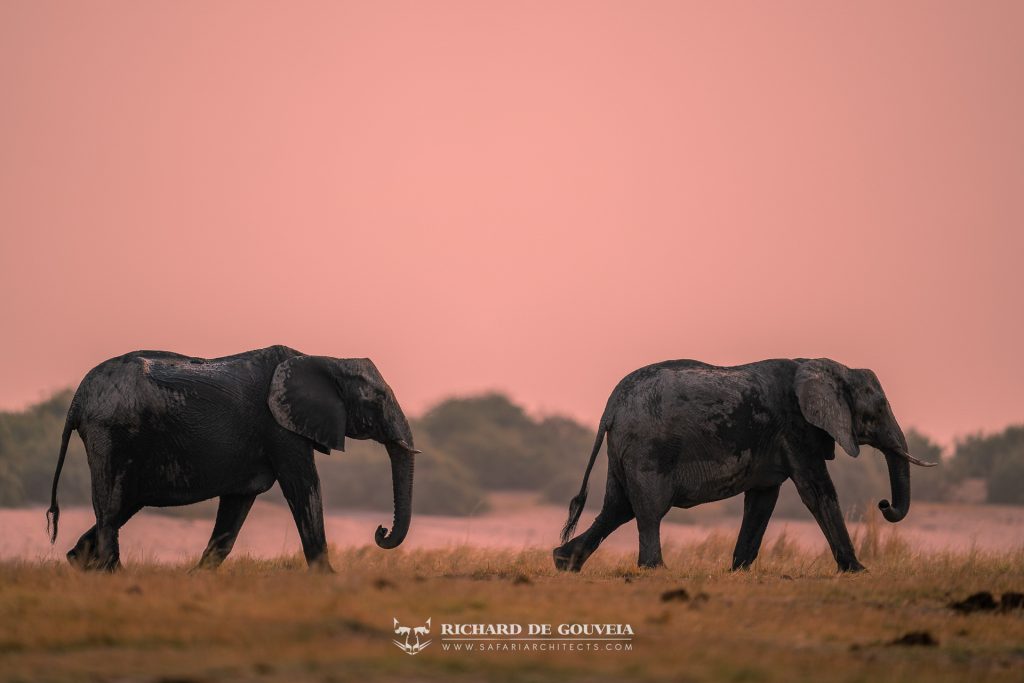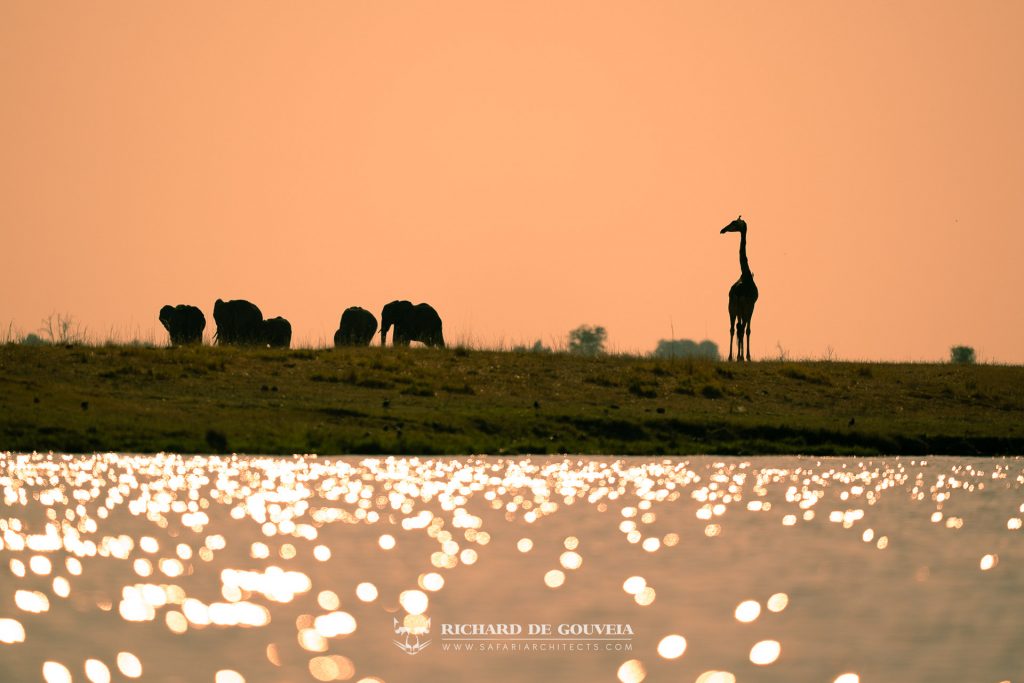 Next stop was Little Vumbura in the Okavango Delta, and on the way to camp when we found a lioness hunting a sounders of warthogs! The hunt was unfortunately interrupted by an observant lechwe who sounded the alarm and sent the warthogs scattering for cover. The lioness lost interest and went off to meet her cubs. What a way to start our stay!! Little did we know that down by the boathouse, where we changed over from vehicle to boat, a pride of lions had just killed a buffalo! That night the air was filled with their powerful roars as the pride proclaimed their territory.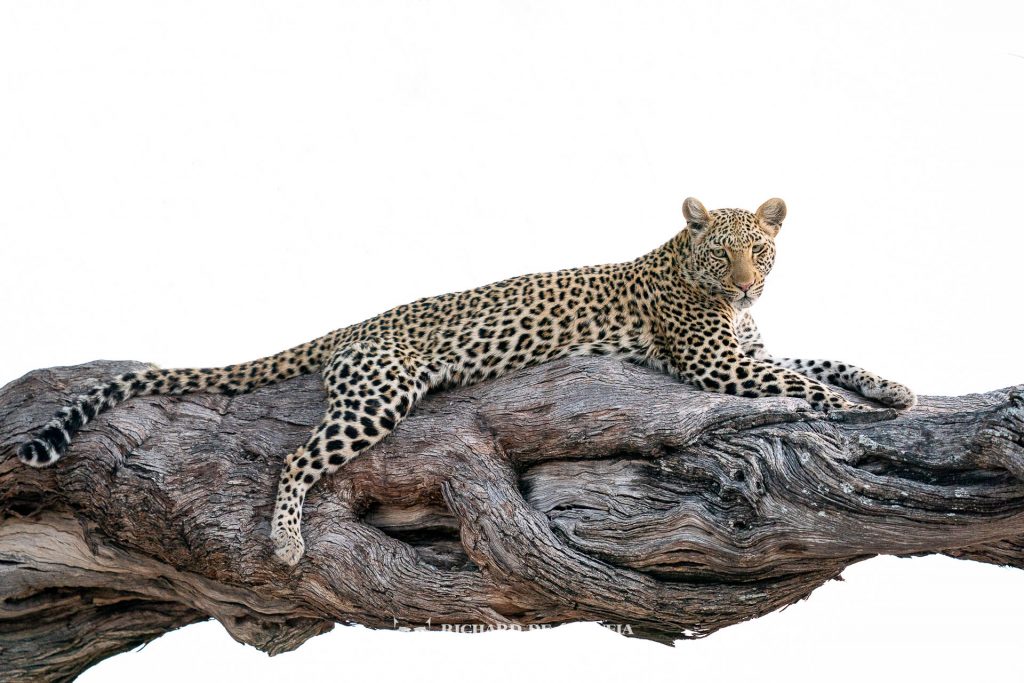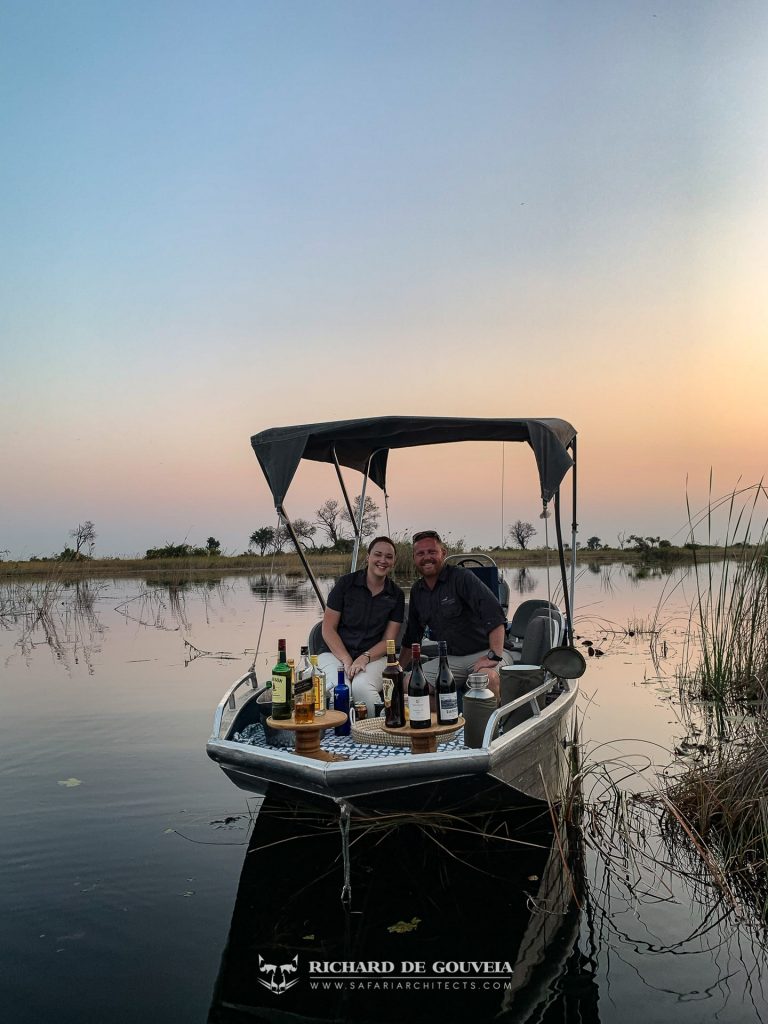 The last stop was Singita Pamushana, a hidden gem in Zimbabwe that literally took a piece of our souls. What an incredible reserve! Moving from the Acacia forest through the ecotones and into Mopane forests; we felt like we had been transported back 500 years before people had interrupted wilderness areas.
One of the most incredible activities was spending time in the sunken hide, where we enjoyed incredible rhino and sable antelope sightings amongst countless general game.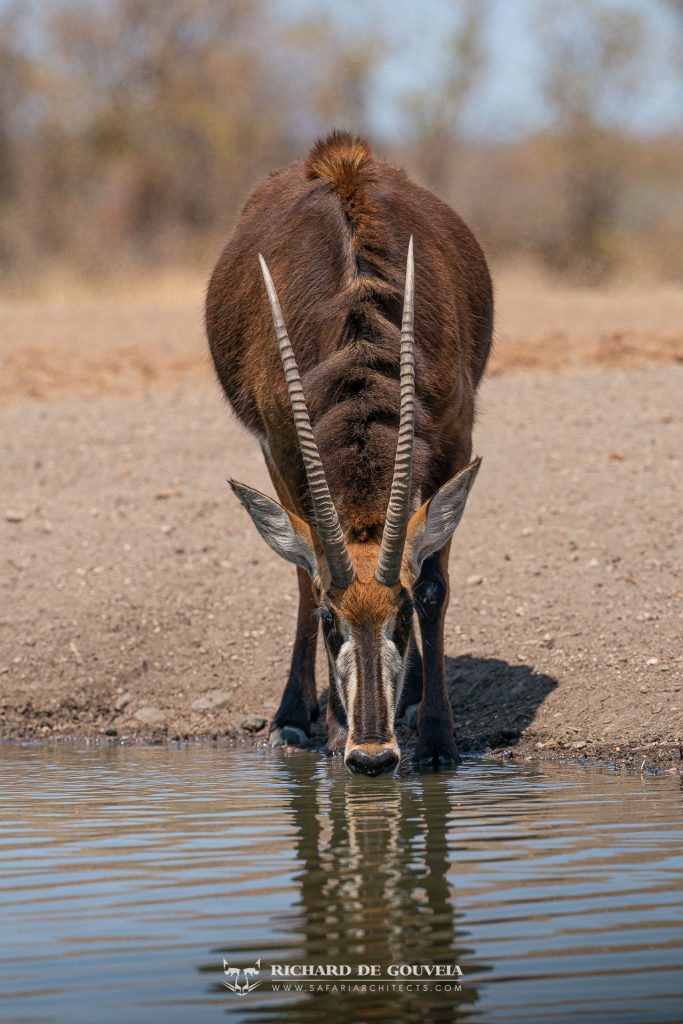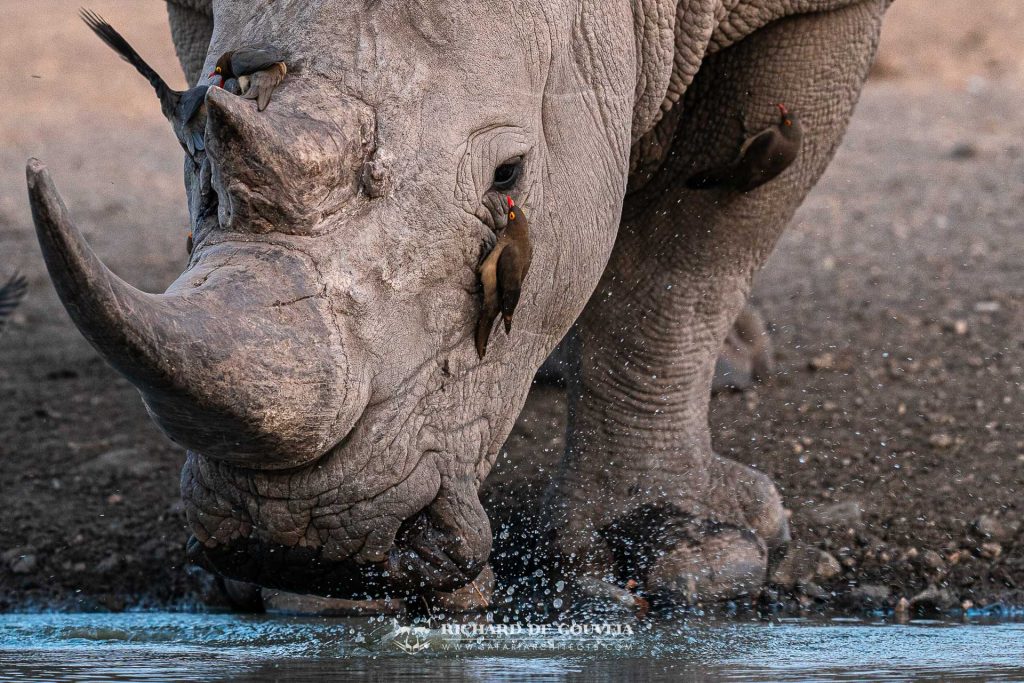 Besides the mind-blowing drives we also went on a few bush walks through areas filled with rock art, some of which date back 700-2000 years ago! The feeling around these ancient sites was indescribable, and as our guide Brad explained, each of the areas truly transports one back to a different time.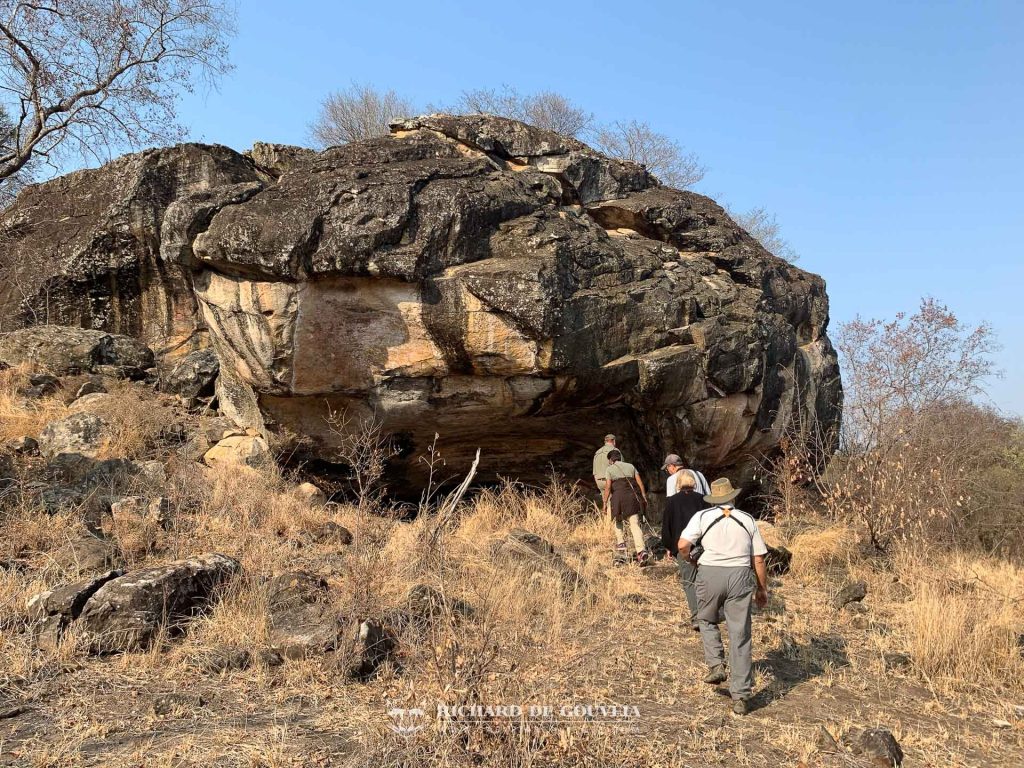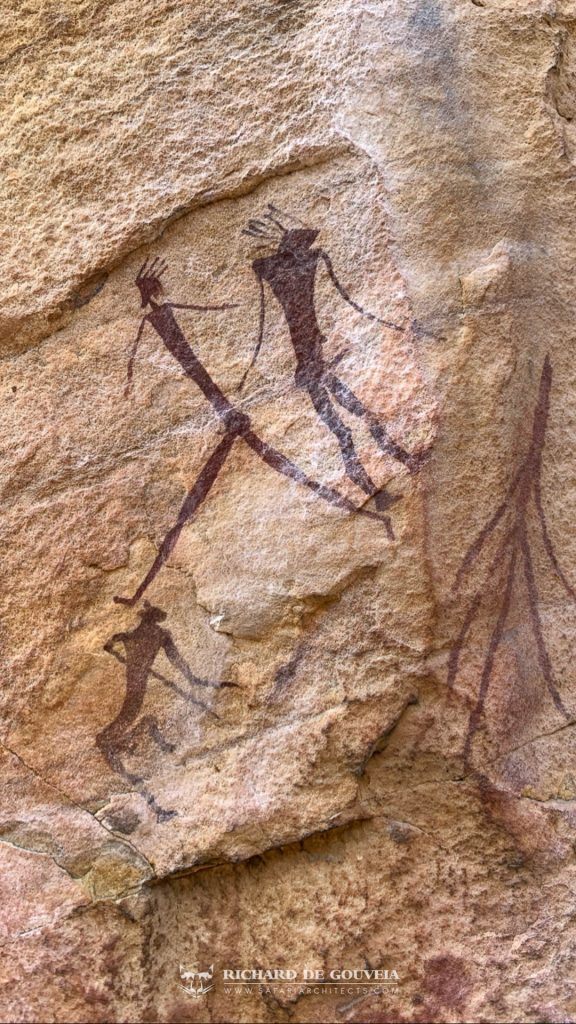 It was the perfect ending to an unbelievable journey, and I sincerely look forward to the next one!
Regards,
Richard and the Safari Architects team.