A Surreal Southern Safari
Sometimes on safari, it almost seems that you can't turn a corner or go out on an activity without experiencing something amazing, unique or spectacular. On this 11-night safari it was just that, we had Safari Karma, the Juju was with us! This does not just happen however, I truly believe when we embrace safari life, open our hearts, eyes and minds to the environment, and go out without expectations, nature always treats us well. On this incredible safari we were on a roll, and it never seemed to stop. Thank you to Andrew and Kelley, for truly embracing Southern Africa, opening their hearts to the people, culture, beliefs and their eyes to the beauty, serenity and raw wild of these great wilderness areas.
We started this incredible trip, with an overnight stay at the Saxon Hotel in Johannesburg, a serene spot to catch up on jet lag, and a base for a tour of Constitutional Hill and the Apartheid Museum. Both truly moving experiences and a wonderful way to begin the journey, with an understanding of the history of the country. The visit sparked some fascinating lunch and dinnertime conversations!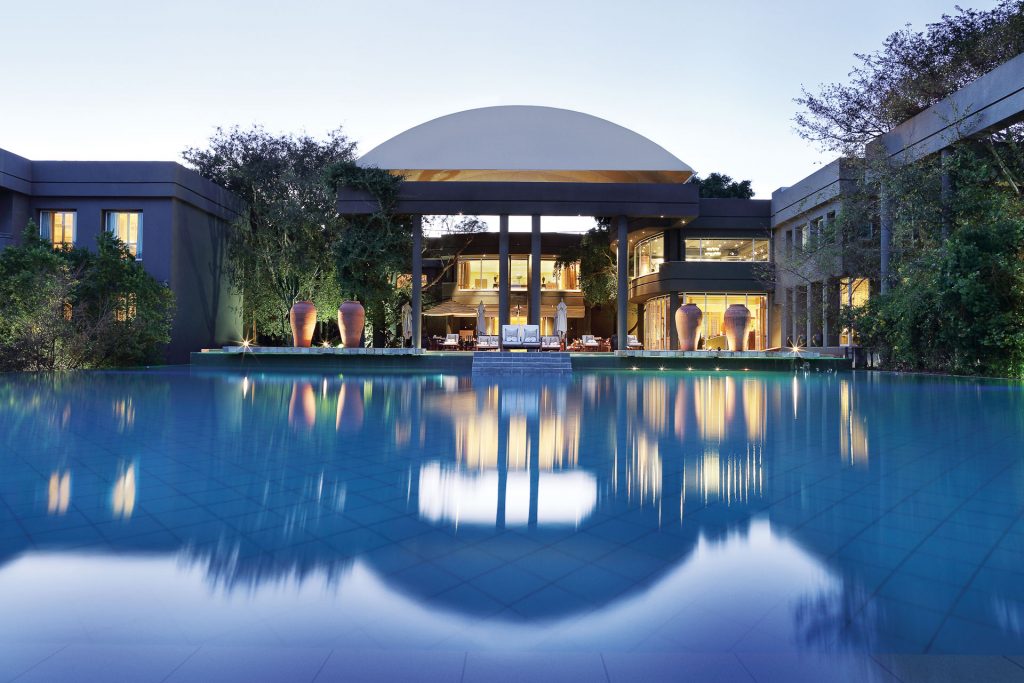 Next morning, and the excitement is in the air. We were off to Botswana where a new world awaited us. A private jet ensured an extremely smooth and efficient flight, and before we knew it, we are in the air on our way to Duba Explorer's Camp. We landed and were welcomed by the unassuming bush wizard, Isaac Seredile, who would host us for the next six days, providing entertainment, information and a sniffing out of any and all creatures around! With his wonderful sense of humour, we were off to an incredible start.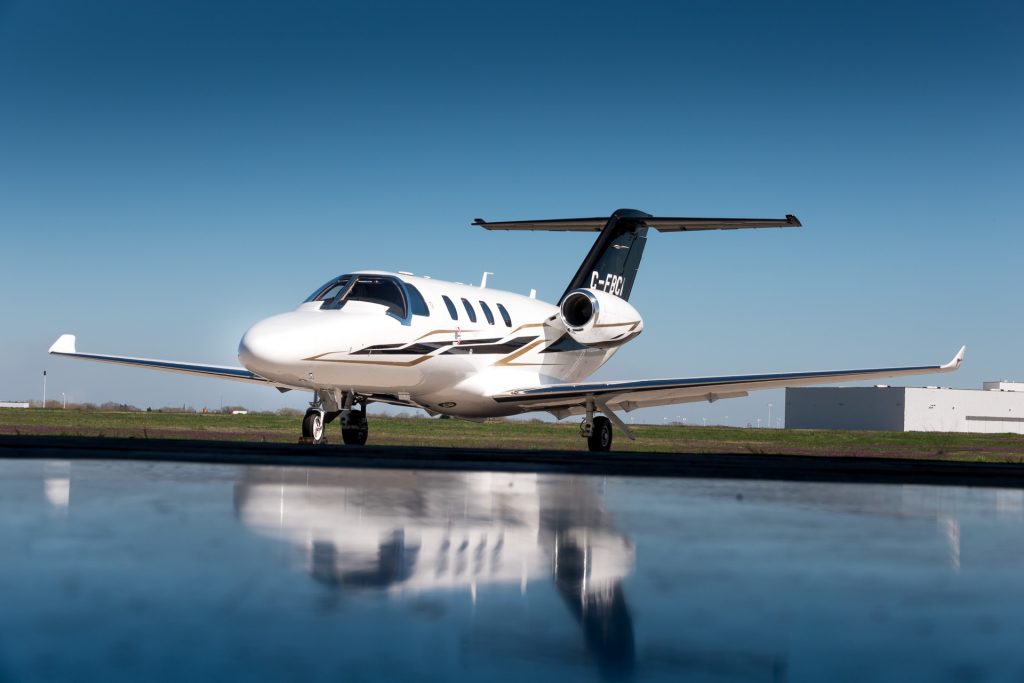 The drive from the airstrip to the camp was about an hour, but we took our time. Right from the airstrip we started seeing all sorts of beautiful birds, as well as elephants, giraffes, zebra and more. As we came around each turn, there was more and more to see, our guests' breath taken away each time. There is nothing like your first afternoon on safari, it can never be repeated.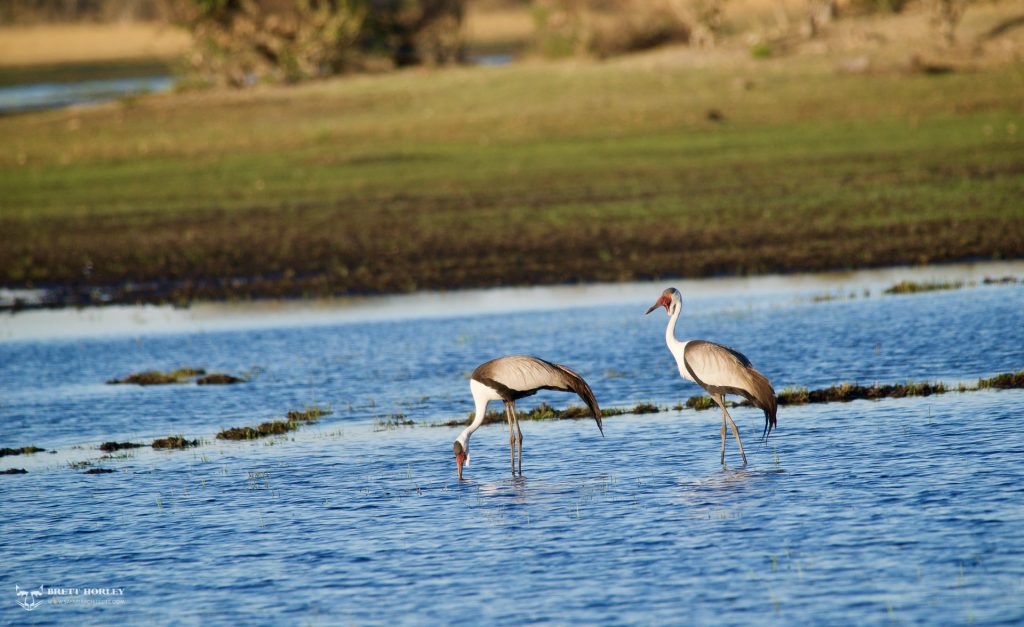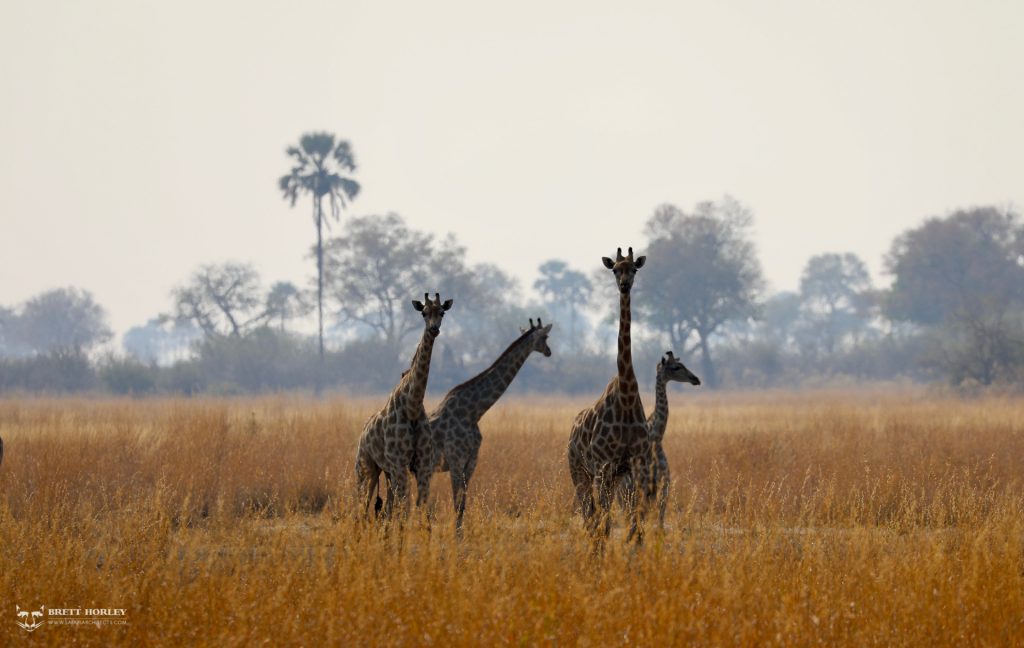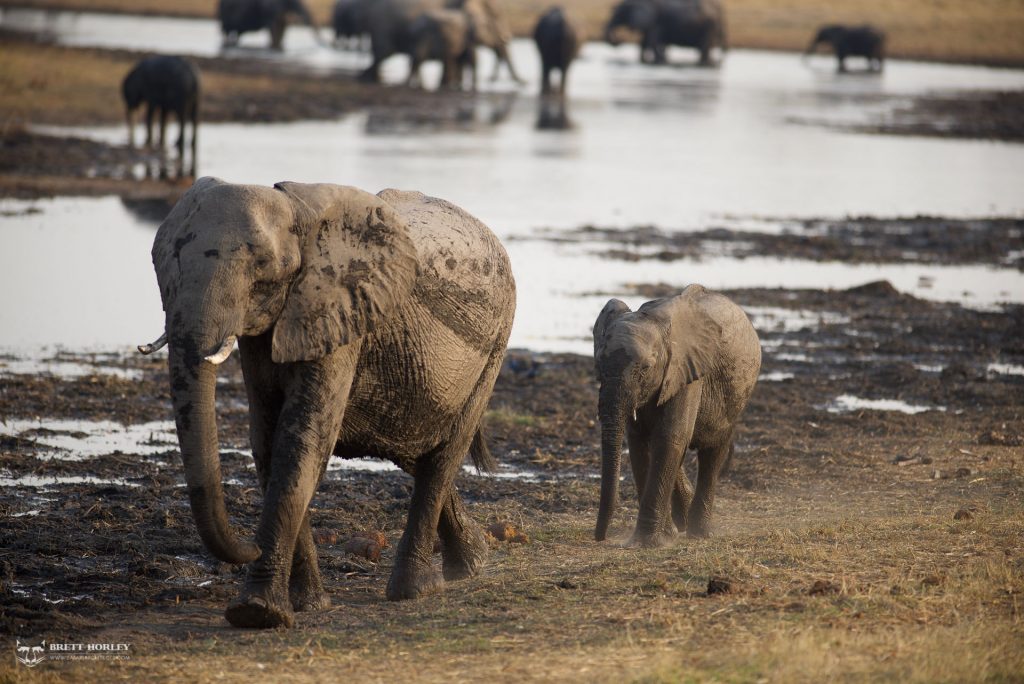 Walking into Duba Explorer's we were greeted by an elephant along the pathway and the wonderful staff. A 1920's themed camp, beautiful wooden decks under huge Ebony trees. Unassuming, but oh so wonderful. A cup of tea and we head out on our first official safari, although we were engulfed in mother nature by then anyway. Isaac started off with a bang, and boy did our karma continue for the next 10 days! What a ride. We started out by heading to the local pack of African painted dogs. It was a hot afternoon, and they were all fast asleep, but not for long as three elephants were heading in our direction: a mother and her two teenage offspring. A standoff ensued and the young elephant took things into his own hands – running around trumpeting, shouting and kicking dust, as the nimble dogs avoided his flailing limbs! This show calmed as the elephants moved off, but the dogs were now awake, and they trotted off straight towards a herd of Impala. Suddenly, we were literally in the middle of a hunt, on a wide-open floodplain, the Impala scattering and the dogs sprinting!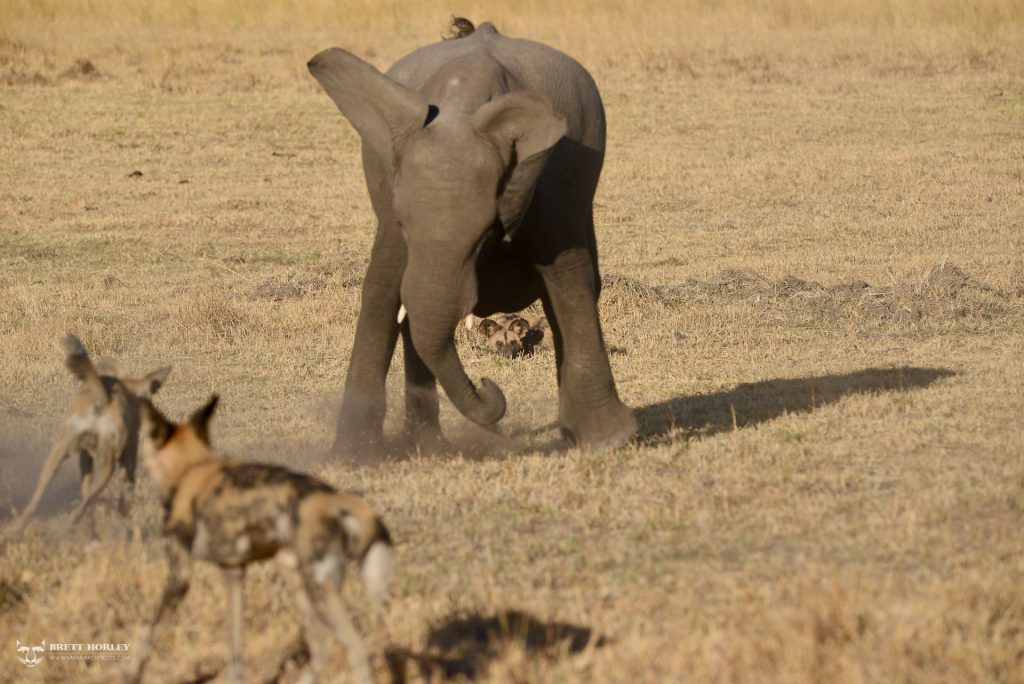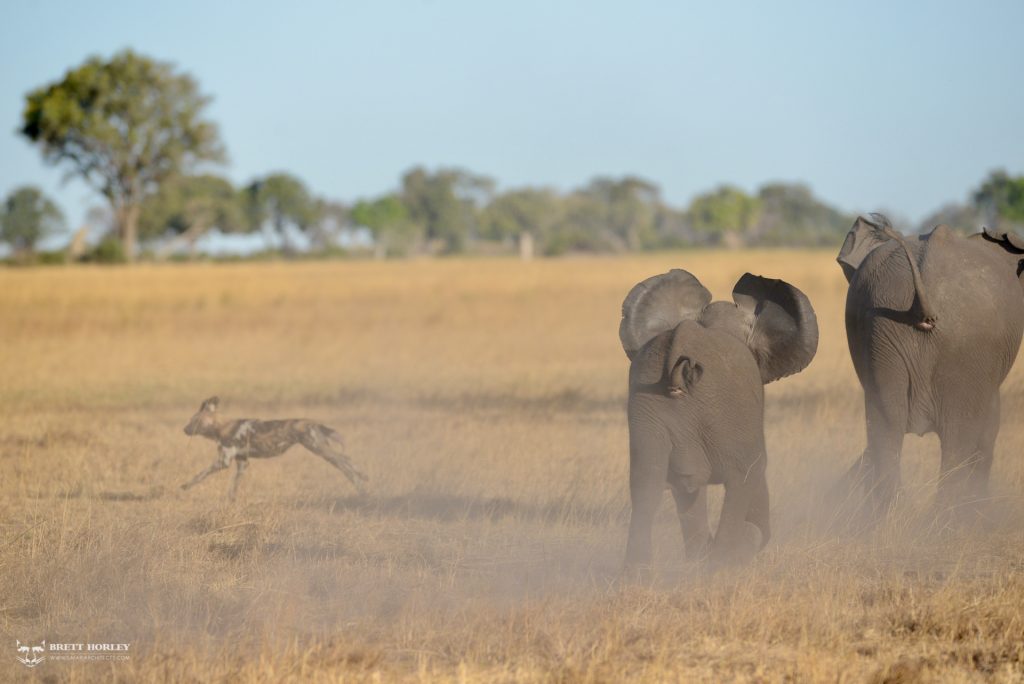 The sun was setting, the evening light turned golden, and suddenly Isaac spotted something: a leopard in a tree! A beautiful female. We got closer and watched her in the fading afternoon light as she surveyed her territory, and as darkness fell, she came down, glided right past our vehicle and headed into the darkness towards a group of ostrich. What a start to a most magnificent safari!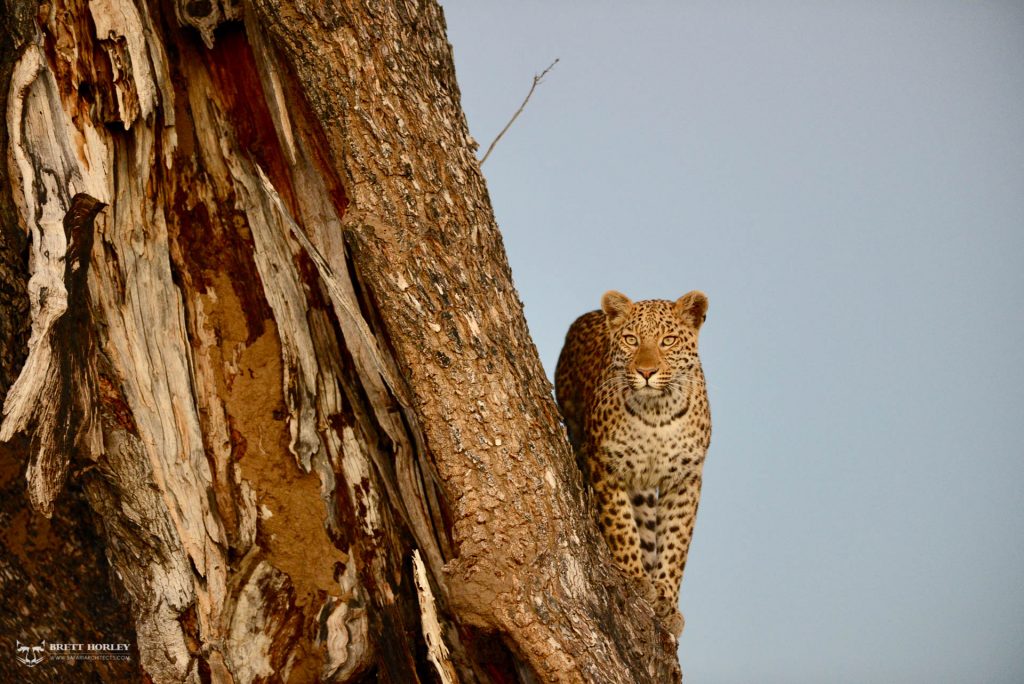 We spent the next three days and nights exploring the Duba Explorers area: we encountered four different leopards in five different sightings, including a mating pair. We also saw the wild dogs again, sleeping off the afternoon heat. On one of our night drives we were also so lucky to see some of the more elusive nocturnal creatures including porcupine, genet, African civet, owls, Bush babies, springhares and more. We were also extremely lucky to find a Large grey mongoose, a first for me and only the third time Isaac had seen one in thirty-three years! We were definitely on a roll, we went out on traditional mekoros twice, gliding over the smooth Okavango waters in silence, fish swimming past and brilliant Kingfishers watching us go by. We finished off the day with a surprise gin setup along the channel, baboons going to sleep in the trees and a deep orange sun hitting the horizon.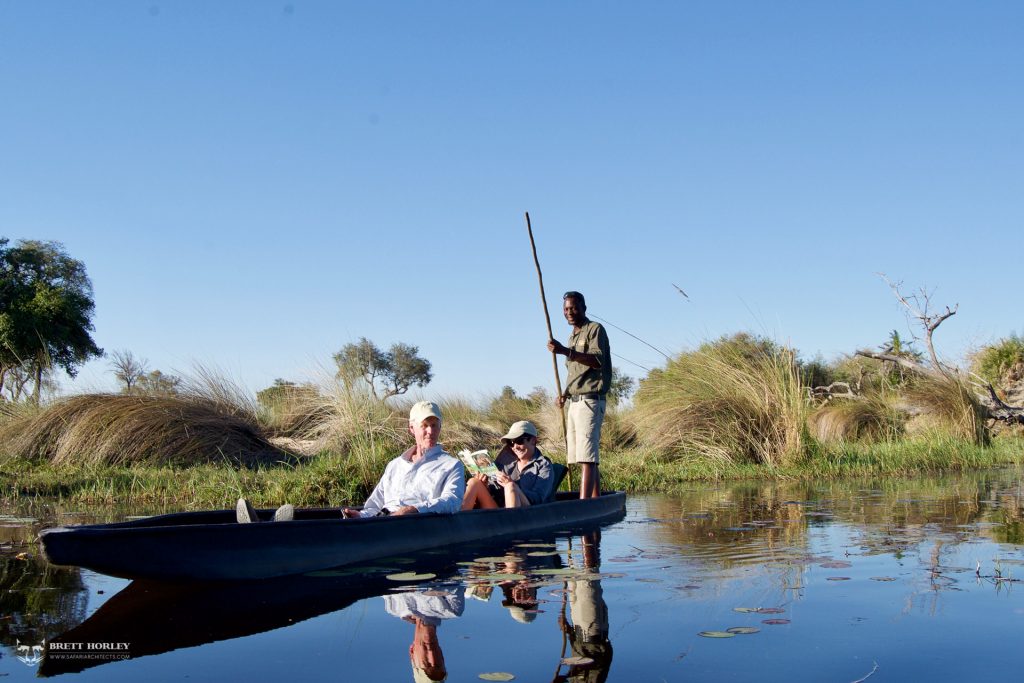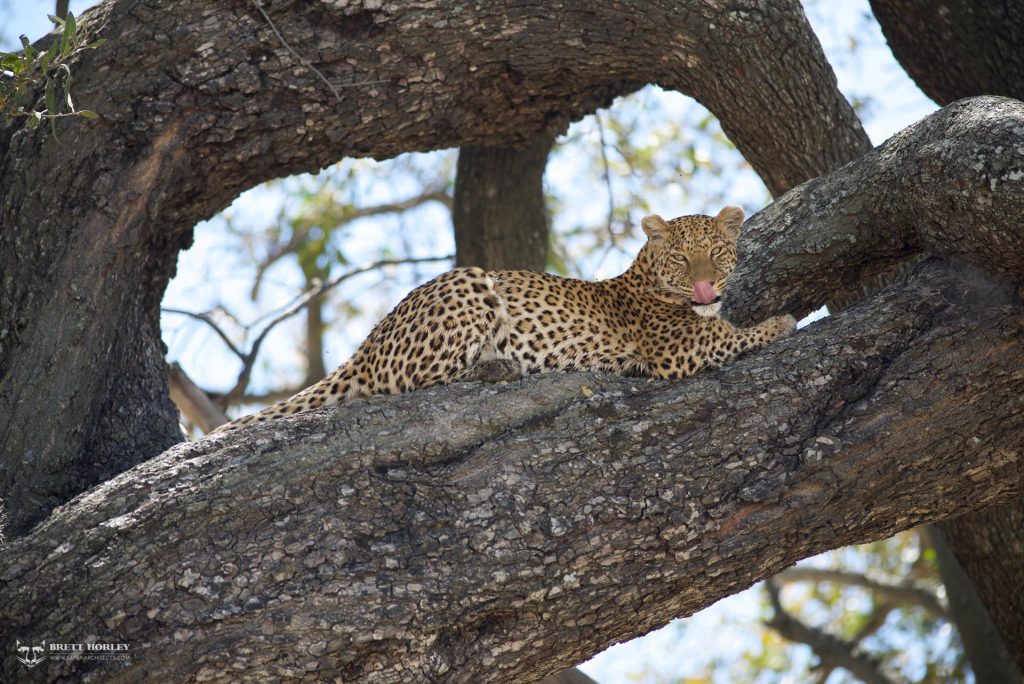 Duba continued to provide even more surprises; a lioness and her two cubs up in a tree and, on the final morning, Isaac said "I have a cheetah feeling". Not 10 minutes later we spotted a female cheetah and her two very young cubs! We were all super excited and spent half an hour with them, watching as she continued to look for prey and teach her cubs the rules of the bush!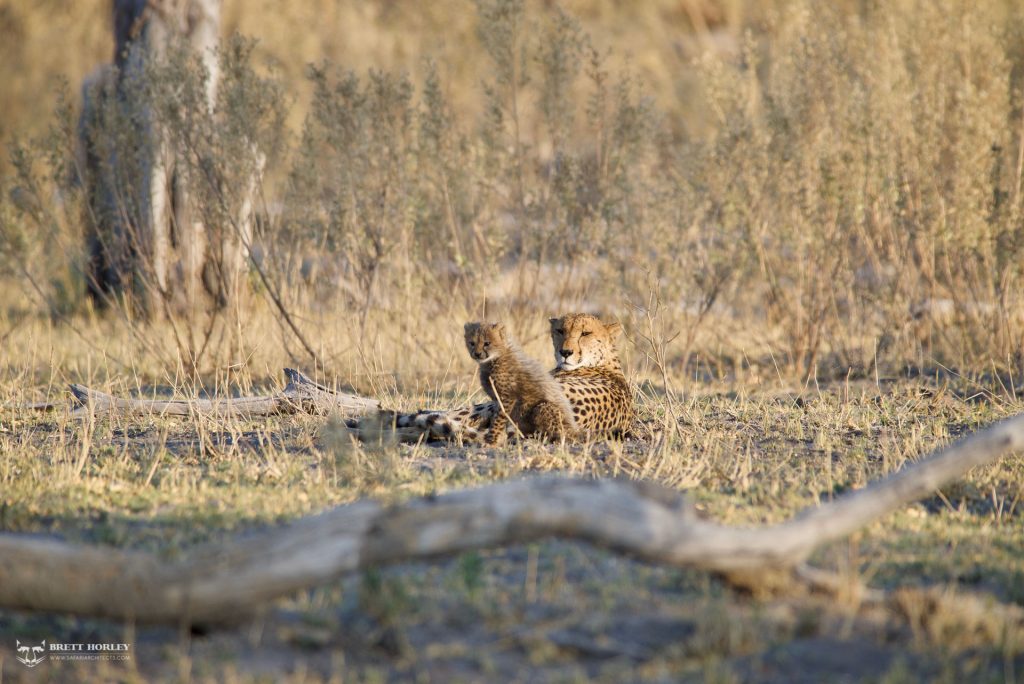 From here it was time to move to Selinda! We all jumped into the helicopter and were mesmerized to see the paths we had been moving on from the air. Northern Botswana is very dry at the moment, meaning we could see hundreds of animals congregated around water sources. We landed right in front of Selinda Villa and walked straight into paradise, where we meet Lizzy and her team. A gem of a spot: incredible amenities, attention to detail and fantastic staff. Time for some high tea and then an afternoon boat trip! On the trip, Isaac suddenly said "Tau", and to our surprise a pride of lion were lazing away on the edge of the channel, totally ignoring us as we eventually floated right past them at only a few feet away. Two youngsters even came up and drank right next to us! In silence and in awe, we could hear them lapping up the water. What an experience! Next minute, we saw that a lioness had her eyes on a male Red lechwe, suddenly bolting from right next to us! What a thrill, a full-on chase at eye level as we sat next to the lions watching them from the boat. The safari karma continued!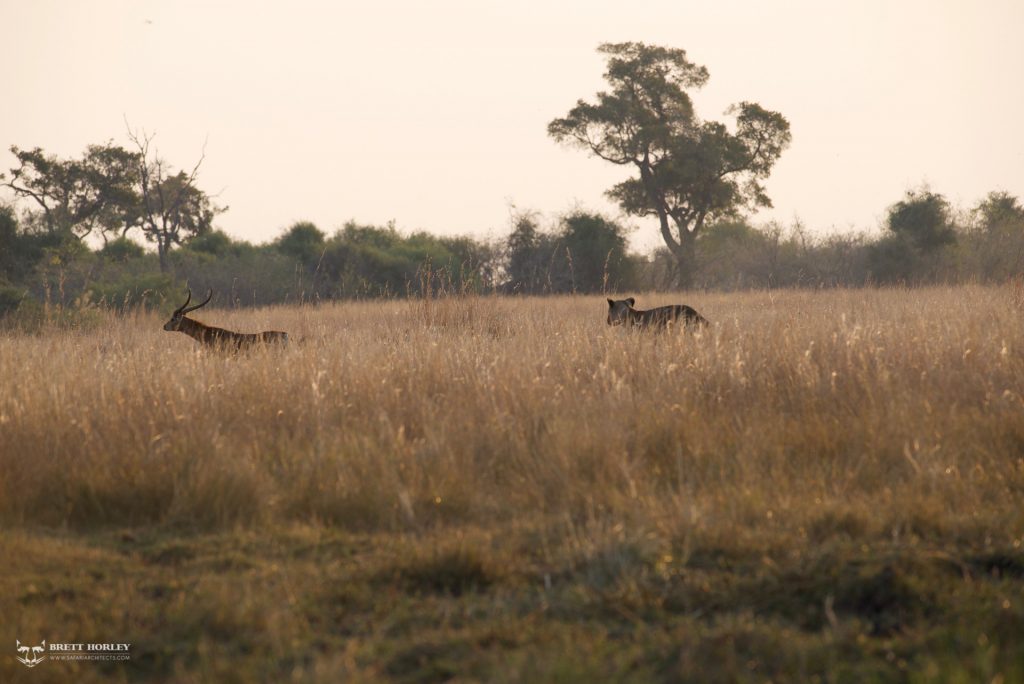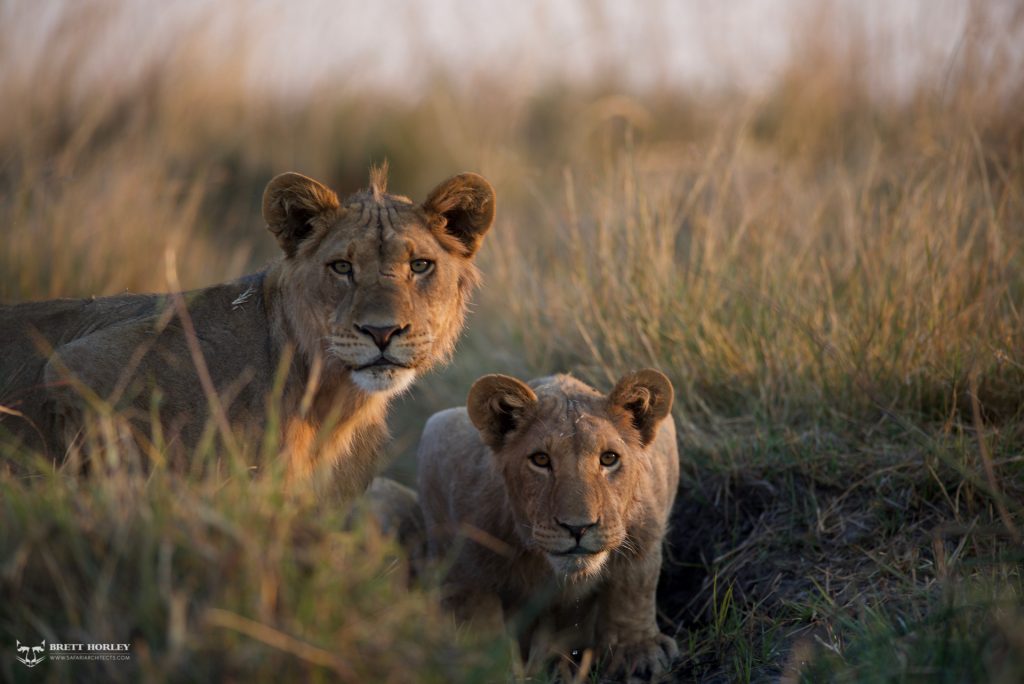 The number of elephants in the area was extremely impressive, we had elephants in camp, elephants in front of the rooms, elephants, drinking, bathing and new elephants suckling. It is a privilege to be in the presence of these regal animals! Selinda also gave us sightings of Honey badger, sable, roan antelope, countless hippos and fantastic lion viewings throughout.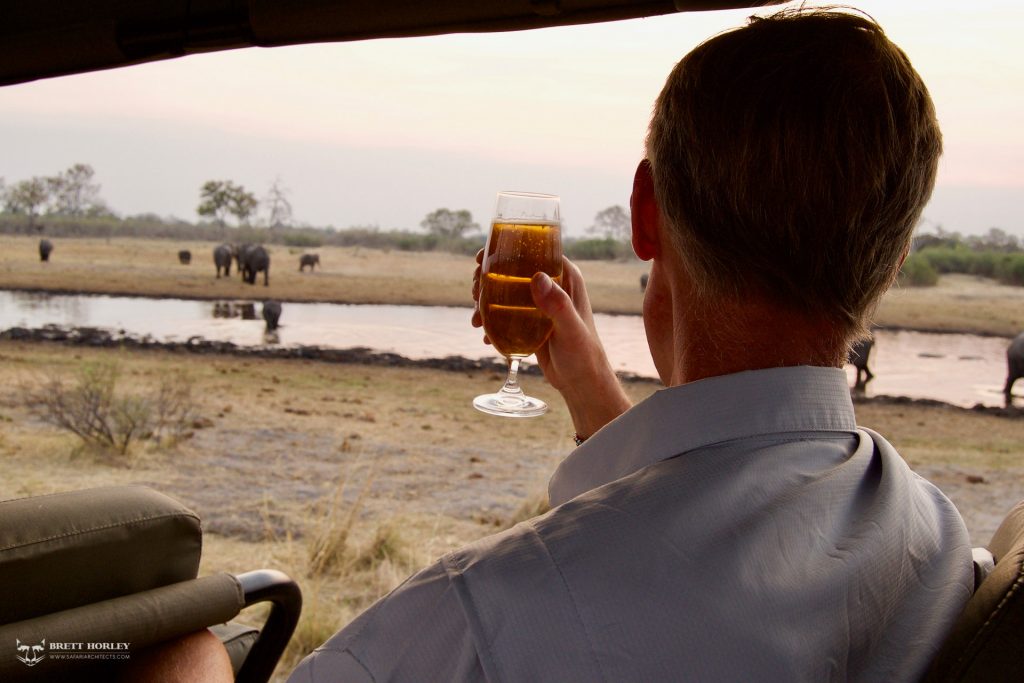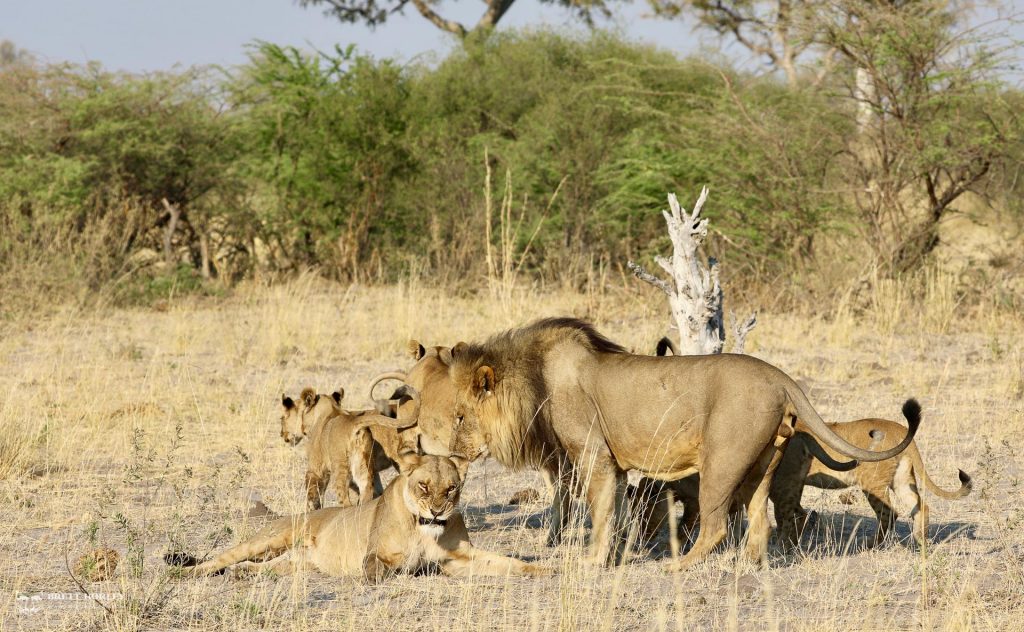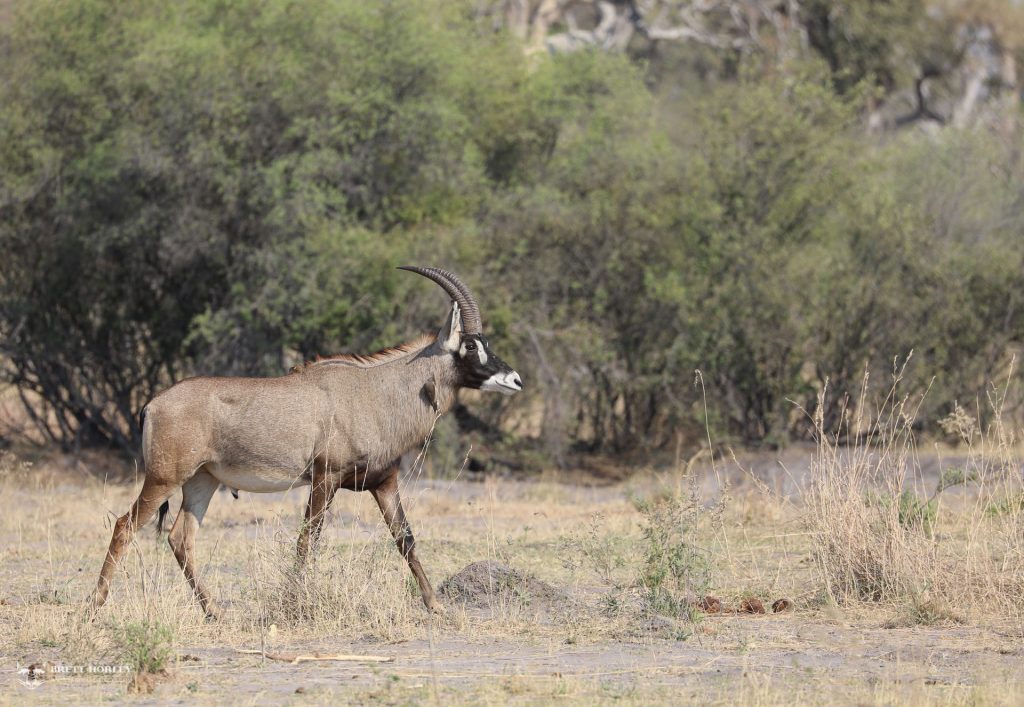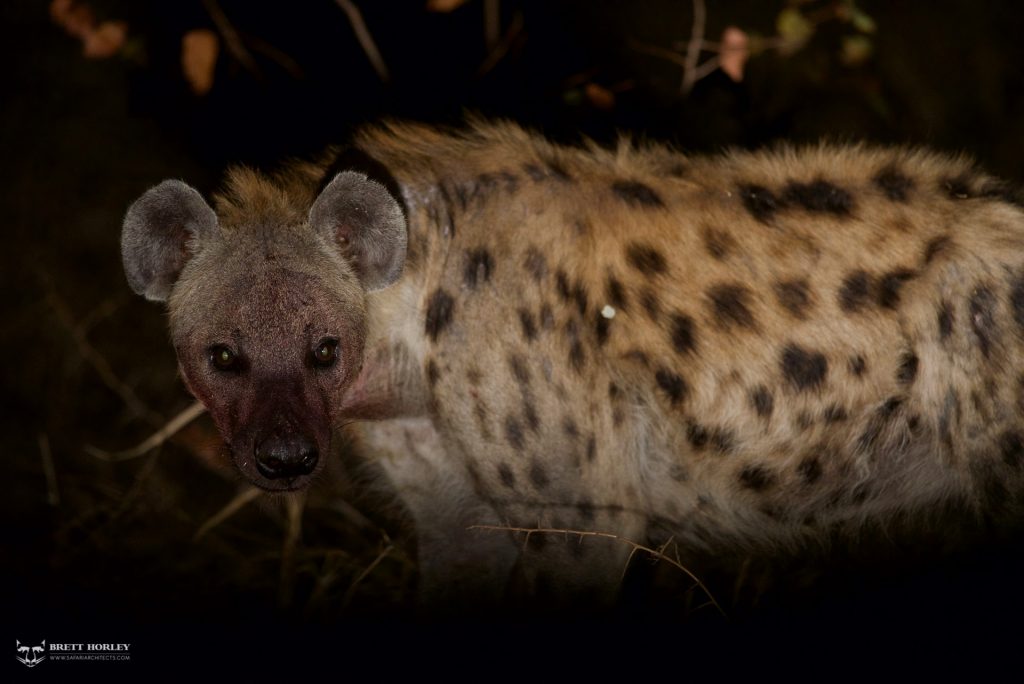 We were also gifted the most incredible golden sunrises over the waters of the delta, illuminating storks, eagles, cranes and bee-eaters. Meanwhile, the evenings gave us the opportunity for a spectacular bush dinner, the amber fire a-glow, with fine dining under the stars in the middle of nowhere, a holistic and magnificent experience. Selinda treated us well, as did Northern Botswana, but it was time for another travel day, and this time we were off to Singita Pamushana!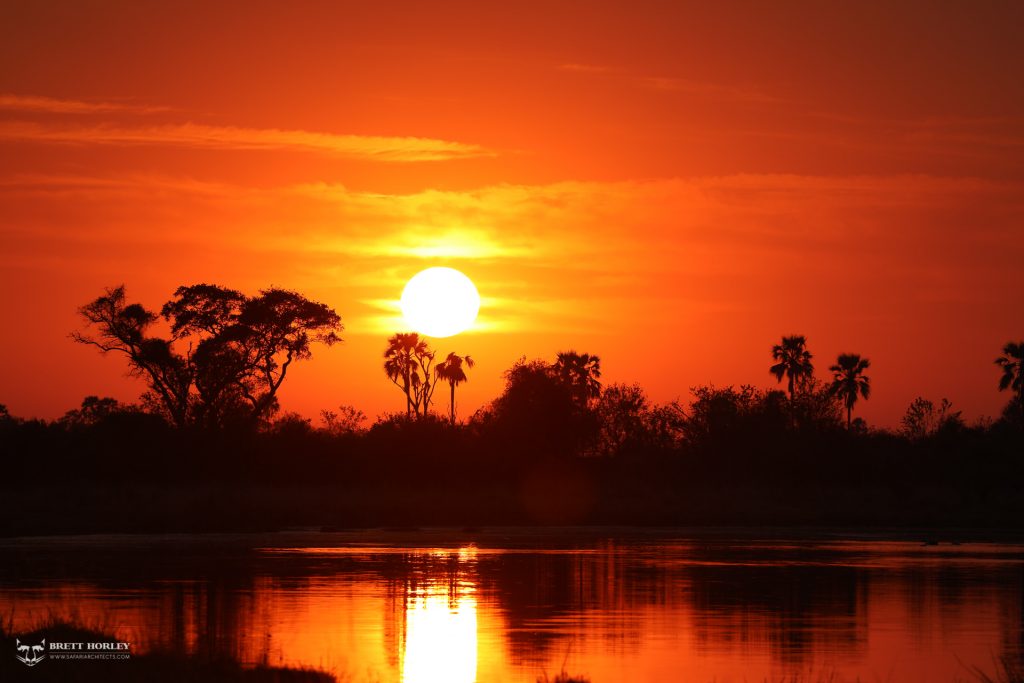 A boat trip, a luxurious jet flight and a short road transfer later and we were in Zimbabwe at Singita Pamushana, the land of the Baobabs! We were met by our guide Brad, and it didn't take long for us to be on the trail once again. On our first afternoon we headed off in search of Rhino, as we had not seen any on the trip! Luckily Brad knew exactly what to do, and we headed south to a waterhole to wait around at sunset to see which thirsty animals would stop by. We arrived, sipped on a G&T, and watched seven elephant bulls tussle over the water. As darkness descended, Andrew spotted the large grey animals moving in: White Rhino!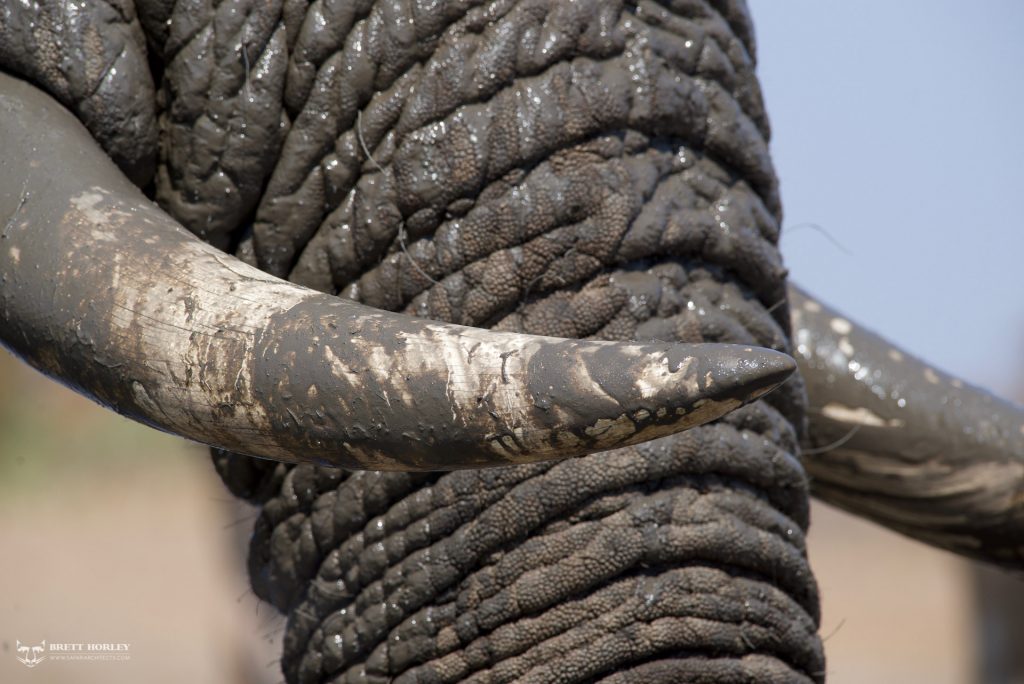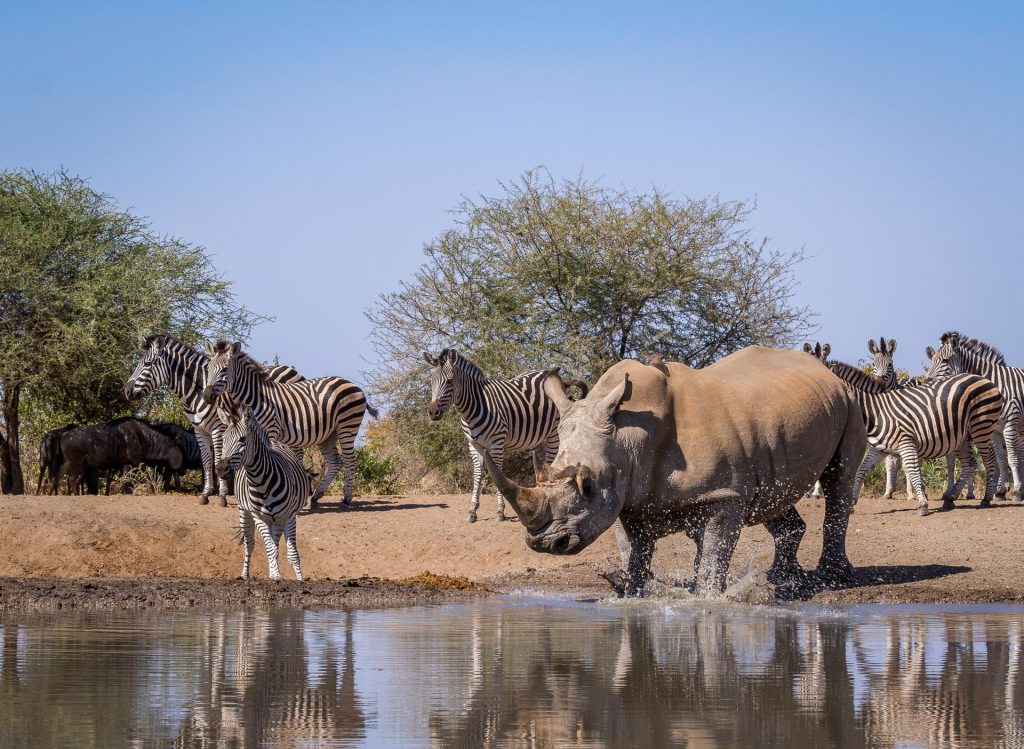 The next day we headed off on the first of two truly magnificent walks in the Pamushana wilderness. A 4-hour stroll which began with reading the signs left behind by all the creatures around the carcass of an old giraffe bull who had died a few weeks back. Not long after, we heard the unmistakable munching of a black Rhino, we were close! We stealthily climbed a small hill to get a better visual, an adult Black rhino on foot! We were in a perfect position, the leaves crunching under our shoes, the bird calls echoing over the dam, our adrenaline racing! From here, we explored the mountains, looking for ancient Bushmen paintings: a truly humbling and spiritual experience!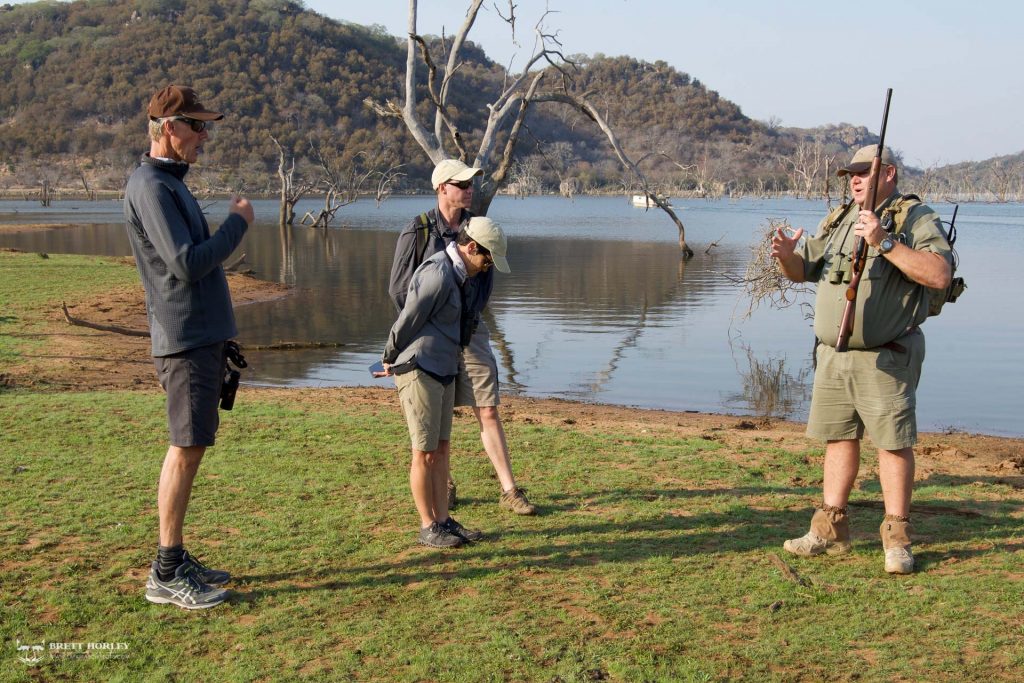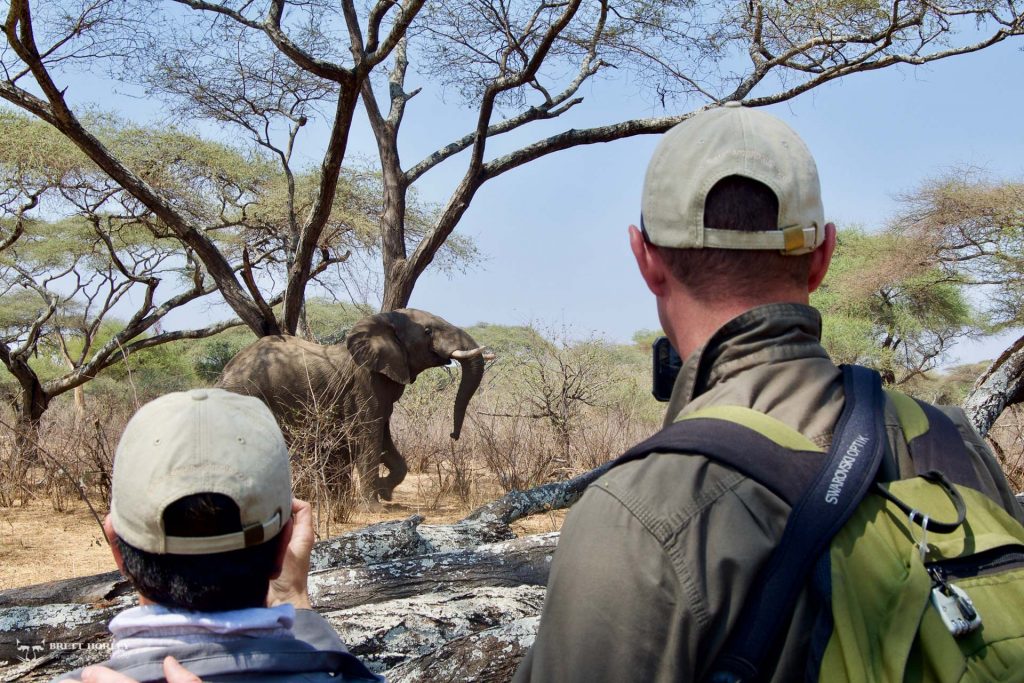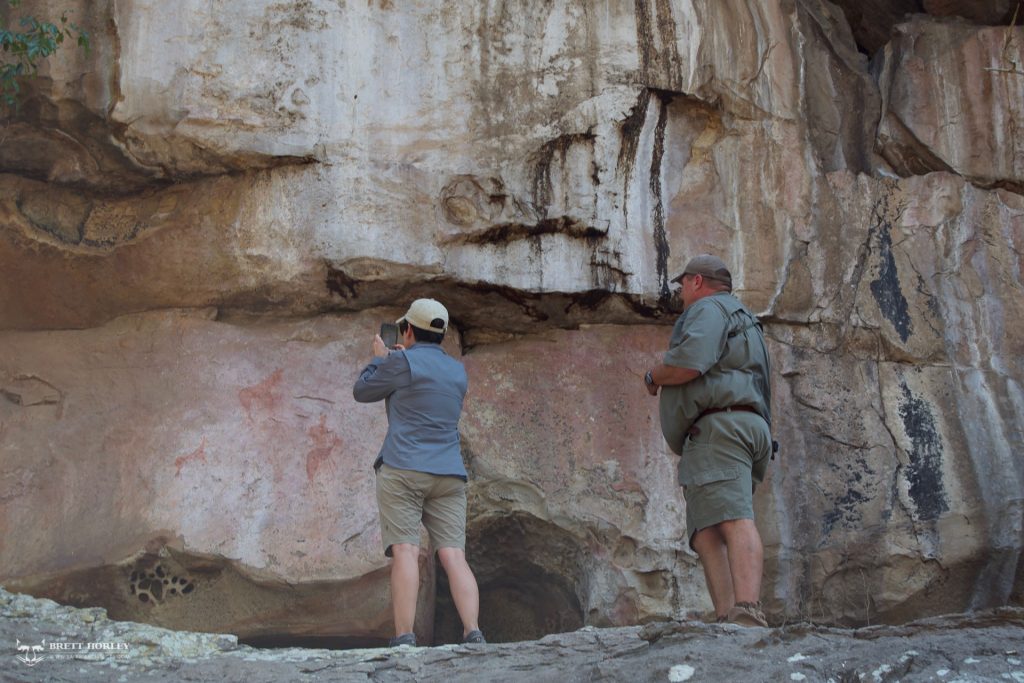 On our last safari day, we planned a drive down to the river, and then a planned walk along the banks and tall woodland. On the way, we found a fresh buffalo carcass, with five hyenas and countless vultures circling overhead. We continued on the most wonderful walk; under huge Umbrella thorns, Sausage trees in flower, giraffes watching us go by and birds in song up in the canopy. Andre spotted a young male lion across the river, watching us, as well as some Kudu. We then encountered three huge elephant bulls: our hearts racing, all senses on alert! This is what the wilds of Africa are all about. What a wonderful walk which led on to a delicious picnic breakfast and coffee! An absolutely incredible experience for our final day on safari!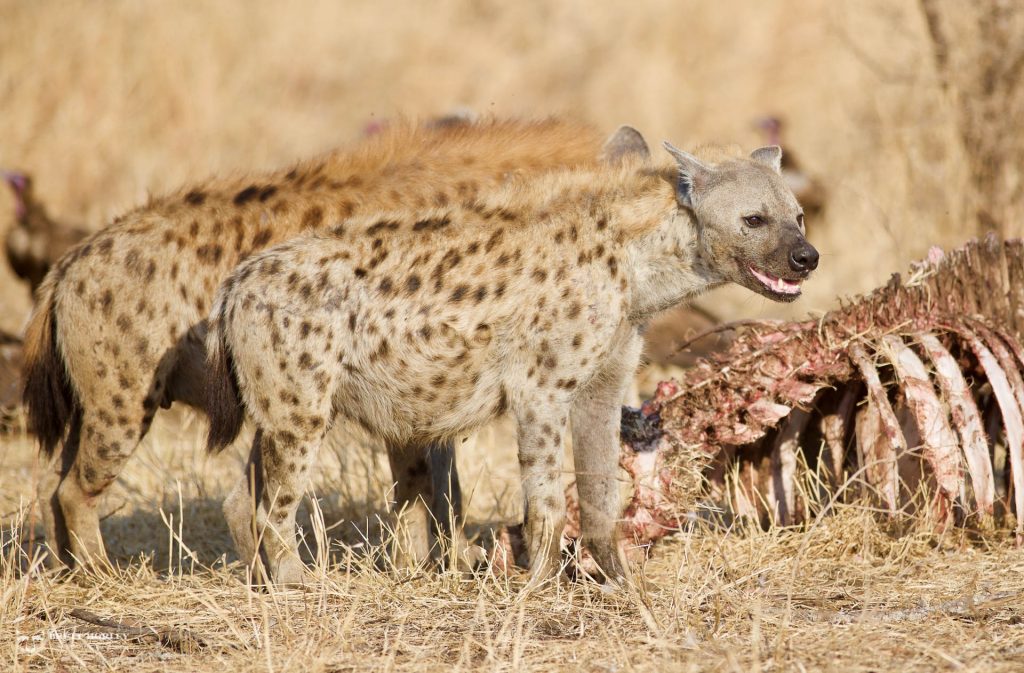 We experienced the most magical and enriching safari, with an incredible couple who opened their hearts to Africa. The people, the wildlife, the sunrises, the wilderness and the African spirit, all made for a life changing journey.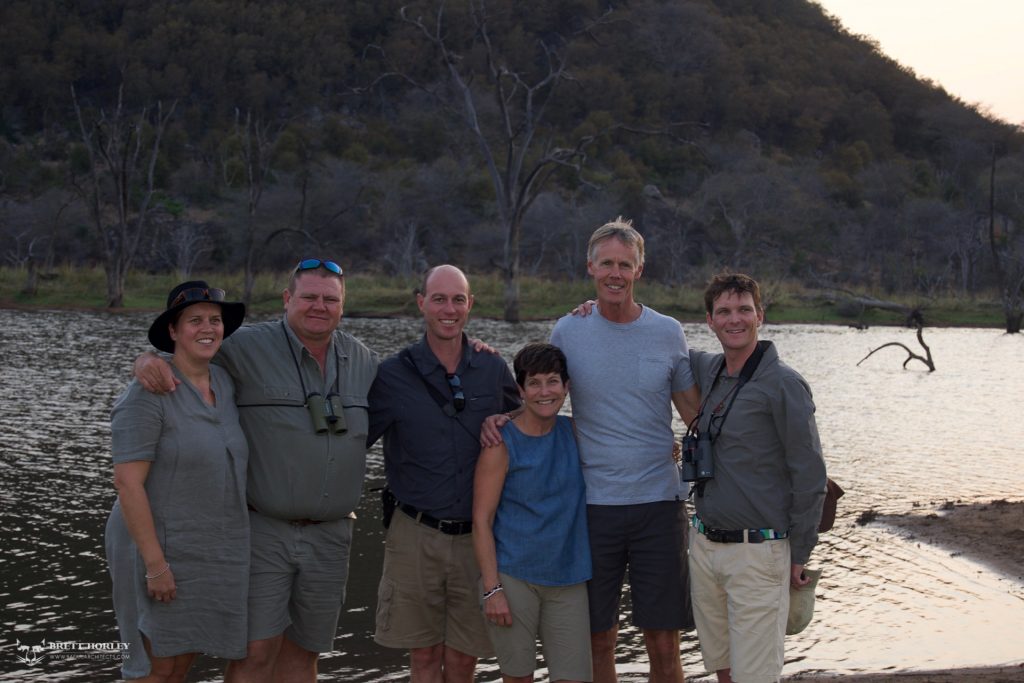 Regards,
Brett and the Safari Architects team.