A Journey Into The Blue Forest
Each year I try to make a pilgrimage to one of my favourite wilderness areas in Southern Africa, Mana Pools, in order to escape the world and reconnect with the wild. This year, I was lucky enough to be able to share this special place with the Rendell family. This African gem has been established as a favourite destination among avid travellers, and the Rendells were about to find out why!
As seasoned travellers to Africa, the Rendells were not short on excitement in getting to visit a new destination that had been high on their bucket list for years. For me personally, travelling with such informed and experienced guests also made this safari a stand-out one for me. They connected to Mana within moments of touching down on the runway and revelled in every experience, including plentiful game drives saturated with majestic wildlife.
Our camp was situated in the western part of the park, overlooking a stunning view of the Zambezi River and the glorious escarpment. With the sounds of hippo echoing through the forest, elephants wandering through camp all day and the excitement of being on foot with all of these marvels, we knew we were in for a life-changing week together.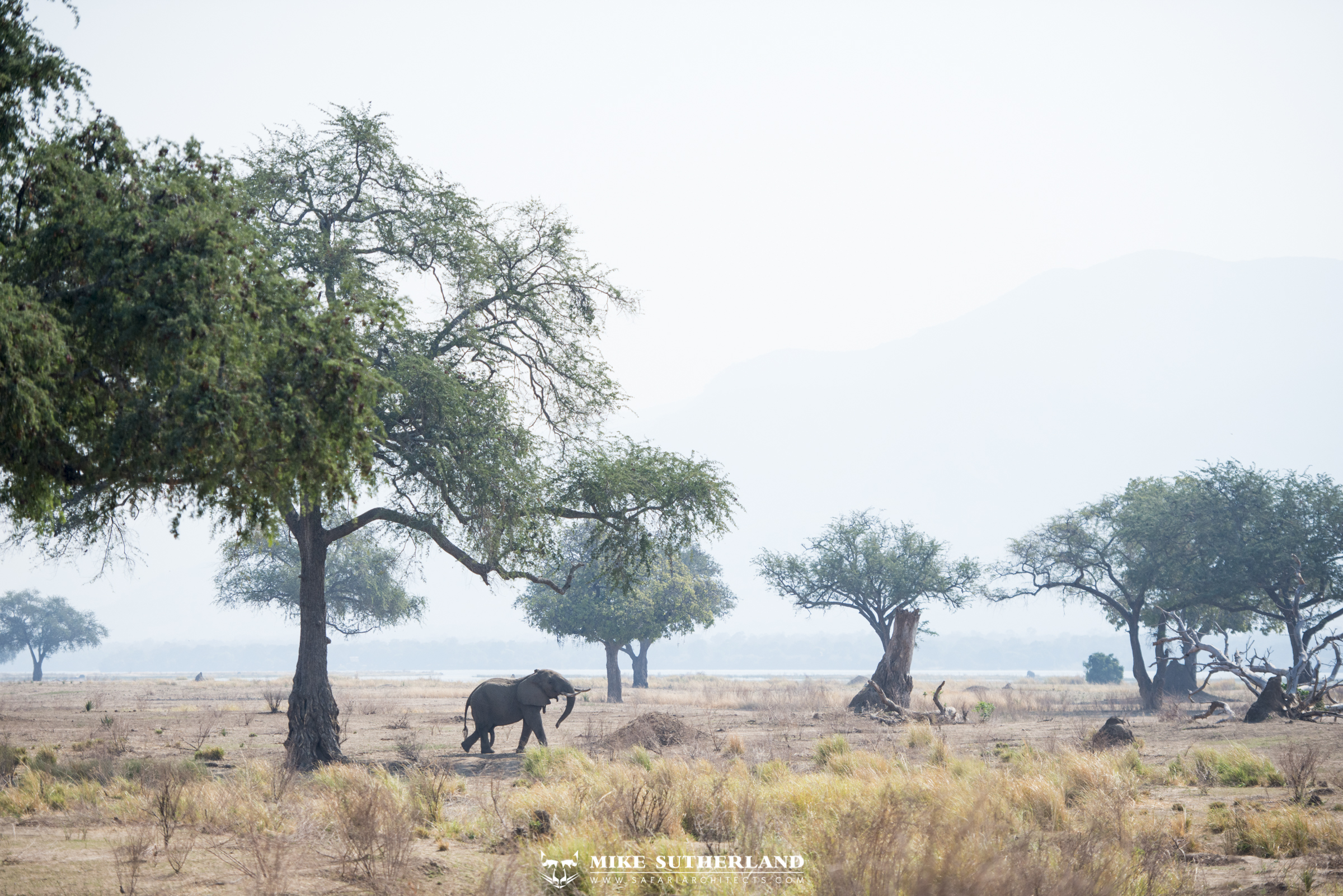 One of our very first encounters was with one of Mana's most well-known elephant bulls, Boswell. He has built up a reputation for climbing onto his two back feet and reaching up to the branches and pods of Albida trees. This technique is now being learnt by other young elephants in the park and is an act that has become very unique to this area. With that being said, not everyone has the opportunity to see this display with the naked eye! Therefore, when we were treated to some of these acrobatics on our first morning, we knew things could only get better!
A bull like Boswell has spent the last few decades in the presence of humans on foot and, as most are positive encounters (reinforcing a safe environment), he is unbothered by an audience. With this knowledge, spending hours with Boswell on foot and watching him go about his day feeling totally unthreatened and safe, is one of Mana's great gifts to its visitors.
Over the course of the week we had multiple encounters with these large elephant bulls and, more often than not, they were very close to camp. During the dry season, the vegetation begins to wither and die and the wildlife has to adapt to make it through this difficult time. Not only this, but it seems as if nature has a plan to assist in any way possible as there always seems to be something new on the menu.
In mid-August, during our time of travel, the Sausage Trees (Kigelia African)  were in full bloom and we began to notice that they were shedding their leaves and flowers. This made for endless fun as one of the large Kigelia tress in camp became a buffet for large bulls and elephant herds alike! They would quietly enter the camp, stroll toward the tree (which was right in front of one of the rooms) feed on the fallen leaves and flowers and then make their way down to the river for a drink to cool off in the heat of the day.
At Mana Pools, guests are exposed to so much that is out of the norm at many other safari destinations. Being on foot with wild animals generally being the most memorable, however another unique experience is to hop aboard a canoe and float down the Zambezi River. Being on one of Africas great rivers is an experience in itself, with hippo lining the river banks and elephants feeding on distant islands (occasionally even swimming across the channels back to the mainland) What a treat!
Our next encounter was unexpected yet breathtaking. As we rounded a small island we saw Boswell, the biggest bull in Mana, once again. However, this time he was MUCH closer that we had seen him before! He had been out feeing on an island and began to make his way back to the mainland, crossing a shallow section right in front of our canoes. It was a moment engraved in our minds and memory forever!
Walking in Mana is a well-documented affair and we decided to take full advantage of this favourite past time.  Over the course of seven days we spent over twenty hours on foot in Mana, even tracking lions for roughly 30km in total! Crossing the now dry flood plains from forest to forest, walking the length of Long Pool, birding and looking for unique opportunities to photograph wildlife, were all part of our magical journey through the "blue forest".
There is a something about this place that is so singular in its offering, so unlike anything else, that it will without question continue to welcome many visitors each year to experience its beauty. Mana Pools is a sacred place and an example of how the natural world should be embraced. As long as it is respected and treated with gratitude, with the priority being the wildlife and not the photograph, Mana will continue to win the hearts of every traveller who enters its land.
A huge thank you to the Rendell family for putting their trust in Safari Architects to deliver an unforgettable and magical experience. We look forward to hosting them again next year on another exciting adventure to see gorillas and chimpanzees in Uganda!
Written and photographed by: Mike Sutherland