A Family Adventure Through Africa
I strongly believe that there are few destinations in the world that can rival Africa. By immersing yourself in the world's natural playground, there is always something for everyone to look forward to! When just a few highlights of our next Safari Architects trip included dancing on the banks of the delta at a drinks stop, watching a cheetah with cubs hunt an impala, helicopter flips over the waterways, peacefully exploring the delta by boat, archery competitions alongside elephants and seeing one of Africa's few remaining white lions, you will get an idea of what I mean…
At the end of August we hosted the Culliton family on a journey through Southern Africa. We began by exploring the serene beauty of the Okavango Delta before venturing off into the foothills of the Lebombo mountain range, a safari that complimented itself through true contrast and diversity in terms of wildlife and landscape. After meeting the Culliton family in Johannesburg to allow them rest overnight, we were off to the airport bright and early the next morning to fly to our first destination.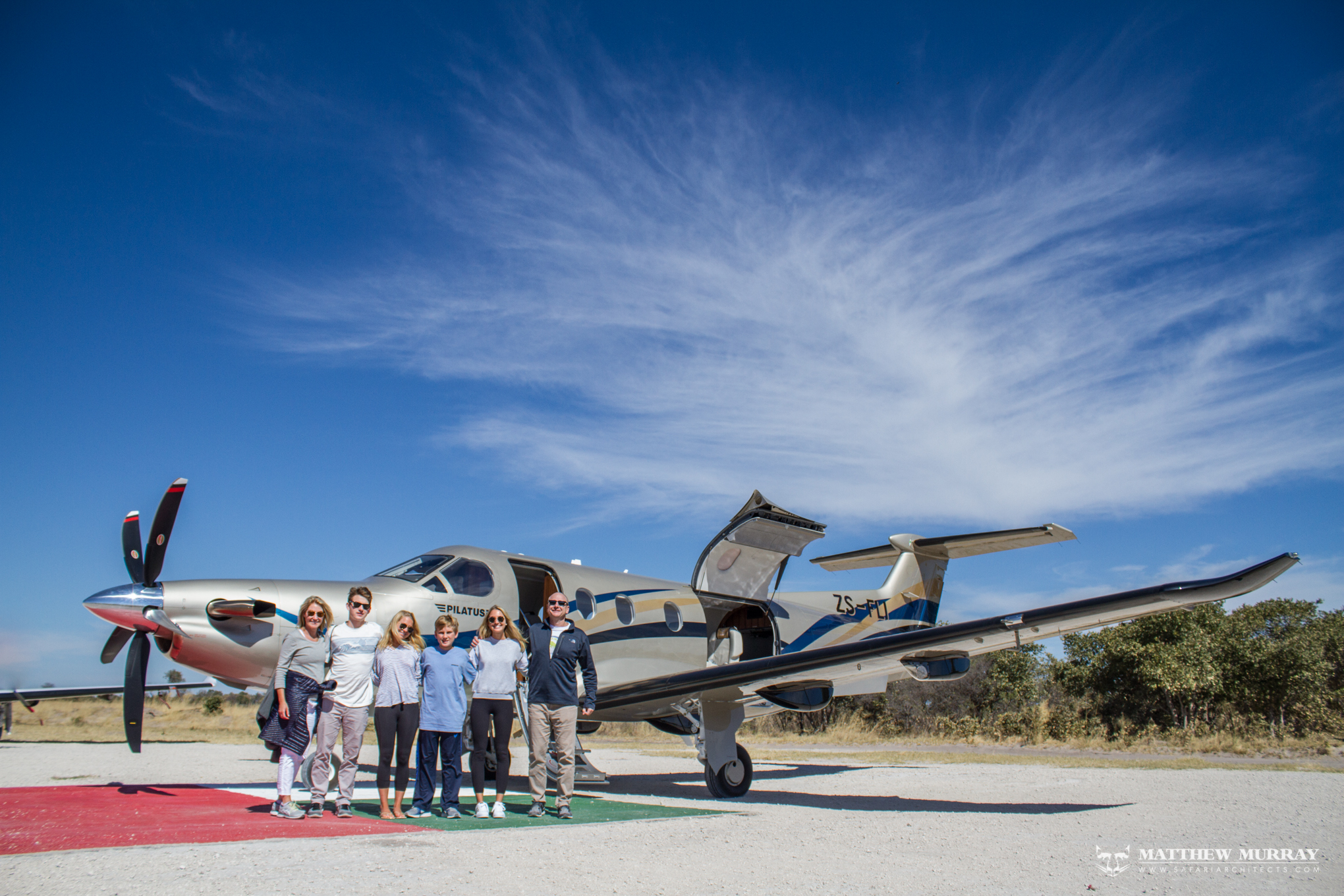 Every year an amazing phenomenon takes place in which the Okavango River empties onto open land, flooding the Savannah and creating a unique and ever-changing inland delta. It transforms the northern part of the Kalahari desert into a lush oasis, one of the world's most unique natural occurrences. A low charter flight over this breathtaking water wonderland set the scene for our next few days at Vumbura Plains camp.
After settling in and experiencing the warm hospitality at Vumbura, we were soon out on the search for a cheetah and her three cubs who had been seen in the area for the last few days. We knew the task was a tall one as cheetah are not regular visitors to the area, however, we were ready for the challenge. However, the bush doesn't always deliver exactly what you expect when you expect it, a reality that makes each drive full of new (even if unexpected) surprises. Therefore, even though the cheetah escaped our sights on this day, we were fortunate enough to spend time with a coalition of four huge male lions who had returned after a few days of absence after going out to mark territories. An exchange we were more than happy to accept!
Our first full day at Vumbura was certainly action-packed. After spending the early part of the morning looking for the elusive cheetah family again, we came across even more lions. This time it was a spectacular sighting of two lionesses with a number of small cubs resting close to a water channel. We enjoyed the early morning sun as the lions played around the vehicle and then decided to return later as the day heated up to see if we could catch them swimming across the channel – a truly unique sighting that would be!
A sudden change of plans! As often happens on game drive, we adapted the plan, as a vehicle close by had spotted the cheetah family we had been looking for since our arrival! We drove at high speed to find the mother cheetah on a hunt, leaving her three cubs on top of a termite mound so that they could watch and learn essential skills. After a few exciting attempts within a short space of time, we thought the opportunity had passed until a lone impala ram wondered through. Parked close to the cubs we all sat silently, holding our breathe, before watching mom give it one last go with careful precision as she got closer and closer to her unsuspecting prey. They say good things come to those who wait and (although we only waited a day) we were rewarded with an incredible moment as the mother cheetah took down the large male impala, after which calling her cubs over to share in the prize.
When your day starts in this way, there is only one way to end it off, sundowners along the delta's edge! (And why not throw in a couple of dance-offs to top it off?)
The tone had been set for the incredible few days that followed at Vumbura. There are so many ways to enjoy the magic of the delta, whether it's silently floating through the reeds appreciating everything up to the tiniest of frogs or gaining perspective of the sheer size of the wilderness area you are in from the sky, we did it all!
We had an amazing experience exploring the delta, one of Africa's greatest treasures. From boat to land travel, and even a combination of both by enjoying morning drives right through the deep water channels, we could not have asked for more! Now, we were off to explore the rugged terrain at the foothills of the Lebombo mountain range in South Africa, a totally different yet equally African experience. An amazing contrast of habitats and wildlife presence to what we had just experienced was now to be discovered!
We quickly settled into the luxury of the newly renovated Singita Sweni Lodge with revitalised excitement and enthusiasm to finding the elusive leopard and hopefully a rhino: two animals that were proving to be our nemesis! During our flight over, the discussion had moved into finding out what my personal nemesis animal was. Now, as a guide, there is always the risk of building up an expectation that may be hard to achieve (for the failure of not achieving it looms over your head). However, I felt up for a challenge, and the elusive white lion was added to the list…
It took only a few hours for the suspense-filled search to come to an end: as we were introduced to the amazing lion dynamics of the eastern reaches of the Kruger National Park, be it at low light, the unmistakeable glow of the majestic white lion stood out in the moonlit evening as we watched twelve lions on the hunt. A truly exciting moment we will never forget!
Over the following days, a reoccurring visitor in the form of the world's largest land mammal never seemed to be too far away. It seemed near impossible to stop anywhere, be it for a drink stop or even when trying our hand at becoming modern-day Robin Hoods, without the familiar shape and sounds of a family of elephants coming to join us.
Our week was sadly drawing to a close. A week in which there was certainly no shortage of laughter, adventure and plenty of incredible wildlife viewing. In true African style, we enjoyed our last evening with a candle-lit dinner along the Sweni River, an opportunity to look back over the past week with drinks in hand and reflect on special memories made together. It is always difficult to choose a single highlight from a trip like this, as every day is so different! Each day contributes to this holistic experience of a lifetime. From my side, it was a pleasure spending time getting to know such a fun and loving family and I look forward to our next adventure together!
Written and photographed by: Matthew Murray