Londolozi & Royal Malewane – A Tale of Two Camps
The coming together of different families and generations, on any occasion, is something to be celebrated. In our busy lives it is hard to find the time to see the people that matter most. Therefore, when we get the chance to do this in a special place other than our home towns or cities,  it can be a life changing experience! And when Ronda and Kelly reached out to us to arrange a family safari, we knew this would be exactly one of those times. For this special occasion, we could think of no better places than Londolozi Founders camp in the Sabi Sands Game Reserve and Royal Malelane in the Thornybush Game Reserve. This winning combination of camps would bring out youthful exuberance as well as sophisticated  experiences for all of the guests on safari!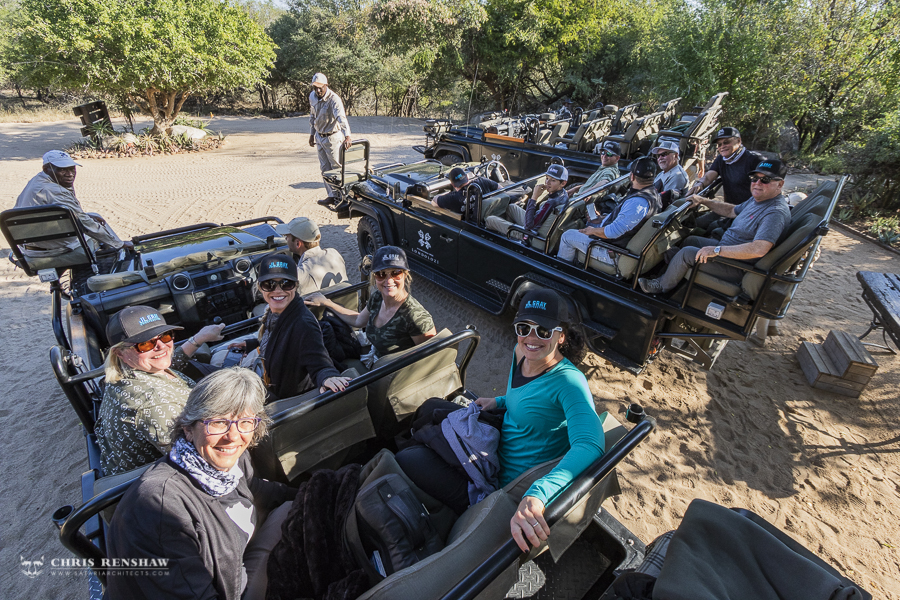 The safari team assembled in Johannesburg, and after a catch up and coffee, we boarded our private Pilatus PC12NG aircraft to Londolozi Private Game Reserve. We were to stay at Founders Camp, a setting steeped in rich history, honouring past guests and staff who contributed to the building of Londolozi. It is their efforts which have distilled the legacy of the past thirty years into a common mission of wildife sustainability and community upliftment through ecotourism. The purpose of this lodge in particular is to provide an insider's view into the secrets of river life!
It is placed right in the heart of the Sabi Sand Game Reserve, which is world renowned for boasting incredible wildlife viewing, especially the big cats. This was made clear to us immediately as the first animal we saw was a female leopard up a tree with a fresh kill! Incredibly this was to be the norm over the next few days as Alex, Judas, Rob and Lucky  (Londolozi's guides and trackers) showed us even more wondrous wildlife seeping throughout the African bush. We witnessed multiple unique and interesting encounters and behaviours in the days which followed –  I hope the pictures below do it justice!
This safari experience was not just about the animals, however. The team recounted family stories, laughed together whist making new memories and submerged themselves into rich experiences together – inevitably bringing everyone even closer than before. A travel glitch prevented the trip organiser, Ronda (aka The Lioness),  from joining for the first two nights, however (in true bush karma) just after she landed a leopardess emerged from the dense bush to welcome her! This was to be the exciting spirit of the safari over the next few days and we certainly enjoyed all that was gifted to us.
We bid farewell to Londolozi and the wonderful team at Founders Camp. A truly special place in all our hearts had been created by this vibrant and exuberant landscape, as well as the people that shared it with us.
Royal Malewane lies in the Thornybush Game Reserve, adjacent to the Kruger National Park and just North of Londolozi. This was where we would spend the last three nights of our safari! After checking in to our lavish rooms (fit for royalty) we then assembled for an exquisite lunch. Satiated by the fine cuisine, we readied ourselves for our next adventure in the African wilderness.
Having just left such a wildlife-rich area, we weren't sure on how things could get any better in this new location. I had explained to the team earlier however that there were definitely still a few surprises left to be seen and, with the help of our fantastic guides Nic and Darrel, I was confident we could find them!
Well, we certainly succeeded! To bare witness to two packs of African wild dogs, black rhino AND an extremely rare white lion is is something that may take some years to accomplish and we got to see them within days. Not to mention all the other amazing animals we saw in between!  All in all, it was probably some of the best game viewing I have had in my fifteen years of visiting these rich wilderness areas.
To top things off, we had a surprise Gin Tasting Experience, as well as final dinner under the African stars accompanied by singing, dancing and general merriment. the team was blown away, as was I!
It is hard to end a journey like this, yet I'd like to think that the spirit of the adventure lives on and that it never actually ends. The memories and experiences last forever, just like the love that binds families. I truly hope that this magical experience we had together will transcend time and be remebered by the every guest that lived it together.
Thank you to the entire team for a truly special safari. It was privilege to be there with you and I will always hold dear the lasting friendship we created in the African bush.
Regards,
Chris