Africa is a feeling
There is a first time for everything. Some of these firsts are lessons, some are experiences that have the ability to change something inside of you. The way you see the simplicity of life and its beauty. Some experiences leave you in awe, without words. And some you didn't even know you needed, but nevertheless, they affect you in a special way.
To travel to Africa for the first time, has to be one of the most inspiring experiences one can have. It is a time to come together, slow the pace and reconnect. Connect with each other, without the distractions of everyday life. Connect with your surroundings, with no desire for your mind to wander home. Connect with yourself. Find yourself, together, here in Africa.
This journey began in the heart of Johannesburg, where we boarded our private aircraft and set off into the wilderness of Southern Africa. It was a safari that would see us explore some of the most sought-after destinations in Southern Africa, venturing from through the swamps and the desert, to the bushveld and the cape.
The start of an amazing journey!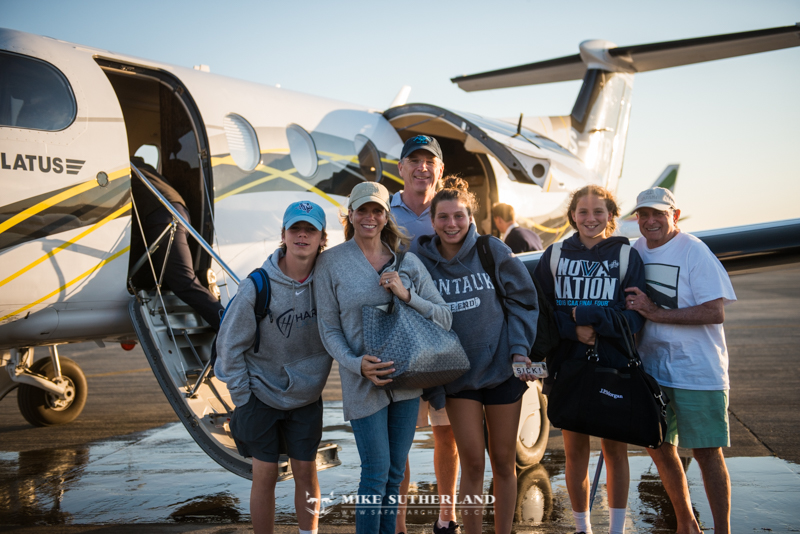 There is a certain uniqueness in flying half way across the world, into a large city like Johannesburg, then boarding another plane and before reality sets in, you are parked next to an enormous African elephant. There were moments of disbelief, nervous giggles and loud gasps scattered around the vehicle. Excitement, intrigue or panic? Perhaps the latter as this was our first encounter with one of Africa's largest mammals, just moments into our first adventure.
We had found ourselves in the Selinda concession, at Selinda Explorers Camp. An immersive, luxury tented camp, in the middle of a vast, wild place. If David Livingston was alive today, this would be his camp of choice. Placed lightly on the banks of the Selinda spillway, unfenced and open to nature, we couldn't have found a more perfect camp to start our 2-week safari.
Having sole use of this camp allowed us to plan our time and activities at our leisure. From game drives to bush walks, canoeing down the spillway and enjoying drinks on its banks, Selinda spoilt us all. And being at a camp like this, you are just that much closer to the soil. A true welcome to Africa.
After a sad farewell to the Great Plains Conservation team at Selinda Explorers Camp, we boarded our private aircraft and flew a few minutes west, toward the Okavango delta, touching down in the Vumbura concession. The Okavango was in full flood, which meant a 25minute boat ride through the channels of the swamps was necessary for us to reach our next destination.
Little Vumbura camp, situated on a small, remote island, in the middle of the northern delta, surrounded by water, is a peaceful retreat that calms the soul. A group of 3 elephant bulls frequent the island, and make for some entertaining encounters, but this is the wild and the camp is all the better for it.
Exploring the concession is done by boat, vehicle and traditional mekoro's. Water activities were taken advantage of, and we found ourselves on the water at any opportunity. Fishing, boating and cruising through the channels in our trusty land cruiser, no obstacle was too great.
There is something so strange yet so appealing about leaving the Okavango Delta, a world that is based on water, and within hours, stepping out of your plane into the barren, dry, desolate landscape of the Namib desert.
A place where water is a scare commodity, one that is cherished and never taken for granted. A place that can go for years without a drop of rain, and where the few plants that do survive, have adapted themselves to collecting moisture from the air, from mist and fog that rolls in from the coast.  Animals that call this place home have also adapted to this is way of life, a life of such harshness and extremity.
The desert is a unique place, and unique in all its offering. At Little Kulala, we had the ability to ride ATV's (4 wheeler's) through the desert to the most magical sunset spot, atop a mountain range. We dined and slept under the stars, with night beds set up on the roofs of our luxury rooms. We woke in the dark only to hop into a hot air balloon and float over the dunes and then we tackled them on foot, climbing the largest sand dune in the world. We ventured over the landscape of Deadvlei and we raised a toast to another special location.
Contrasts became clear as we set off to our 4th destination. This time, back in South Africa at Singita Ebony, in the Sabi Sands. Having spent some time in the desert, we were all excited to see some wildlife again, and our expectations were certainly met. From leopards with cubs, to mating leopards and leopards jumping across rivers. We engaged with the local communities and dine to our hearts content.
The diversity of landscapes we had experienced on this safari ranged from savannah's to woodlands, the lush waters of the delta to the Namib desert and the bushveld biomes of the lowveld in South Africa. We made the journey across the southern part of our continent, from east to west and back, ending in the Cape floral region exploring her beauty.
Below is a video diary of the entire safari from start to end, and all the magic that we played witness to.
https://www.youtube.com/watch?v=EZfyyJBmewM
There is no better way to experience the beauty of what our continent has to offer than to experience multiple destinations with varying habitats and diverse wildlife. To join us on a journey that will not move you emotionally, but will also be a learning experience for all that are involved, get in touch with our team.
Written, filmed and Photographed by: Mike Sutherland