Hoanib Skeleton Coast – The land of "Vanishing Kings"
We have just returned from Wilderness Safaris' Hoanib Skeleton Coast Camp. What a sensational experience! Everything here is more intense. Animals, vistas, distances and climate. There is so much space but so little food and water, that all creatures living here do so on a knife's edge. Flying over vast swathes of desert and seemingly desolate land you can't help wondering, what could possibly inhabit and live in such a place? Every time I visit Namibia the same thought goes through my mind. However, once on the ground life slowly begins to reveal itself. You would think that it would be barren and devoid of inhabitants. On the contrary, if you look carefully there is some creature or plant doing its best to survive, they're just a  little harder to find and often hidden. If you know where and how to look, the secrets of this desert wonderland can be revealed.
A recent documentary tells the story of this area. It focuses on the struggle that the very specialised desert lions go through on a daily basis. The title is "Vanishing Kings". It's an incredible true story, and I urge you all to go and watch it. It showcases Dr Flip Stander's devotion to the study of these big cats. One of our goals for the trip was to see these famous lions and to witness the species they interact with. (Including desert adapted elephants, and if you are very lucky, desert black rhino).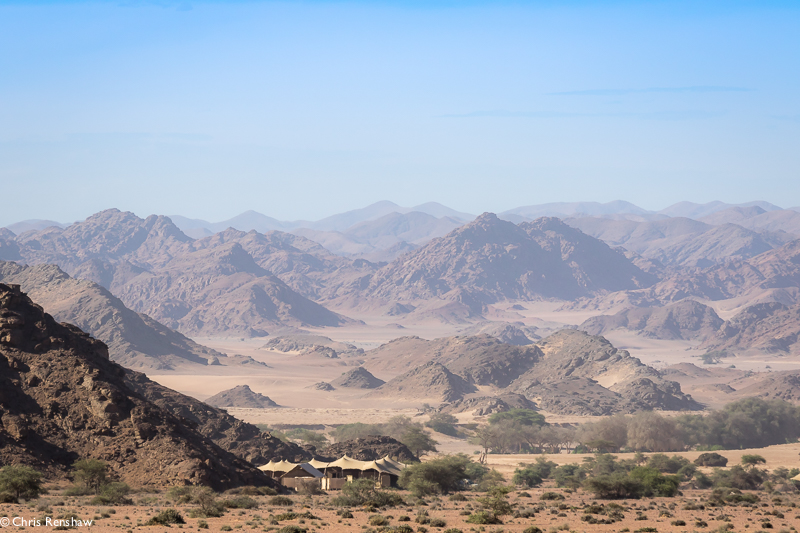 On arrival, you drink in the scene and the location of the Wilderness Safaris camp, nestled amongst the rocks and sand.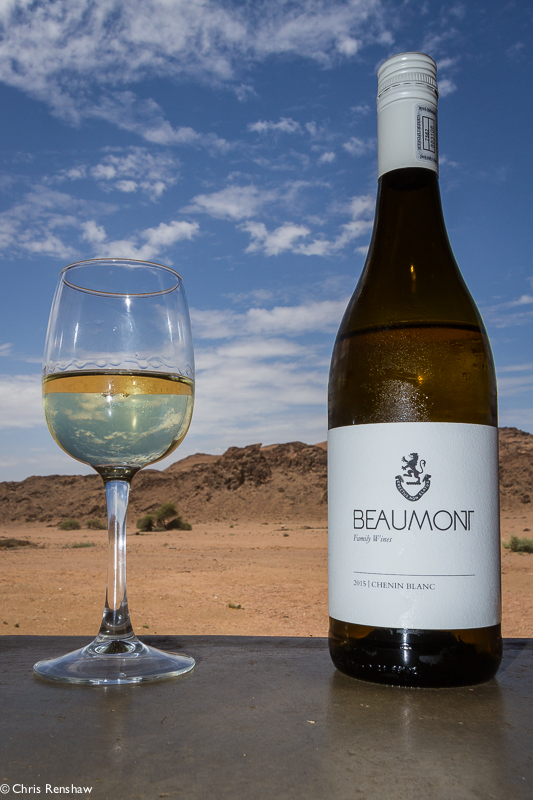 A little refreshment from the ample cellars on hand.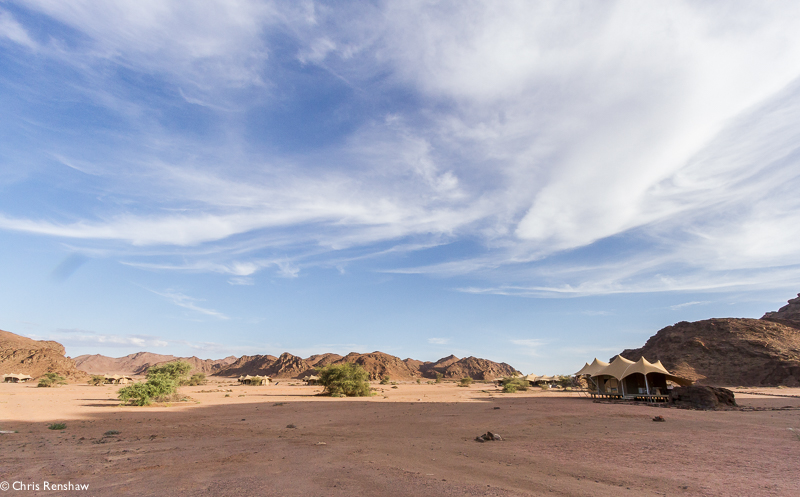 A 180 degree look of the camp and rooms.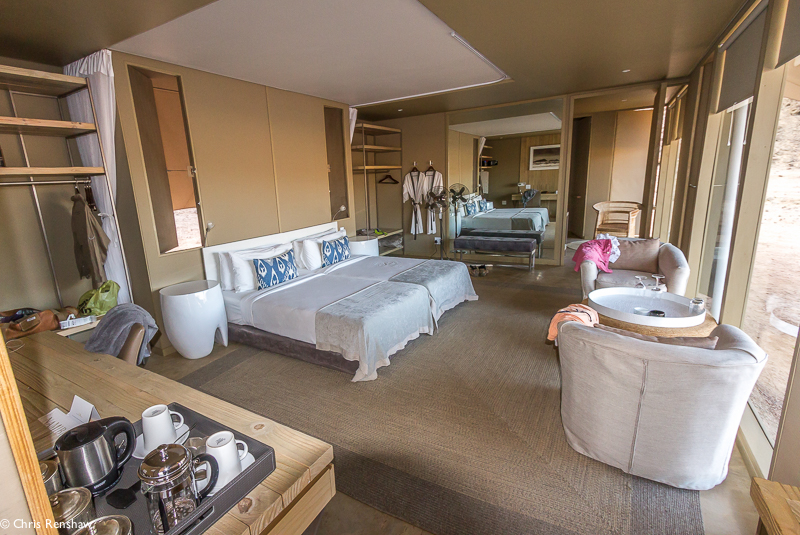 Stylish interiors and comfortable rooms allow for relaxation and an escape from the midday heat. At night the breeze from the cold Atlantic coast 60km away cools everything down and a pleasant temperature balance is reached.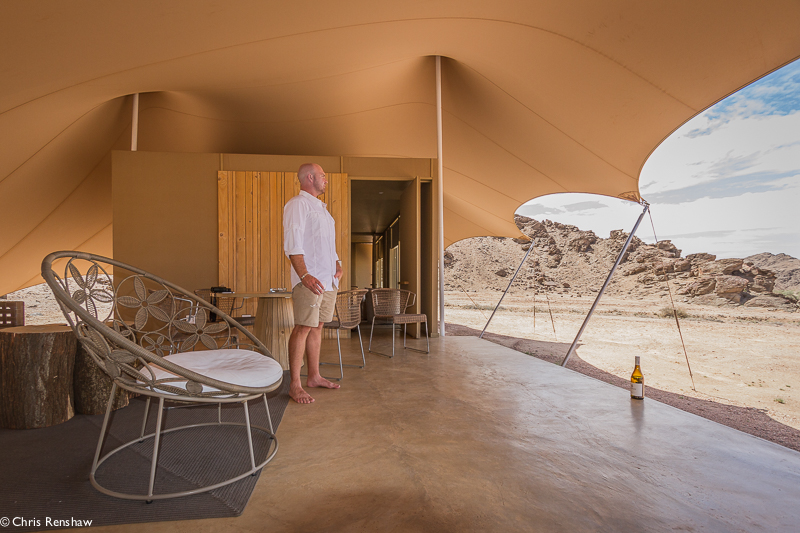 Chris enjoying the view.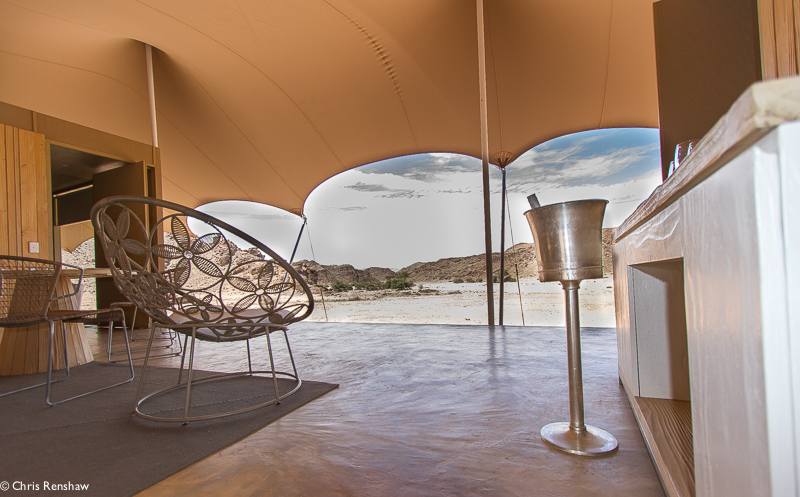 This is the view from the family room verandah which overlooks the camp's watering hole. It is not uncommon to see desert elephants and the lions from "Vanishing Kings" fame, drinking here.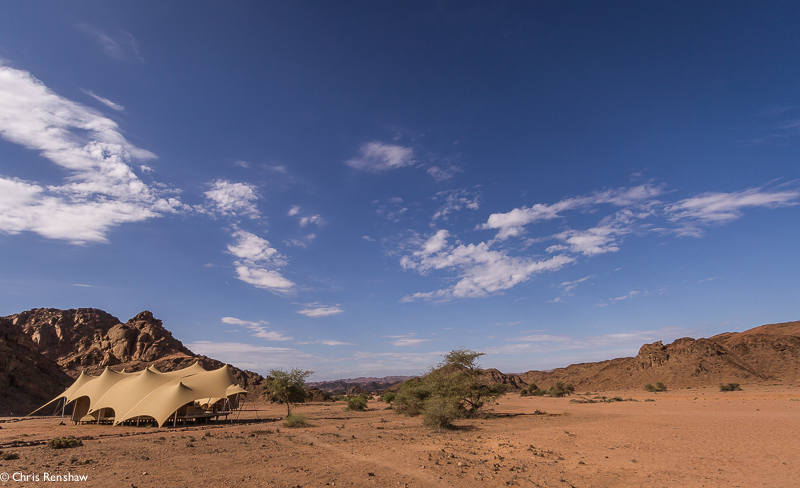 A view from the main area.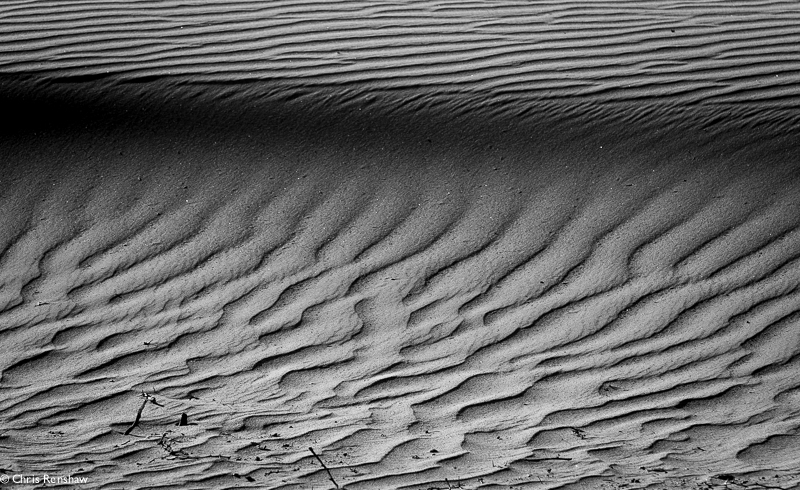 This land is a stark contrast of incredible beauty and the harshness of life.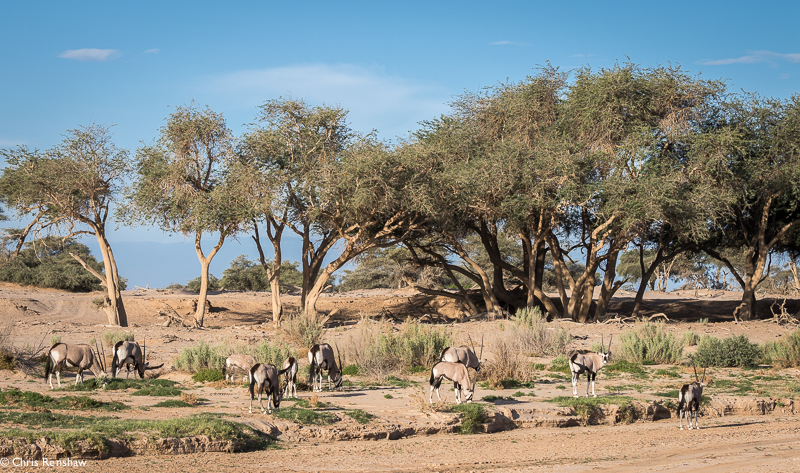 The Hoanib River is the life blood of this area. It hardly evers flows, except in periods of intense and unusually high rainfall upstream. This year was the first in decades that it flooded all the way to the Atlantic Ocean. Animals concentrate around the river, however due to the rains, a lot of the herds had scattered into the surrounding mountains, as there was a combination of good grazing and cover from predators.  Oryx are the most common antelope species here. A herd grazes on new and fresh grass shoots.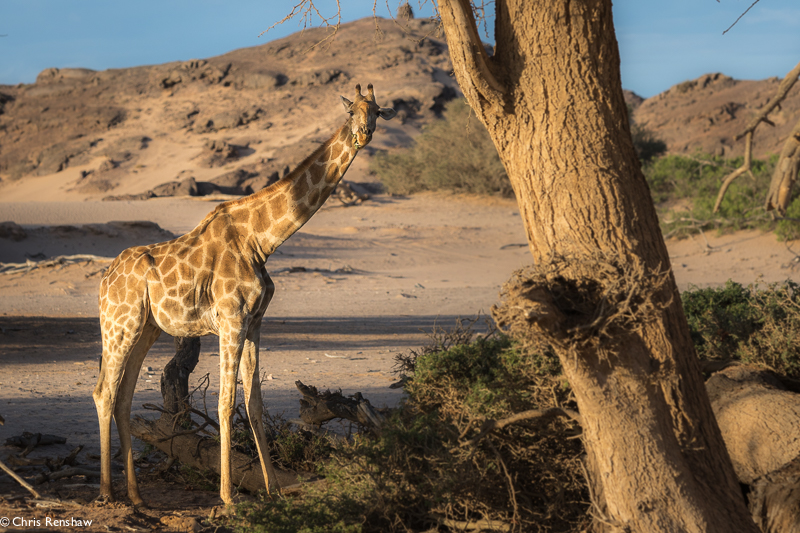 Giraffe are well represented here. Feeding on Ana tree leaves and pods sustains them in this harsh landscape.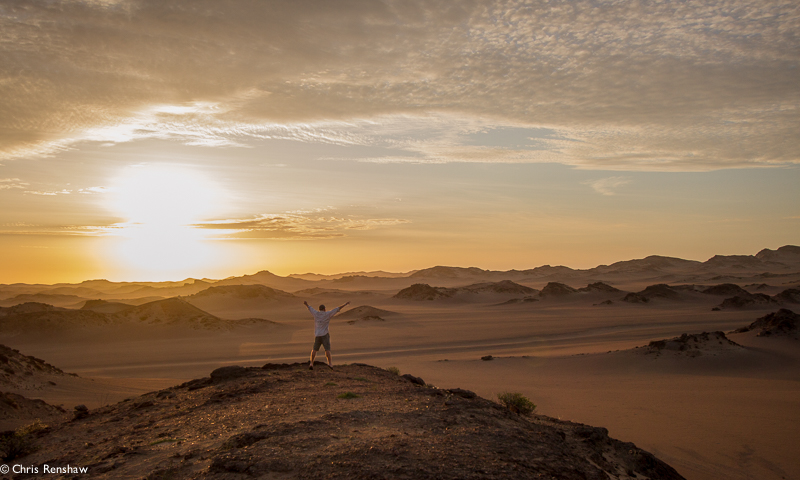 After a game drive, Papa G (our guide), takes us to one of his favourite sunset spots. Chris having some fun with a fantastic view. Wow!!!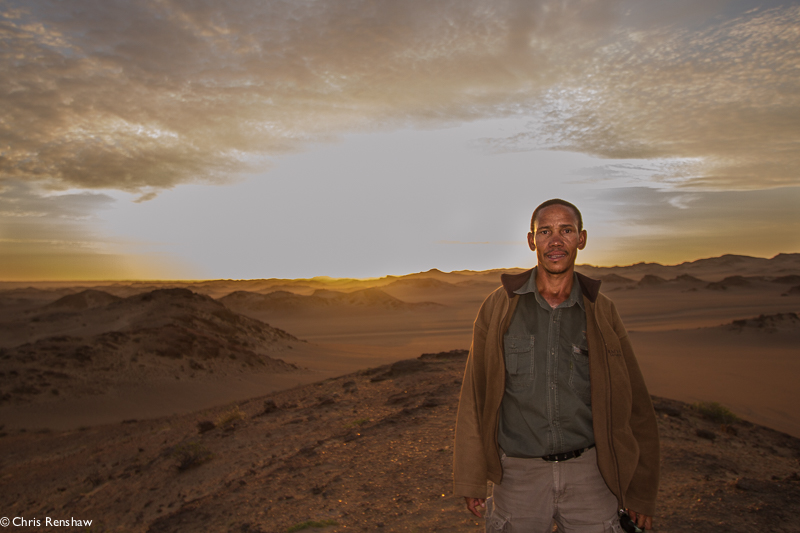 Papa G, the man! What an honour to see this world through his experienced desert eyes. Never giving up and tireless, we searched this barren landscape to find its treasures.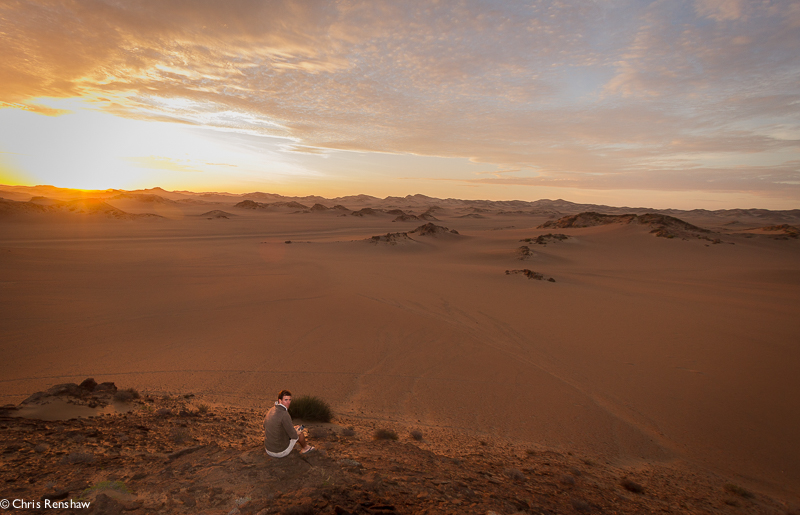 Brad sipping on a G and T, enjoying the moment.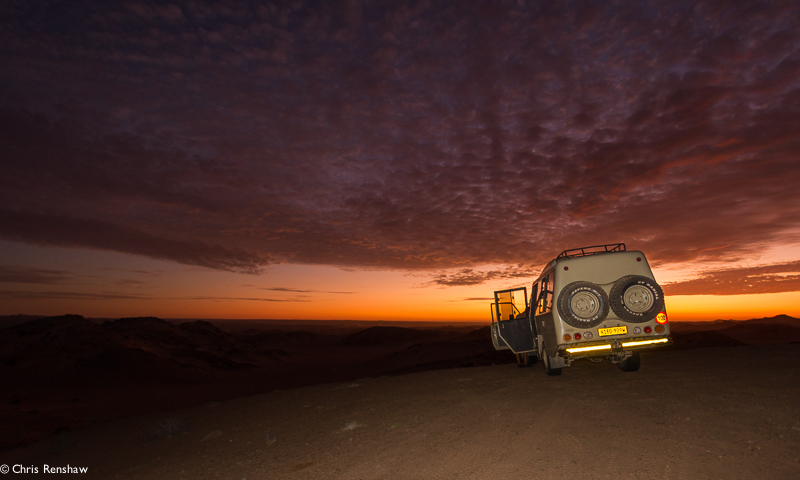 Our trusty land cruiser, which would become our vessel for the quest we had chosen for the next day.
Starting before dawn, we set off to find the desert lions. They have satellite collars to monitor their movements for the very important research that is needed on them. The conflict with local herdsman is first and foremost the biggest issue, along with hunters from neighbouring concessions, countries and private land. The 5 brothers known as the "Musketeers" are the last male lions of this area. The survival and future of these desert lions rest with these future kings. The last satellite position we got was very far North, a good three hours drive away so we pressed on.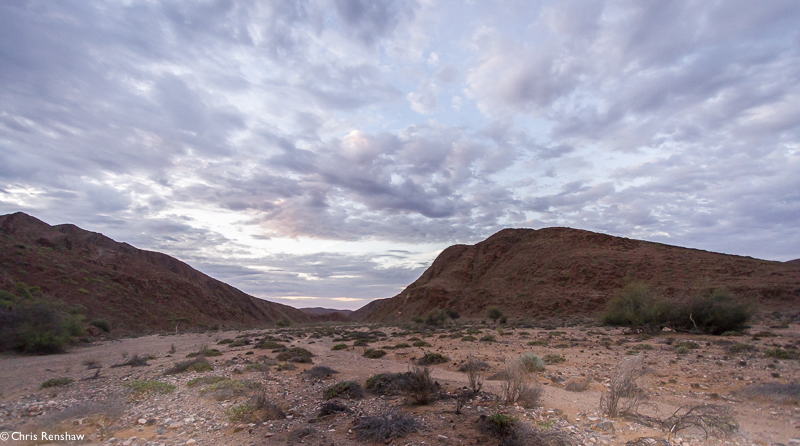 An early start.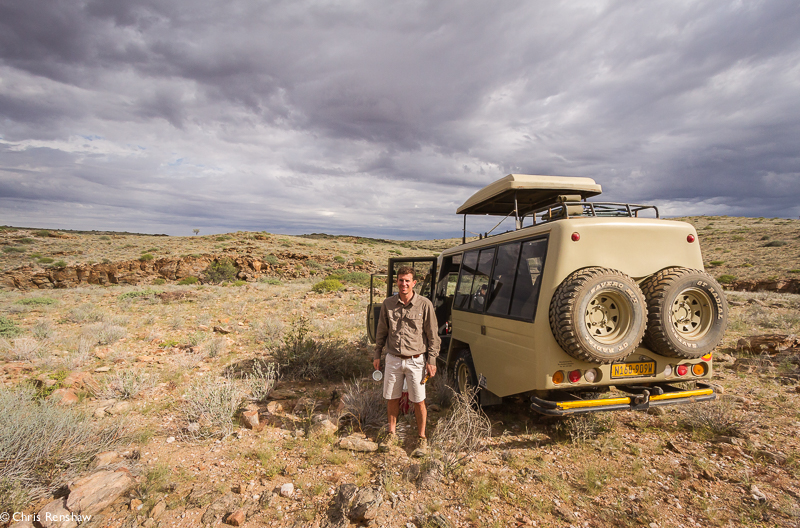 After finding their tracks and last position we tracked them for a number of hours into an area that we could not access by car. We enjoyed a coffee to break the fast. We later found out that they were in a gorge 750m from our position. It didn't matter to me not seeing them. Just to know these incredible animals were close by was enough. Safe, wild and free. How all lions should be.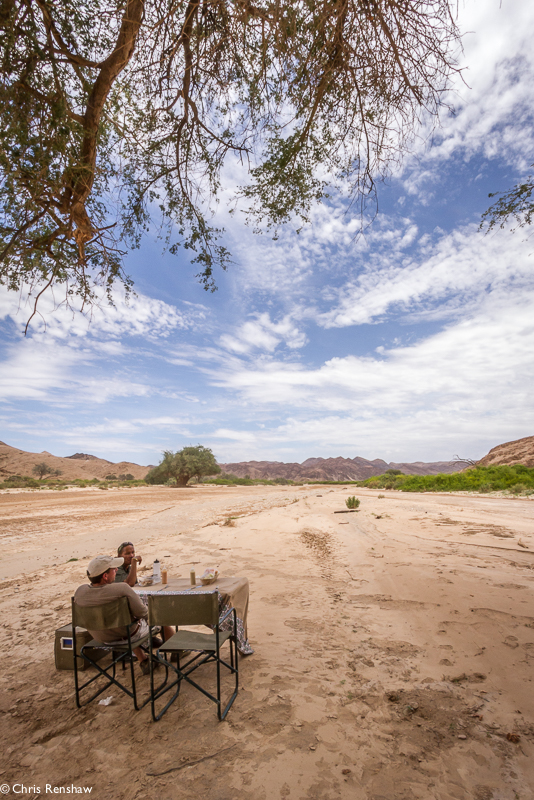 We decided to head back South towards the Hoanib River in search of the desert adapted elephants. However, a spot of lunch was required, and what better way to do it under a Ana tree in the dry river bed.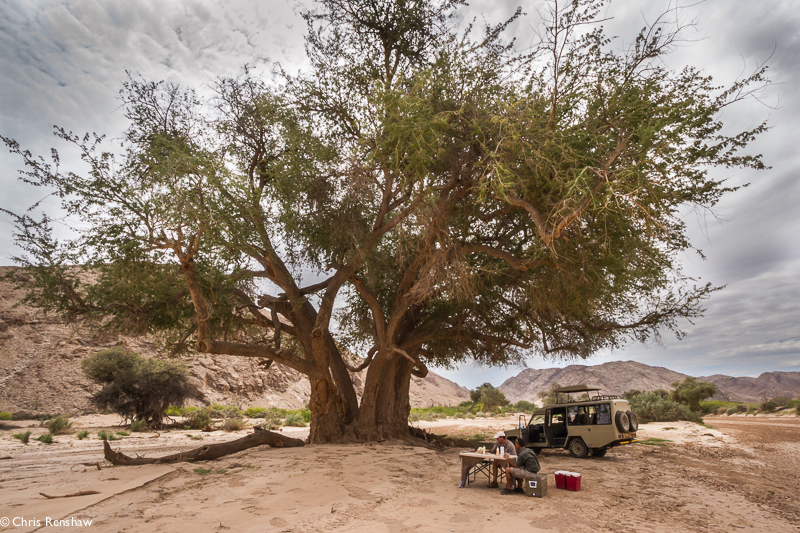 Tough life…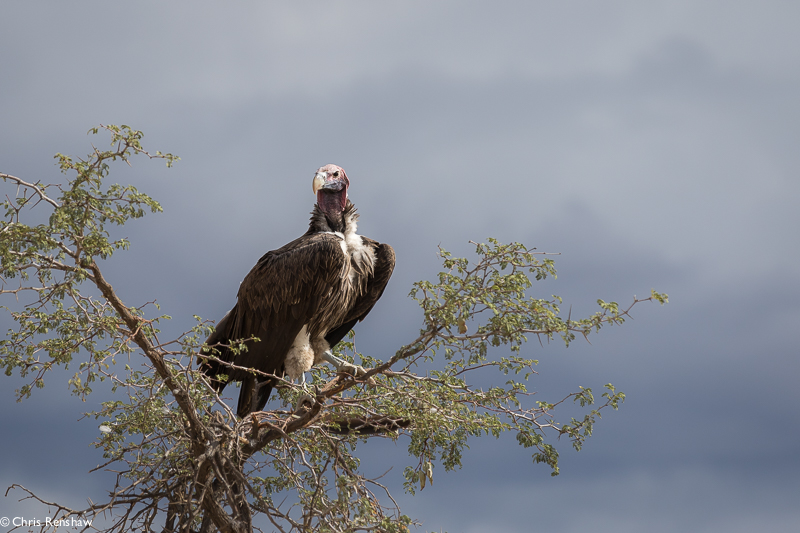 On our way we found some of the creatures that inhabit this area. Lappet-faced vultures, the largest vultures in Southern Africa are by far the dominant scavenger species here.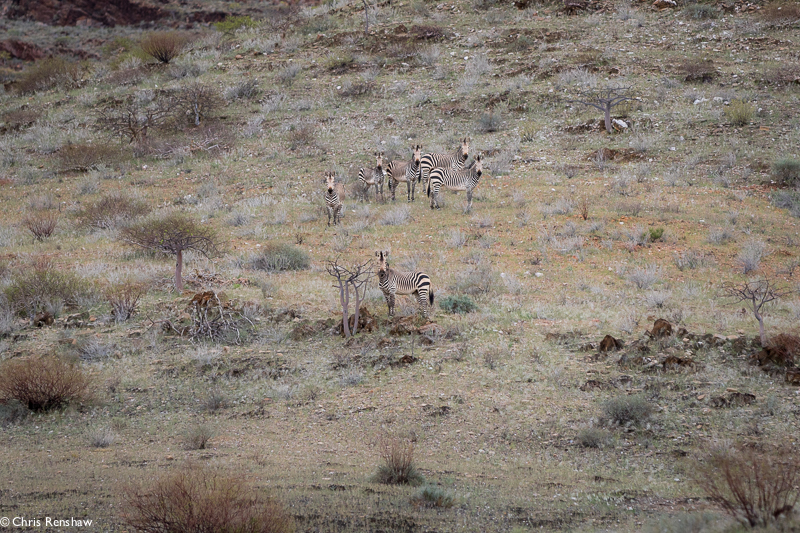 Hartmann's zebra, an uncommon and isolated zebra species to dry and arid areas. You can see how the stripes stop before going under the belly.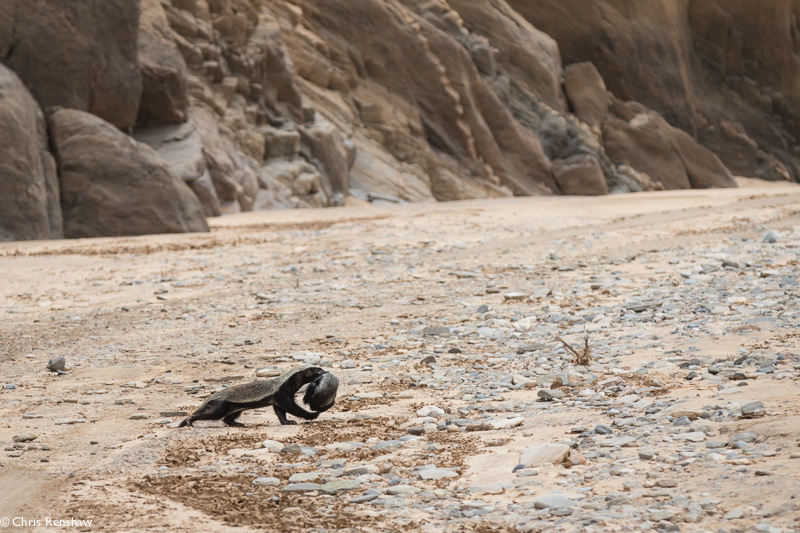 We've been fortunate to see many honey badgers, but never lucky enough to see one carrying its cub. This mother carried and dropped it a few times. It was over 40 degrees and I'm sure the little bundle got rather heavy.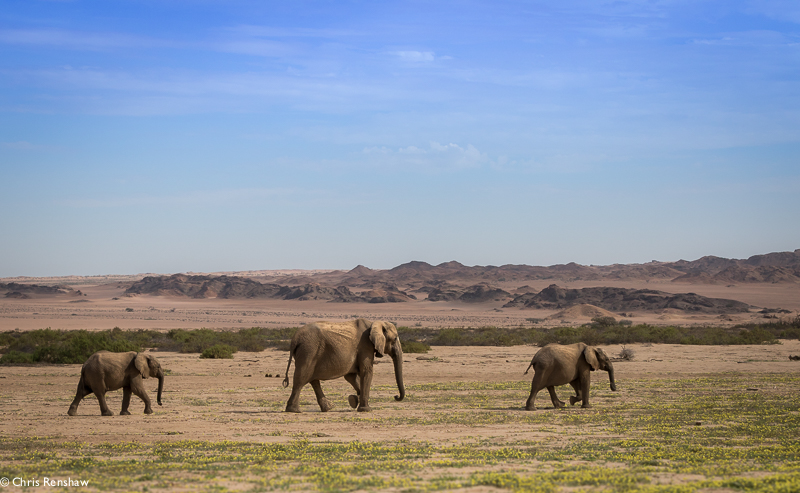 After a long but rewarding day in our trusty land cruiser we finished it off by seeing one of the desert adapted elephant herds. The green in the foreground is from the flood a few months back. Usually these unique and incredible animals have to deal with dry and harsh conditions and a lot less water and food than their savannah cousins.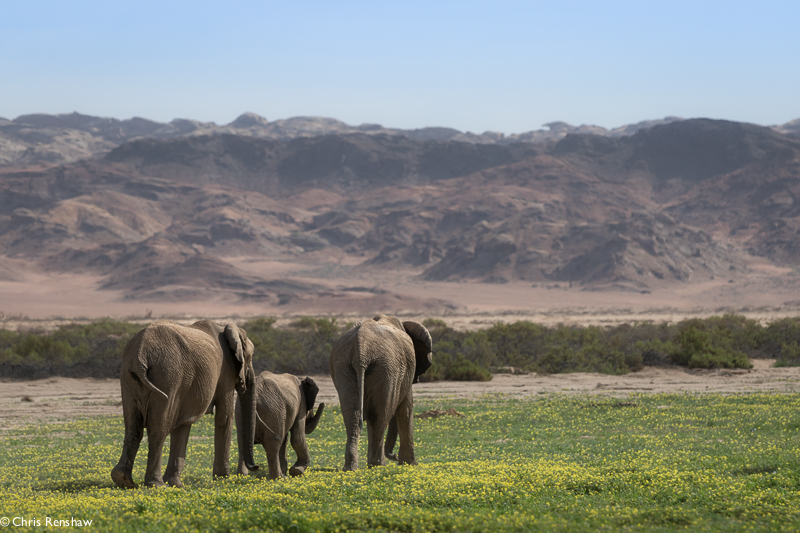 This herd comprised of a family of six. A tight knit family relying on each other every day.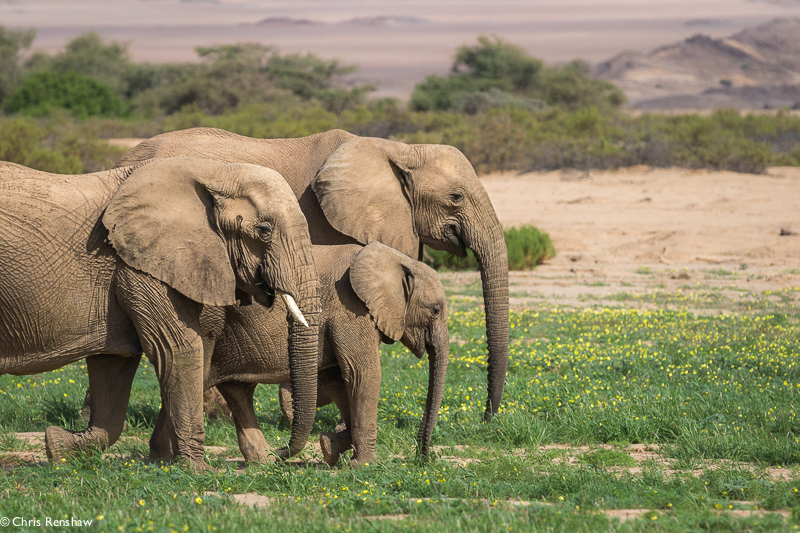 Desert adapted elephants are usually stocky and smaller than their savannah relatives, however there was nothing small about these elephant cows.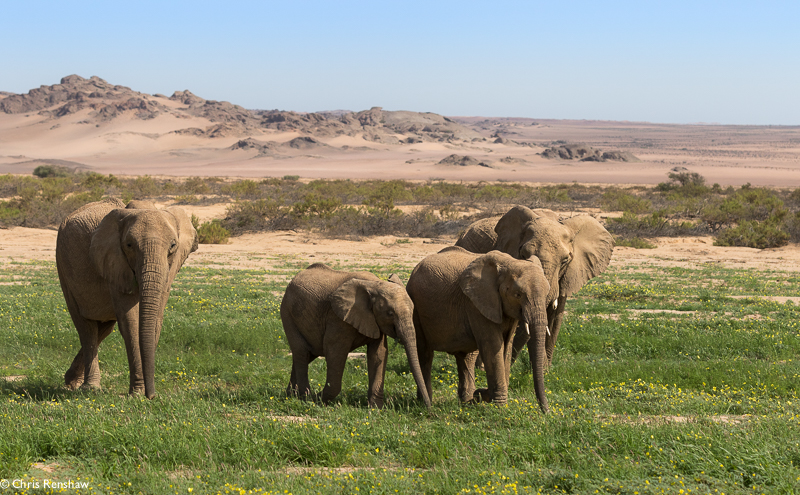 To give you an idea of the strength of these creatures, an elephant calf recently born to another herd walked 28km on it's first day in this harsh environment. They have been known to walk over 100km in a day in search of food and water.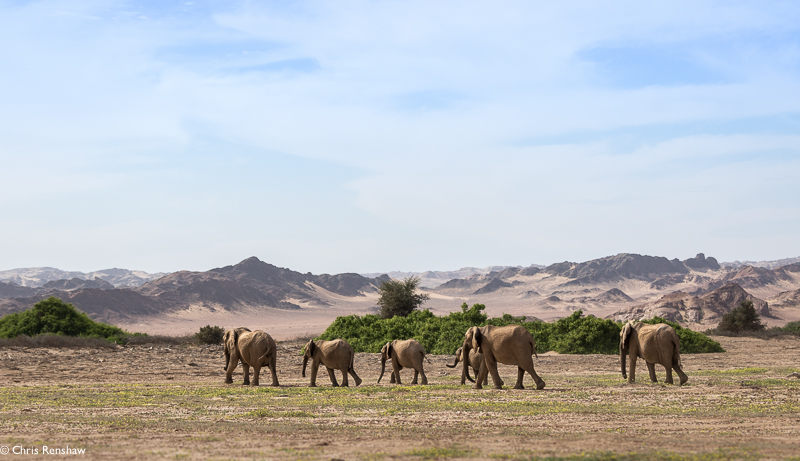 After feeding in the floodplain for a while, they left us to explore regions unknown. 
The following morning we went in search of the lionesses that are the mothers of the Musketeers, and equally famous from "Vanishing Kings". We did not hold much hope as we knew they had cubs and were in a very remote area and did not want to disturb the little ones. However, as we descended into the river bed we saw two sets of lioness tracks. Papa G had a good look at the direction and decided that the cubs were not with them, so we started to track them down. After 2 hours and many valleys and mountains later we were running out of time. We were leaving that morning and needed some Papa G magic. Instructing one of his colleagues to check the one side of the mountain, we looped around to check the other. Papa G's instinct was that they were far away, unless they had made a kill. These lions can walk 80kms a night with no problem, even with the cubs. Turning back to me, Papa G said the tracks did not come over the mountain, and that they were probably in the mountains with the cubs. As he said this his colleague radioed in frantic Damara language. Not understanding a word we had no idea what was going. Until Papa G smiled. They had been found. With the cubs, and on an Oryx kill.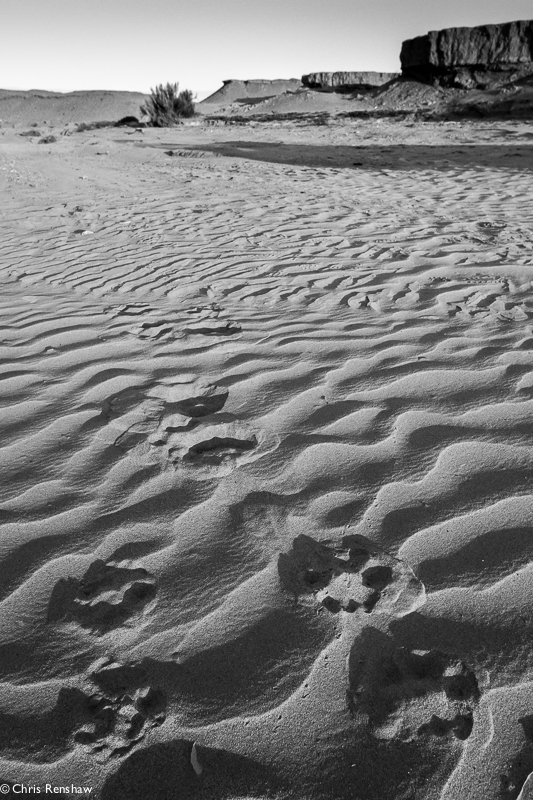 Footprints in the sand…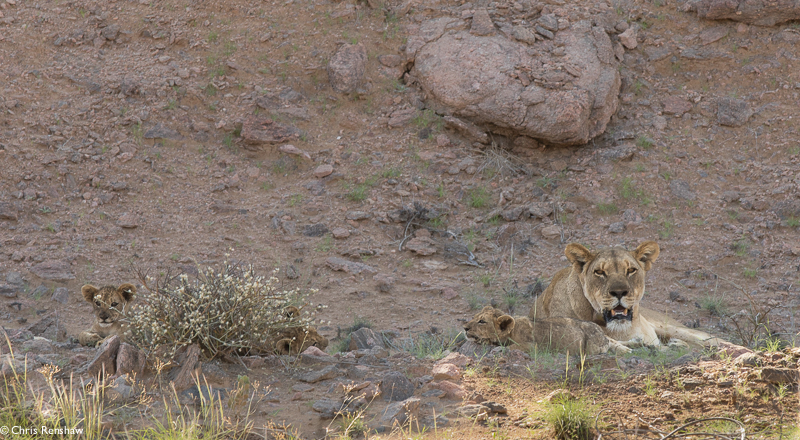 The famous lionesses and 3 of her new cubs.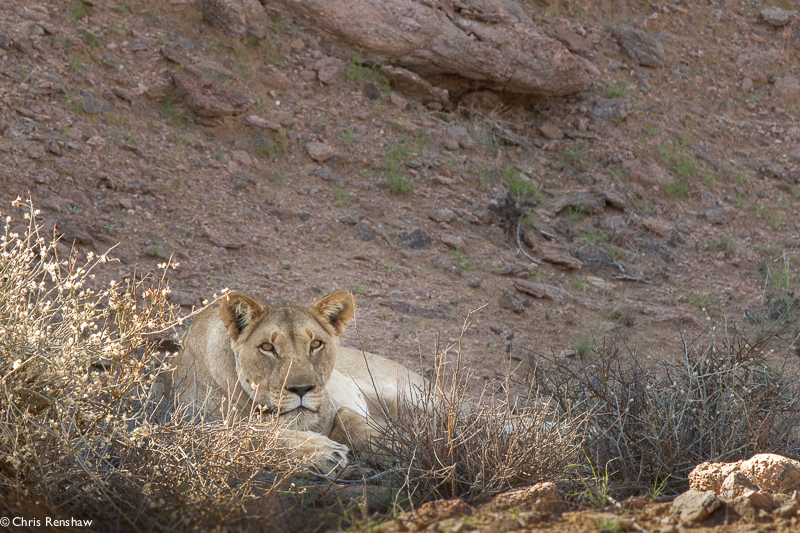 Supremely strong, lean and powerful, it was a real privelage to see these lionesses. This female did not have cubs, but will act as a aunt to her sisters litter.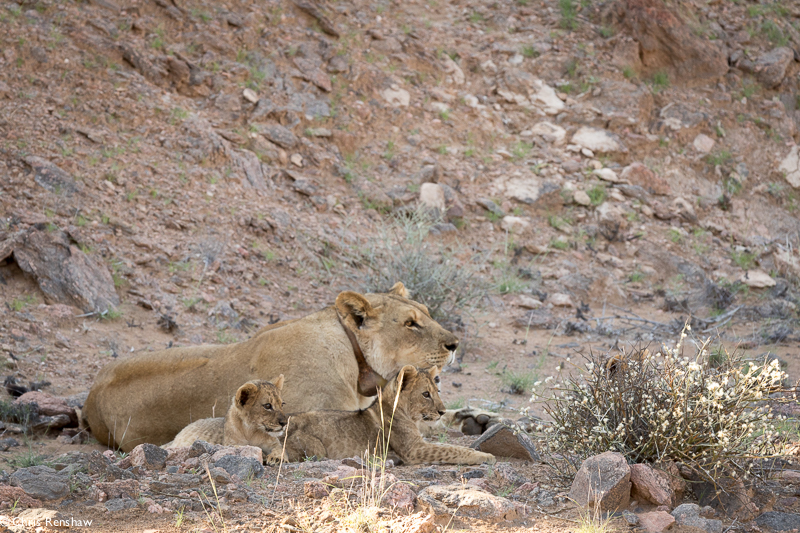 Young and inquisitive, we kept our distance so not to disturb them.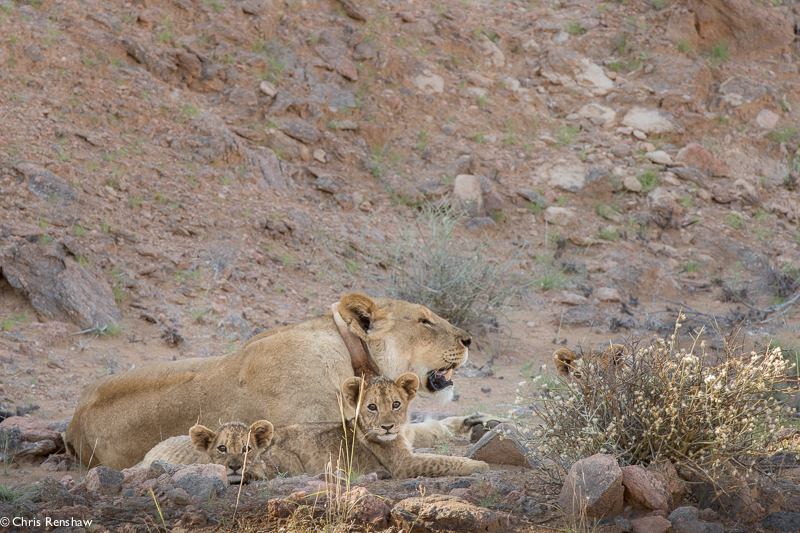 Seeing their mother being at ease with us, they relaxed and allowed for us to view them.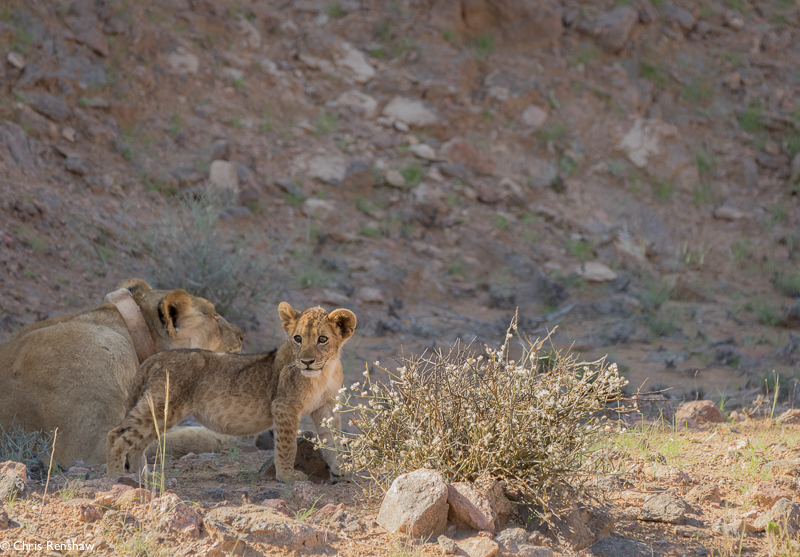 Staring at a black backed jackal approaching their kill, this little cub stood up for us. Knowing the whole story around these lions and the challenges they face, to see new life in such a harsh environment is something magical. 
Now that we are back home, I'm left with a sense of wonder. I feel really privileged to have seen creatures that unbeknown to them, are famous. However, all that they want is to survive. To live free and wild, and to continue their existence in this most beautiful, yet harsh environment. I commend the incredible work that Dr Flip Stander is doing, along with all the partners like Wilderness Safari's who are contributing to the survival of these animals. The constant interaction of humans and wildlife is an ongoing struggle, we share this world and we need to learn how to do this sustainably and in harmony.
If you would like further information on his work and the documentary, follow these links.
http://www.wilderness-safaris.com/about/media-and-press/-vanishing-kings-lions-of-the-namib-premieres-in-windhoek
Regards,
Chris Renshaw
Text and images copyright Chris Renshaw