Sanctuary for the Senses
The alarm rang at 5am. I peeked out from beneath my blanket into the dark room and wondered how today might differ from all those that had preceded it over the last 18 months. In truth, this day was about to offer me more than I could ever have imagined. This day was the start of an adventure. This day was special. I was going on a safari!
Since my youth I have lived quite differently to most. Since completing my photographic studies back in 2005 I am lucky enough to have been on something of an everlasting safari, enjoying the privilege of sharing my life and time with some of the wildest landscapes on earth. It has been one of my great purposes to help connect these wild landscapes with the admirable people who choose to visit them, helping create a deep connection and respect for the uniqueness of the destinations.
The Coronavirus (Covid 19) pandemic has been devastating, globally. On that I feel sure we can all agree! In the midst of frightening casualty figures, worrying press, economic challenge and overall anxiety, there's not been a lot of uplifiting news to come out of this health crisis. However, there has been one positive: wild landscapes were, for a time, given a chance to take a deep breath unattended. This was a beautiful thing, and something I could never have imagined happening in my lifetime.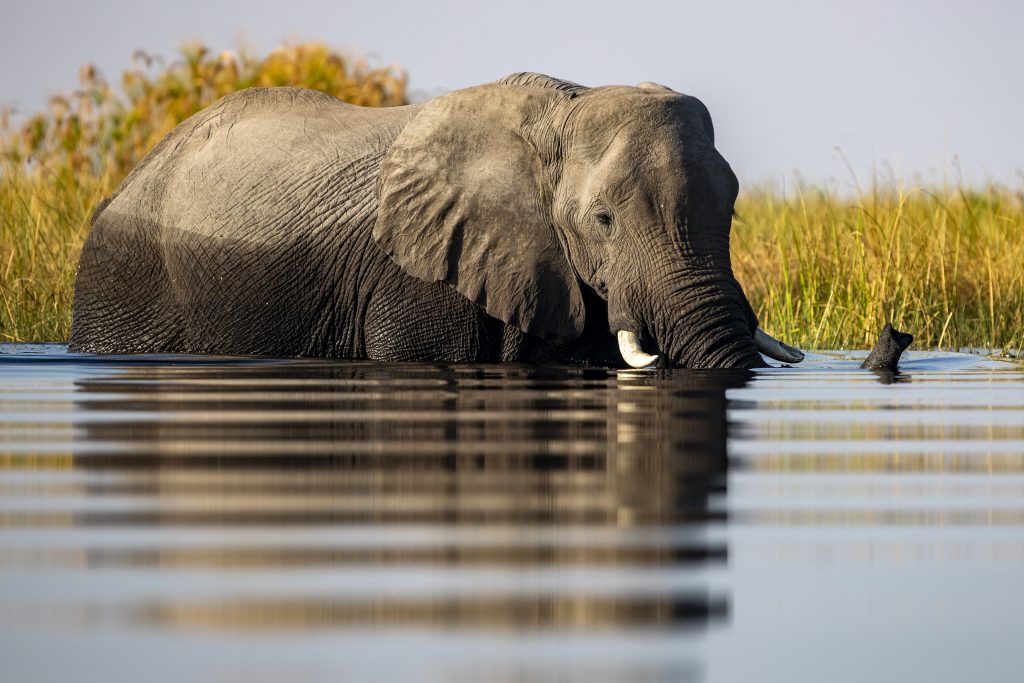 Hit by this separation between humans and wilderness I, for one, was taken away from my comfort zone, from my home. I was locked away from the wild places that give me purpose and starved of the remarkable moments that make me feel alive. Instead, I found myself more often hunched over my phone, eating dinners I couldn't afford while answering emails I was convinced couldn't wait. I continued hustling in order to fit into the consumer-based lifestyle that I thought I needed to buy into. And, it's easy to buy into. With all the changes happening around me I realize now that  I had started to lose perspective on the difference between wants and needs.
The last eighteen months have taught me without a shadow of a doubt that going on safaris, or traveling to wild landscapes, is not a want for me, but rather a need. For most, the concept of going on a safari conjours up all sorts of feelings of freedom, excitement and release: the opportunity to slip out of  life as it's known by most; to leave the hustle and bustle for a short while; to be aligned once again by nature. I would like to encourage you too to change the way you see the world. Now more than ever exposure to wilderness is a need, rather than a want.
I guess you're wondering where on earth we chose to go on a safari. Well, the answer is breathtaking Botswana, which boasts some of the most magical lodges on the planet! This fact, coupled with the exclusivity of exploring vast wilderness regions, left me in little doubt that this destination would make a perfect inaugural post-pandemic safari.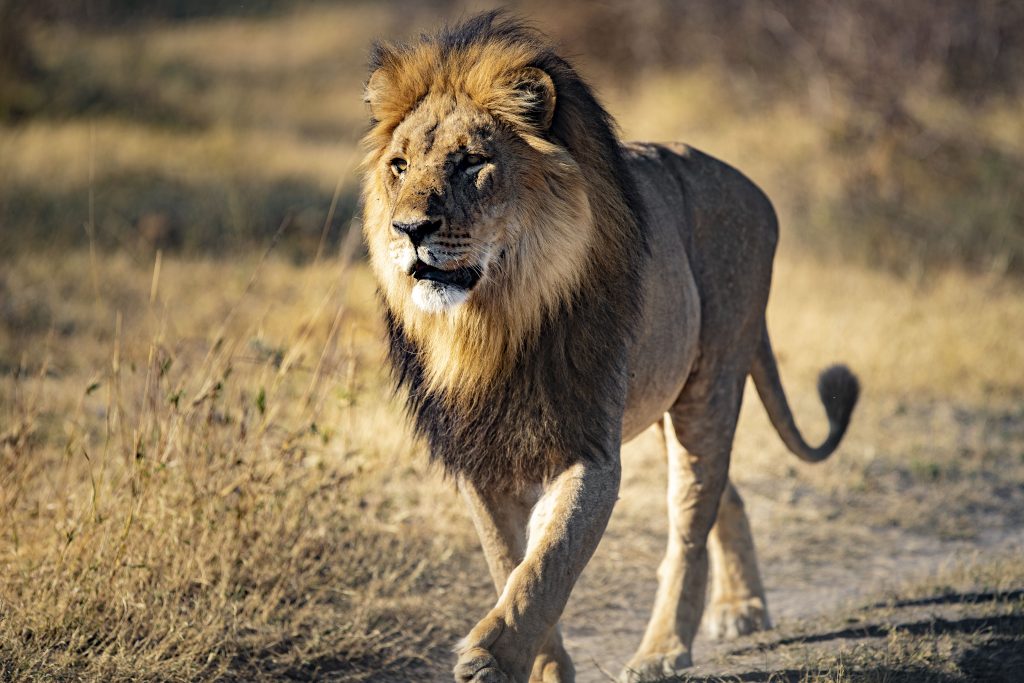 You don't need to be brave to travel to Botswana post Covid, although that is what many aspiring travellers would be forgiven for assuming in the current situation. The country is magical and remote and the lodges are seamlessly efficient. I, for one, felt right at home. One warning I feel I should offer however, is that you must be ready to experience some things that you likely have never experienced before. Botswana is one of those special, humbling kinds of destinations that remind you where you stand. In the greater scheme of things we are all wondrously small, wonderfully fragile, and inherently connected to the wild.
Now, let's get started with some of the incredible things we saw. There's a lot to talk about after all!
Flying over the delta I was mesmerised by what I saw. The views on offer through the aircraft's windows were phenomenal. To witness the beauty of so many cobalt blue oxbow lakes winding through the lush, verdant textures of the Okavango was simply thrilling.  The land was bustling with activity. We saw elephants aplenty before we had even landed at our first destination of DumaTau in the Linyanti area. After landing I remember how good the sun felt on our skin as we stepped into our safari vehicle and met our transfer driver. His name was See, and he was about to help open our eyes to the wilderness by teaching us the difference between merely looking and actually seeing in life.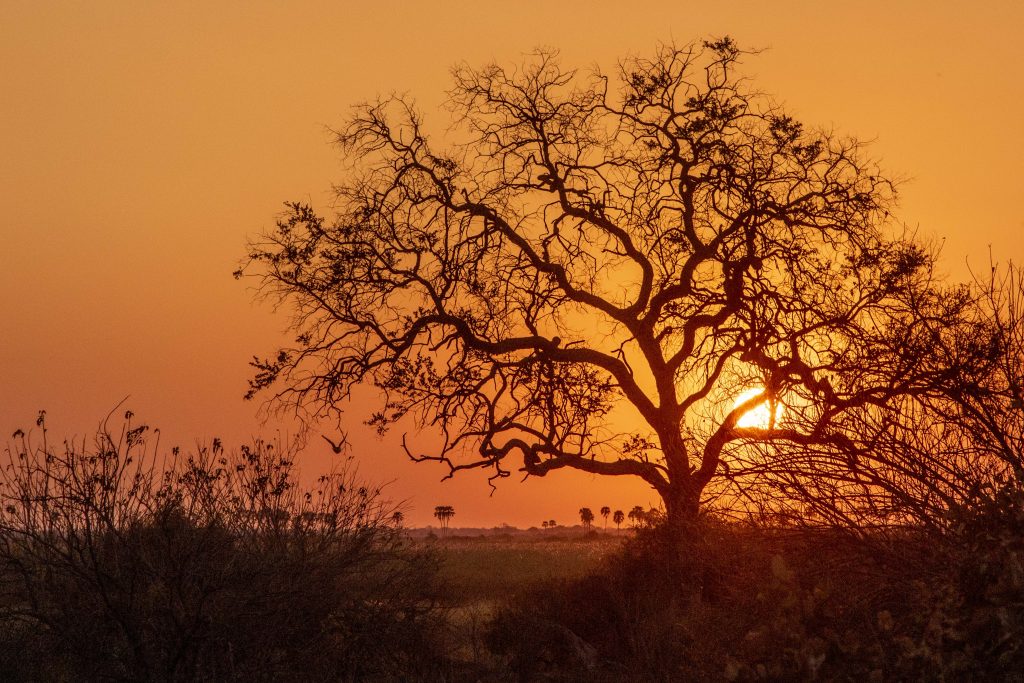 After an intoxicating welcome, driving along raw, irregular, dusty roads, See delivered us to our camp: a shady retreat looking right over the river, surrounded by ancient trees overflowing with life. The architecture was stunning with plenty of local textiles reflecting the heart of the Linyanti.
Without wasting any time I headed to my private plunge pool to take a dip surrounded by natural beauty. Across the way some thirty elephants were also taking a swim in the channel, their trumpeting sounds echoing across the water. The pool was cold to touch, but my senses felt alive!  I felt connected to something bigger than myself for the first time in what felt like eons.
Over the next couple of nights we enjoyed exceptional game viewing and were told many captivating tales by our local guide Rodgers. His ability to bring stories from the land back to the present moment was remarkable. We were entranced, following the tracks of a pride of lions through a mopane forest as the early light danced through the trees. The tension was palpable as we narrowed in on them. This tracking experience was a highlight in itself. But, the romantic drama we were about to watch unfold was definitely the most memorable experience I had at DumaTau. It was such a privilege to be unhurried as we slipped into lion time and spent the morning following lion lovers. A perfect storm of feline passion: a single lioness filling the air with pheromones and two males following her scent. The males were of very different ages. We first spotted the younger male looking proud and confident as he vocalised along the waters edge, moving with grace through the golden grasses. He was anticipating a return call from the other male, but no such luck! The older male was in prime position. He had the girl and was sitting in the midday sun staring into her eyes; cool, confident and commanding. This went on for some hours. Sadly for the males however, they both became so engrossed in the drama of their situation that they let the lioness out of their sight for a fraction of a second, and with that she slipped away into the grasses not to be seen again for the remainder of that day. In the darkness some new males came into the area and stole her away.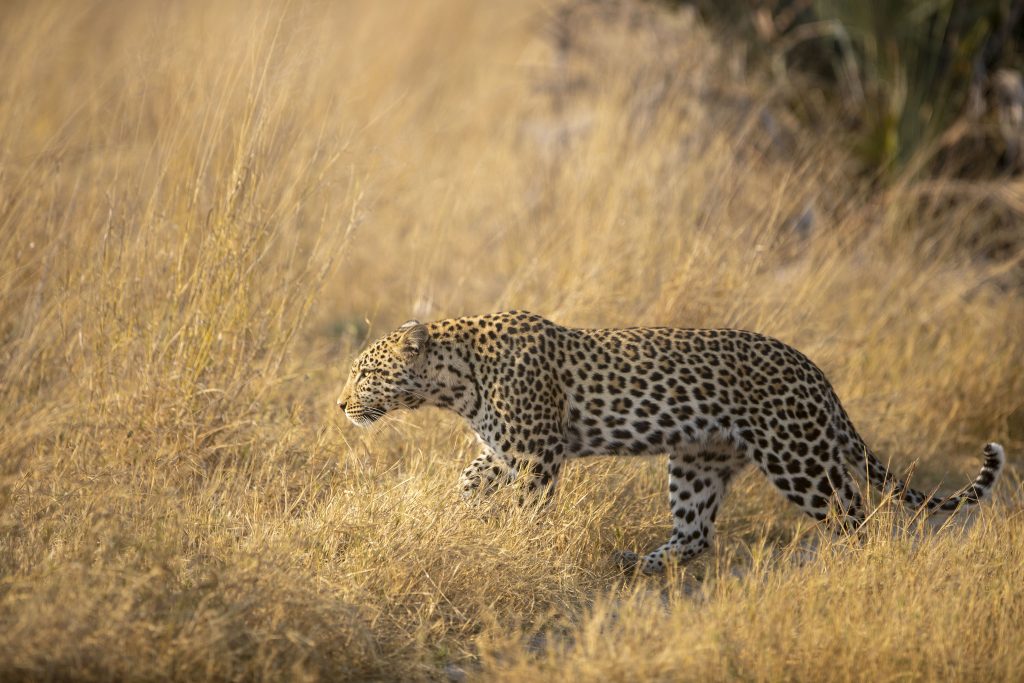 Our time at DumaTau was filled with both water-based and land-based adventures. The boat ride was another dream-like experience that took us gliding through the channels in search of wildlife. The river felt as mighty as an ocean and as blue as a sheet of tanzanite. Seeing thousands of birds against the fiery evening sunset was breathtaking!
After enjoying some incredible plant inspired meals prepared by chef Shane, it was time to move across the channel to our new camp, Selinda. This place is simply spectacular. Large beams create a nest on the banks of Botswana's Selinda Spillway as it enters the Linyanti River. With only 3 tents in total at this camp we felt like we were the only people in Africa, explorers ready to discover this enormous private concession for the very first time. This feeling, coupled with the exquisite decor, warm hosts and the constant glow of a friendly fire… I can only describe this as wild wild Africa! We could have driven for days without meeting another human being. The wildlife was plentiful and the variety exceptional, including all the 'usual suspects': huge herds of buffalo, burgeoning 'journeys' of giraffe, lions wading through rivers, leopards slinking through the reeds, and zebras reflecting in pools. It was out of this world!
As if the wildlife wasn't enough we were treated to a live cooking demonstration accompanied by some of  South Africa's finest wines, which we personally drew from the cellar. During the night the painted reed frogs sang us to sleep, competing with the swamp nightjar and roaring lions. Being so close to nature in our copper dressed tented suites was intoxicating. I didn't sleep at first as I didn't want to miss anything! But, the ridiculously soft blankets and bed drew me into dreamland. The following morning we were greeted by a large elephant in camp. Sipping coffee with giants is a perfect way to start the day!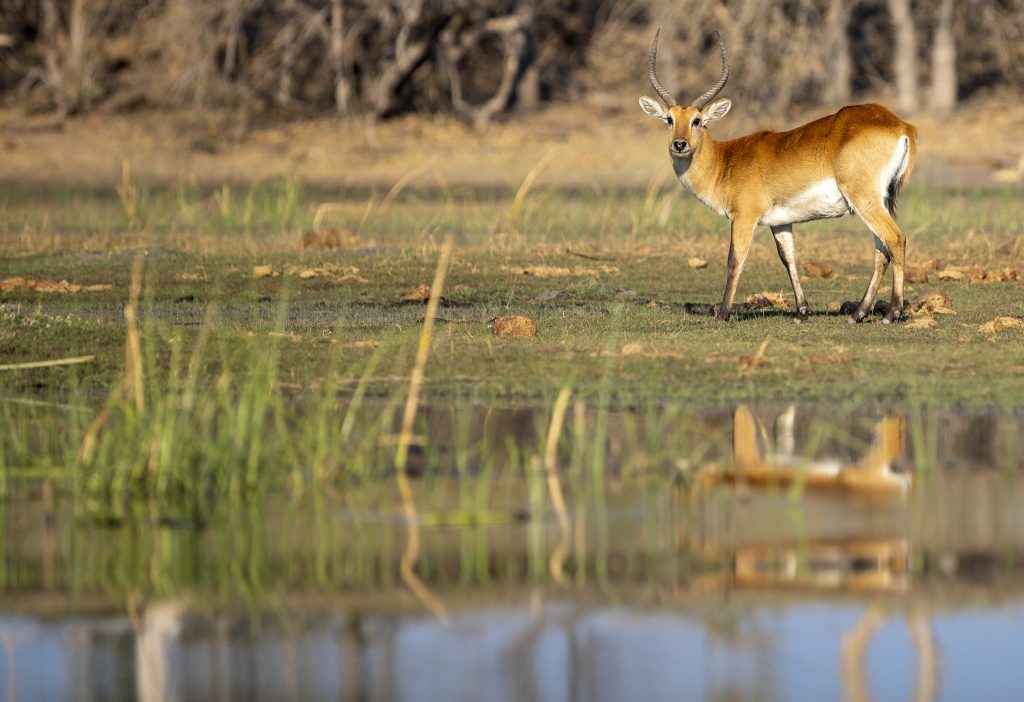 We spent some more time exploring the waterways by boat, seeing brightly coloured and unique birds by the plenty. I felt my adrenaline surge as hippos suddenly appeared from the crystal waters, blowing golden water droplets at us. Selinda has some of my soul and I cannot wait to return!
Our next camp, Joa, was situated in the very heart of the Okavango, nestled under a tree canopy on its own remote island.  Here the boundaries between land and water blur. The camp has to be seen for one to really understand the sense of serenity it imparts. We spent our time exploring the waterways either by small motor boat or – even better – gliding almost silently in a mokoro (a traditional dugout canoe) through the mirror-like channels. The sense of calm that flowed as our guide pushed us through the secret channels was priceless, sipping gin from crystal glasses as the fiery sun set amongst the reeds, with elephants, storks and myriad other species dispersed along the route. Did I mention the fishing? This was so much fun. We caught and released 'squeakers' as the full moon rose over Botswana that evening.
Later that night, we headed to the fire and danced with the staff whom, by now, had become like family. Then, as if the evening wasn't already magical enough, we used the moonlight and headed out across the floodplains again, once more in search of big cats and owls. We saw many wonderful creatures that night including serval and hyaena. There was an incredible moment as we watched catfish walking out of the water on their fins in search of new pools to explore. However, the highlight was most certainly the owls. We were lucky enough to spot a Pel's fishing owl: a bird on every twicher's 'must-see' list. Watching two of them hunt fish by the moonlight was an almost mystical experience.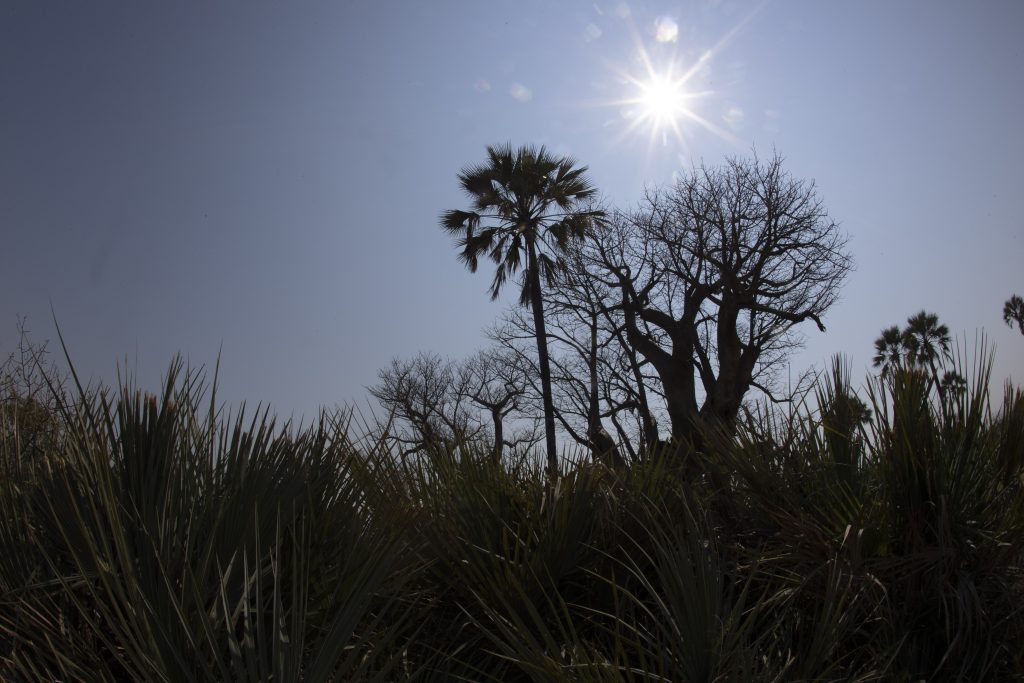 During our time in Botswana we were lucky enough to see 128 bird species. Some of our highlights were Coqui francolin; African pygmy goose; lesser jacana; buffy pipit; and Dickinson's kestrel and marsh owl. Botswana is a birders' dream, abounding with incredibly colourful, vibrantly feathered friends.
When our time came to return home our cameras felt almost heavy, so full they were with imagery. Our souls felt settled and once again aligned with the beat of Africa. And as for memories… How do we access them after such experiences? Well, for me, the fragrance of freshly flowering sage will forever bring me back to the delta, pulling me towards the wild earth once again.  Every rainbow will remind you of the colours that flow along the banks of Botswana's waterways.
I have a profound need to be part of the wild.  I can't wait to return, and I hope you will join me.