Grasslands, Wetlands & The City
We started off our amazing journey in Johannesburg, using it as a day to relax and acclimatise before our real safari adventure began. Whilst we were here, we took a tour of Constitution Hill, a truly powerful experience as we explored South Africa's history of racial separation. Although hard to take in, it was important to explore the harsh truths which made South Africa what it is today.
Back at our hotel, we had a wonderful dinner and a good night's rest before kicking off our safari in style. The next morning we were off to the airport to travel to our first destination, the famous MalaMala Game Reserve. Game-viewing just doesn't get any better than here! We took off in our private Citation M2 jet and arrived in a mere 35 minutes, what a pleasure to fly in such comfort and luxury. Soon after we landed we met our expert guide Jaco who welcomed us and drove us towards camp. On the way, not even three minutes after we left the airstrip, we found a mother cheetah and her two cubs on the move!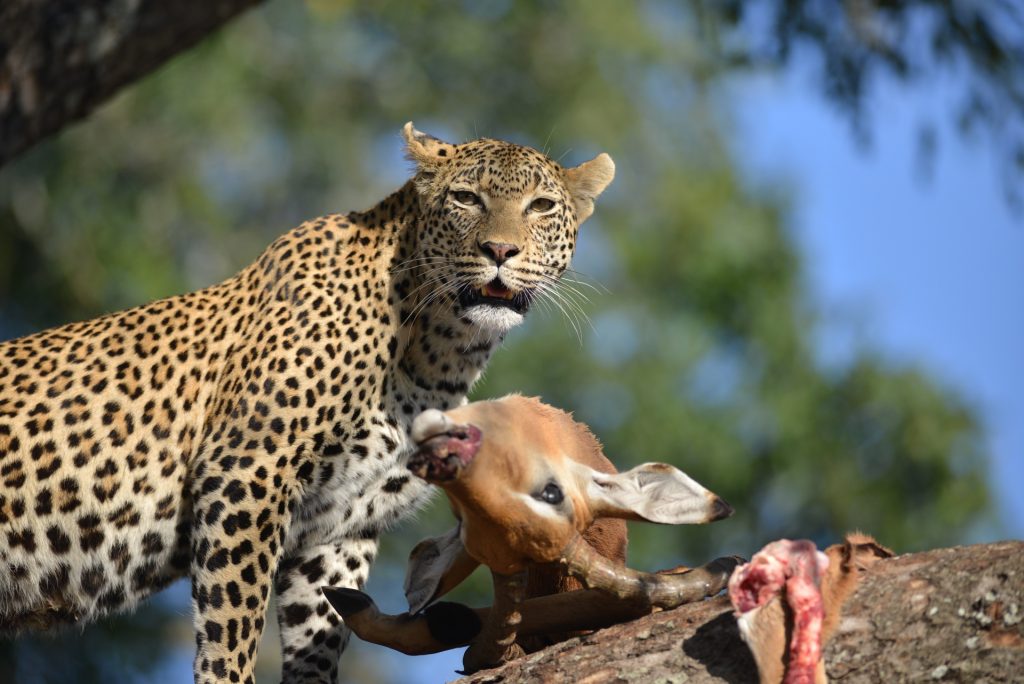 Our first afternoon game drive included the same mother cheetah we had seen earlier on the hunt and a mother leopard with her cub. We found the mother and cub right above our heads, perched up in a tree feeding on an antelope carcass! Later, we found a single lioness feeding while simultaneously chasing and fighting with six hyenas. A truly breathtaking beginning to our safari. The next morning we spent two hours with the same leopard and her cub as they moved along the Sand River; playing, chasing, jumping and wading. One of the best Leopard sightings I have had in twenty years! The photographic opportunities we came across were literally unbelievable.
Our three days at MalaMala were filled with exquisite sightings, we even saw another female leopard with two very young cubs playing around our vehicle! We also came across five young lion cubs and a big sleeping male lion. Later on we had an incredible encounter with elephants all around us, as well as the most magnificent rhino bull at the golden hour of sunset; a magical moment spent with this incredible animal. As we watched the sun go down on our final afternoon we reminisced about our incredible time in MalaMala, it was truly everything is was said up to be!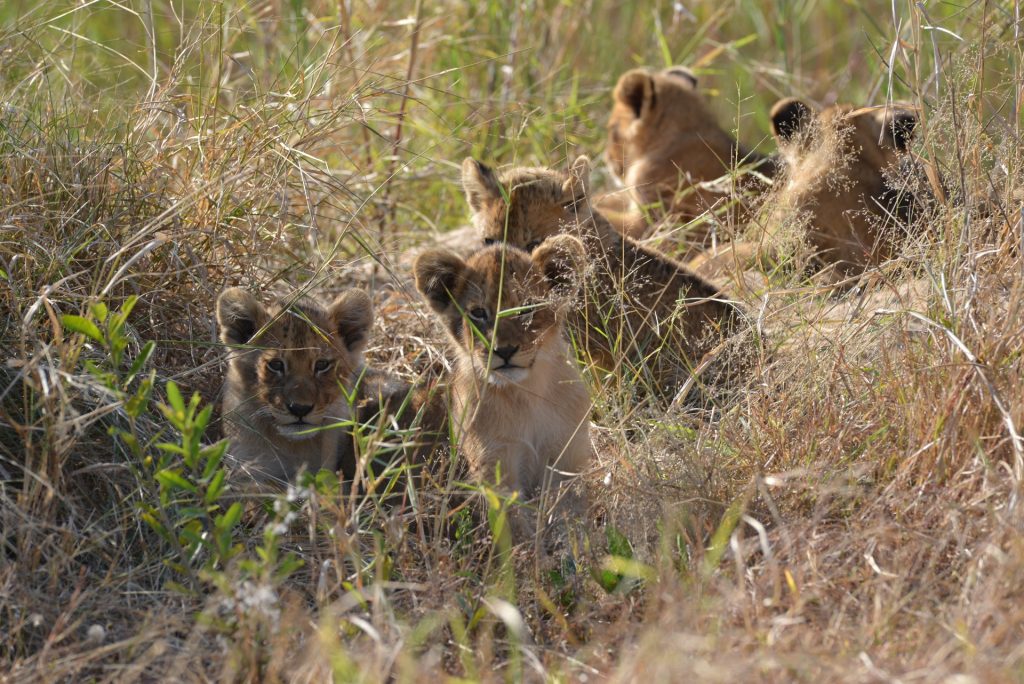 The next morning it was time for the second leg of our journey. We made our way to the airstrip where our private jet awaited, and set off to go and see one of the seven natural wonders of the world, Victoria Falls. The water levels were extremely high, and the spray could be seen long before we even landed in Victoria Falls! Even when we got wet at the falls, and it was all worth it. A powerful sight and sound, hundreds and thousands of litres of water pouring over the precipice of the mighty falls, tumbling and rumbling. This truly illustrated why the locals call it "The Smoke That Thunders". It is humbling and awe-inspiring to see these falls. We ended off our visit with a double rainbow sighting, shining through the glimmering sunlight and spray!
Bank onto the jet and off to Maun, Botswana we went. Okavango Delta, here we come! We traveled From MalaMala to Duba Plains Camp (via Victoria Falls) all in one day! When we got to the beautiful Duba Plains, we even had a few hours of sunlight left. Sipping on ice cold gin & tonics, we watched the most beautiful sunset we had seen so far. The Okavango delta was truly showing off! The last rays of sunlight illuminated the waterways and everything turned orange, pink and gold. A lone hippo even waddled by! As the stars came out we enjoyed an incredible meal and then fell asleep to the gentle sound of painted reed frogs.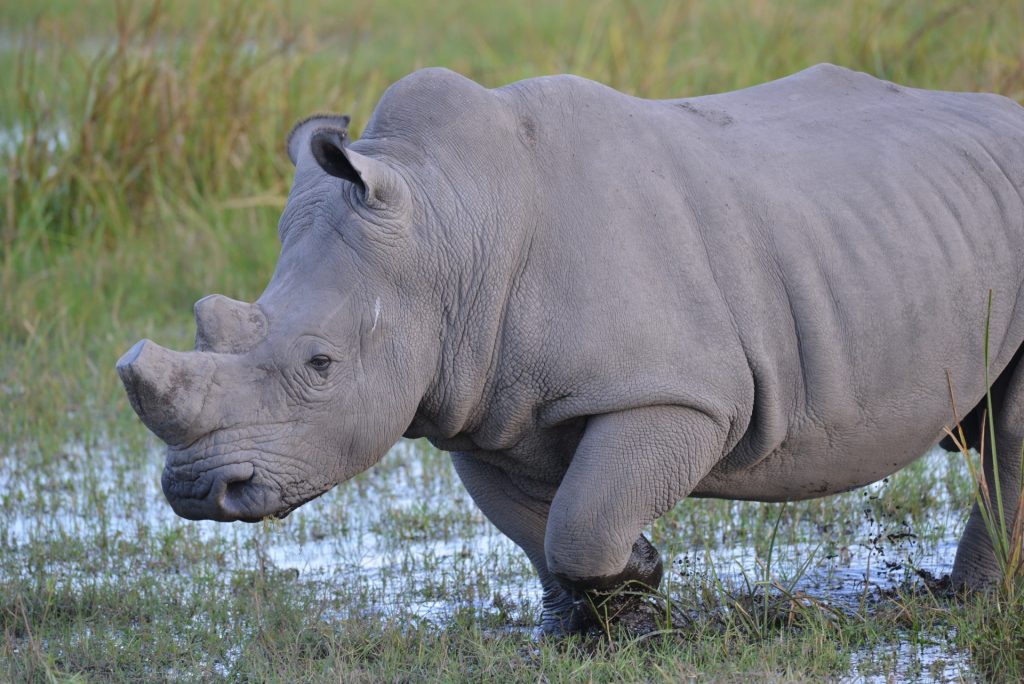 The next morning we were up early and ready for an adventure on Duba island. The next four days were filled to the brim with exquisite sightings and experiences, each day was a brand new adventure with a new place to explore, a new sighting to see or species to discover. The rhythm of the Okavango is so exciting, we headed out early each morning in search of animals, listening for alarm calls and roars and following tracks. We enjoyed a spectacular bush breakfast out on the middle of nowhere, while the morning sun warmed us up. Afterwards we went back to camp to enjoy some downtime, whether is was an afternoon sleep, an outside shower or just admiring the view from our incredible rooms. On our second night, as the sun set, our afternoon drinks were interrupted by two male lions roaring in the distance, we jumped back into the Land-cruiser and set off in the direction of the magnificent sound. We found two brothers on the move, and we followed them as night fell. They were on their territorial patrol! The a moment later we were gifted the most spectacular experience, when the lions roared directly in front of us! Making our game vehicle, and bones, shake to their core.
On one of our drives we also discovered a Painted dog den site! A highlight for guest and guide alike. What was even more special was the one of the mother dogs had just given birth to pups! After this we continued on our drive where we followed five lions out on the hunt where they eventually killed a baboon. This is never easy to watch but it certainly reminds you of how raw an wild this beautiful place is. The next day we went on a boat trip along the winding waterways of the Okavango Delta. Hippos surrounded us, we spotted elephant herds on the banks and also came across a huge herd of lechwe. The birdsong surrounding us also added to the beauty and harmony of the experience, highlighting was a rich eden the Delta truly is.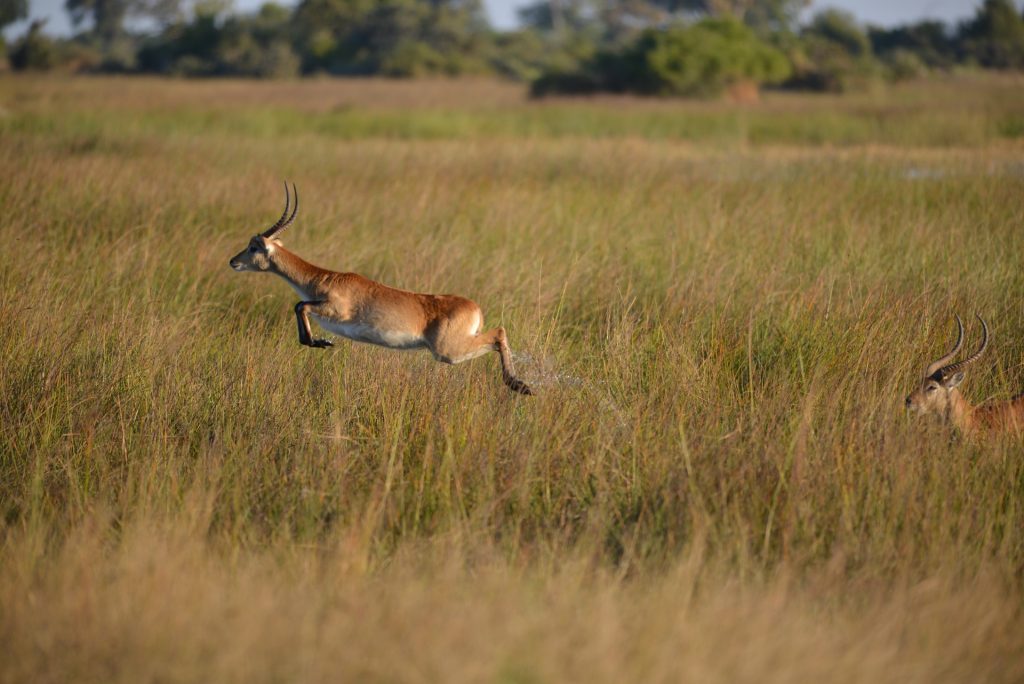 Duba plains was an incredible experience, one which we were sad to leave but knowing we had made lifelong memories. We were now off to our final destination, The Mother City, Cape Town! After arriving in style we are whisked through the airport, and after all our checks and stamps we were on our way to the beautiful Camissa House.
On our first afternoon we strolled along the promenade in Seapoint, such a perfect way to stretch our legs and experience the energy of the city. One of our first activities was a hike up Table Mountain, a nice physical challenge, a beautiful route and incredible views from the top! We sat on what felt like the top of the world for a while with hoe coffee in hand, gazing our over the endless beauty of Cape Town. What a way to start the day! We then descended by cable car, went back to Camissa House to freshen up and then headed off to the winelands where we enjoyed a magnificent lunch at Hamm & Uys. Afterwards we went to Mollineux and Leeuw, where we enjoyed a private wine tasting, sipping on some of South Africa's very best Chardonnay!
The winelands of the Western Cape are exquisite this time of year. As the sun warmed our skin we enjoyed the beautiful gardens, savoured the fresh air and truly just melted into the wonderful wine tasting experience. The next morning we headed off to the Cape of Good Hope for a day tour! We started our day by strolling through Kalk Bay, sipping on delicious coffee, watching the locals go about their business, met a seal in the harbour and watched fisherman bring in their catches. Afterwards we decided to head off to Boulders Beach, a little bouldered paradise along the Cape Coast in Simons Town. This is one of the few places people can see African penguins on a main land! What a treat is was to see these little penguins, some of them were on their nests their eggs safe, whilst others were darting between our legs to dive into the icy water. It was a fantastic experience!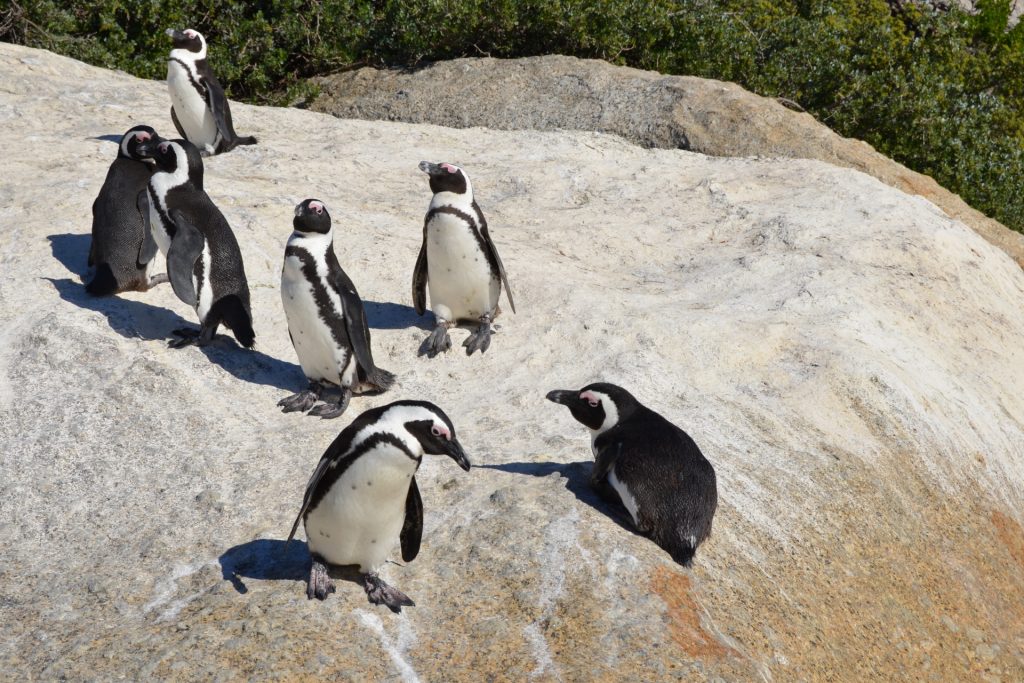 Next on our itinerary was Cape Point, the southwestern tip of the African continent and the place where the Atlantic and Indian oceans meet. It was the most picture-perfect picnic! From here we were taken to to Imizama Yethu, a local township in the area. This was an important visit for me and our guests so that we could all understand the hardships many people face in South Africa. We had a fascinating tour lead by a local resident, who gave us a true in-depth, insightful and eye opening experience. The township was a hive of activity on this Saturday afternoon, with a truly friendly and fantastic atmosphere. The final morning before our guests headed back to the US, we stretched our legs and strolled through the breathtaking world-famous Kirstenbosch Botanical Gardens and finished off the morning with some shopping at the V & V Waterfront.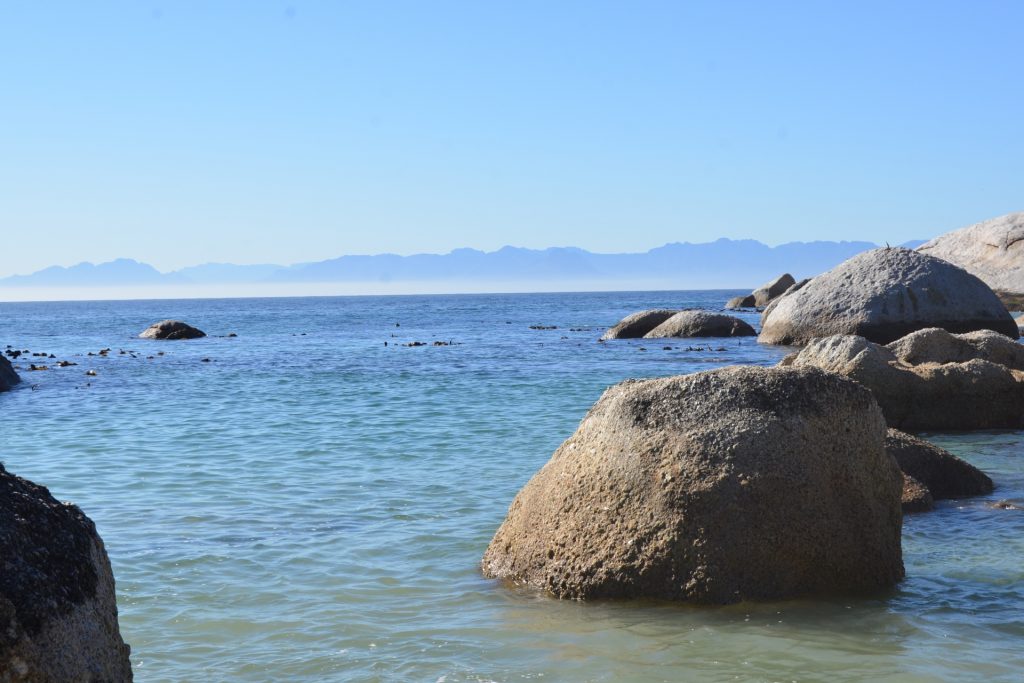 And so came the end to a very special adventure through Southern Africa. Safari Architects and I were honoured to guide our wonderful guests through this magical part of the world and hope that they keep these special memories forever!
Creating memories and Living the Dream!