Inge and Natasja: Journey Through Botswana
Botswana is a jewel in the safari-sphere. The Okavango Delta specifically, being a site of true beauty, wonder and contrast, is a place sought after by many. It is no surprise, therefore, that safaris here are of the best one can experience with lush landscapes, unique and rare wildlife, luxury accommodation and a multitude of both land and water activities. The Delta never disappoints and leaves a mark in the heart of all who visit it…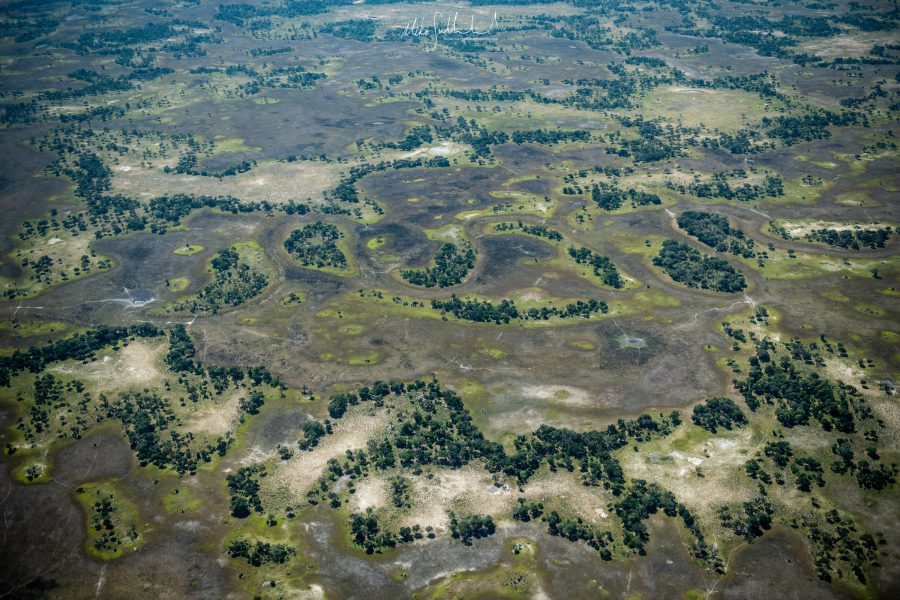 Each year, Inge travels to Africa to share her deep love and appreciation for the continent with family and friends. We therefore annually plan a safari as unique as possible for her, one that incorporates breathtaking locations and many amazing activities to always ensure an exciting trip. In April this year, we had the pleasure of hosting her, and her travel companion Natasja, at three very beautiful and captivating lodges between the Okavango Delta and the Makgadigadi Pans.
Our journey began in the centre of the Okavango Delta at Pelo Camp, situated on the Jao concession. The camp is built on a heart-shaped island in the middle of the lush swamps and is well-known for being a truly successful safari camp in terms of activity variety and incredible wildlife saturation.
Unfortunately, this year's Delta flood had yet to reach this area, and with less local rainfall than normal, the concession was dry in comparison to previous years. This concerned us slightly at first, as we had planned to enjoy a whole host of water activities at this camp in particular. However, our attention was quickly redirected and we were able to indulge in some fantastic game drives, at certain times even allowing us to partake in traditional "mekoro" rides in the more shallow waters.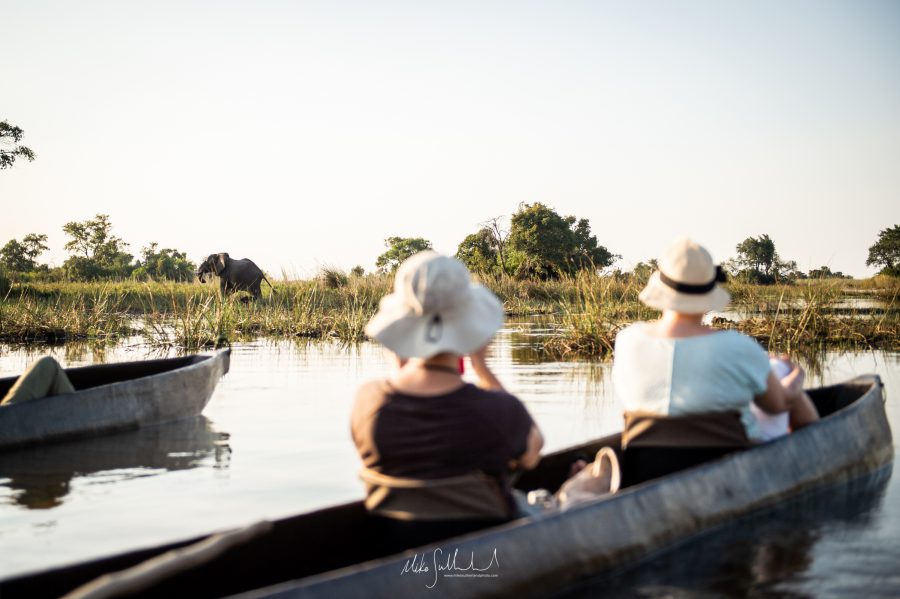 Our days were spent exploring the length and breadth of the reserve, enjoying close encounters with amazing wildlife and returning to our remote island camp to relax and unwind. Pelo is one of the most amazing place to visit, surrounded by water and nestled among the rich swamp. It was the perfect way to begin our journey!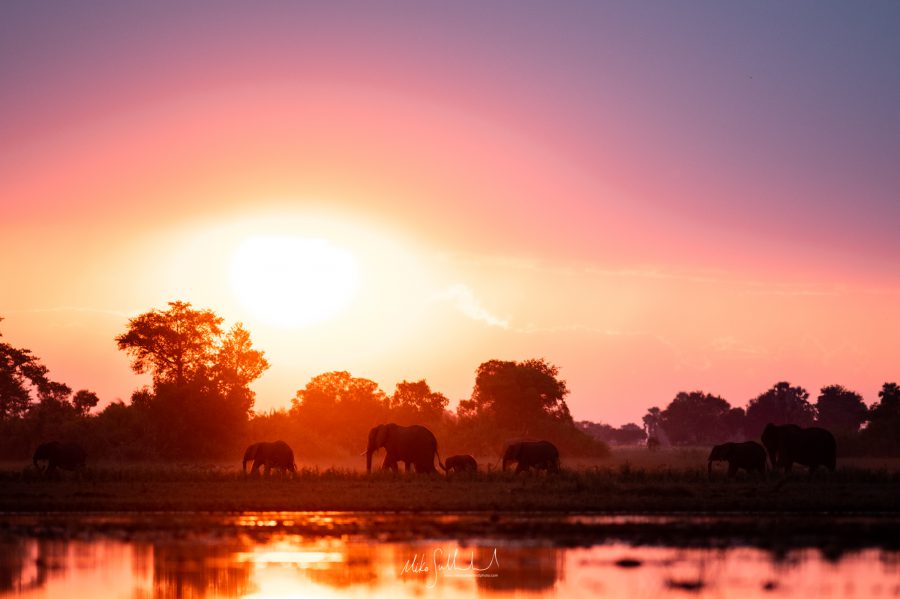 After two magical nights at Pelo Camp, we made the journey to Jack's Camp in the Makgadigadi Salt Pans. This involved a short flight back to Maun and then another flight to Jack's Camp. From the air, it was clearly visible that the floods of the Delta were low, but as we got closer to the salt pans we could see lush green vegetation below us, the green grass of the Makgadigadi after the recent rains in the region! We were arriving in the area at the end of the green season, and to an amazing surprise! We stepped off the plane to be met by a plethora of wildlife, from huge herds of zebra and wildebeest, to ostriches and even springbok. What an amazing welcome, and our luck just continued as we found a lioness on our way to camp!
The camp itself is storied around 1940s explorers and display ancient artefacts around the camp in the most elegant way. Tented and without electricity, it is a true way to disconnect from the outside world. The Makgadigadi system is an area that is larger than the country of Switzerland and on our first evening, we ventured out to the salt pans where we were treated to an evening of reflection in one of the most tranquil and quietest places any of us had ever been. Afterwards we sat around a small fire enjoying a gin and tonic, whilst our guide explained the history of the region and its endless diversity…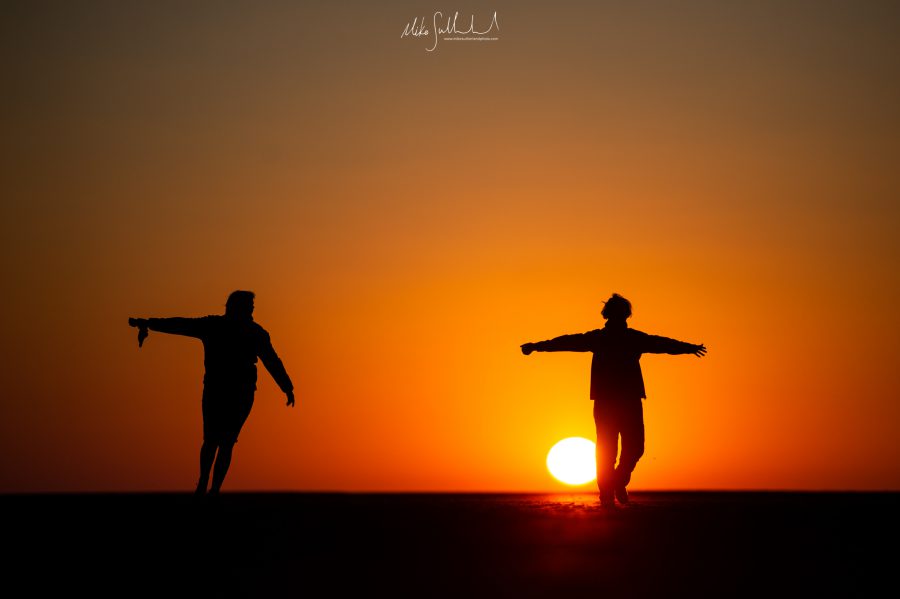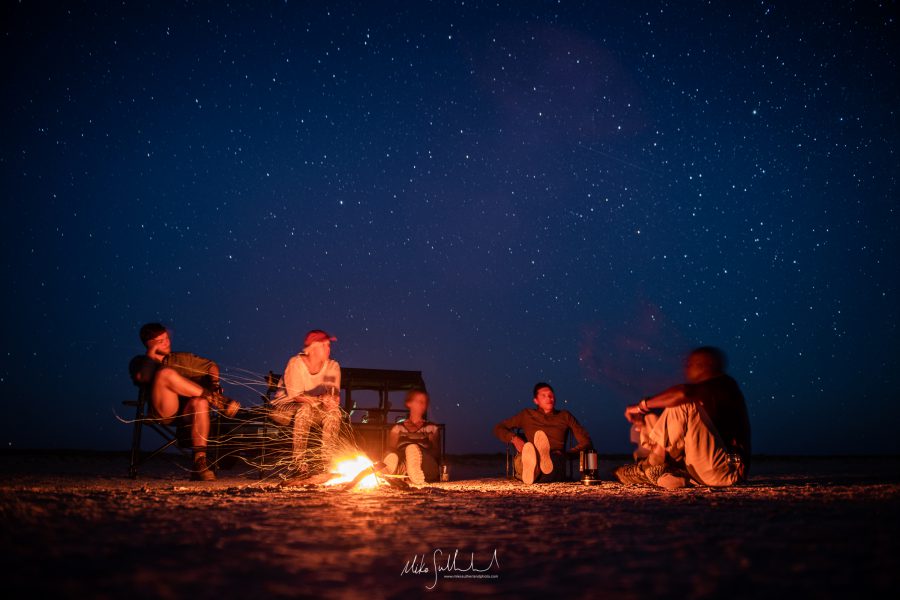 Who knew that a place so remote would be home to rare species like aardvark, bat-eared foxes, aardwolf, porcupines and honey badgers. Besides the herds of thousands of zebra who migrate through the area throughout the green season, the area also plays host to cheetah, lions and elephant, and not to mention the amazing wild meerkats who have been habituated to human presence over the years.
One of our main reasons for visiting Jack's Camp was actually  to get up close and personal with these habituated meerkats and to date, it was undoubtedly one of our most favourite experiences in the wild. These meerkats are completely wild and fend for themselves, however, after years of habituation they allow humans to get close to them, walk with them and will even climb on top of you to get a better vantage of their surroundings. All with absolutely no interference from us at all.
Adjacent to the private concession where Jack's Camp is based, lies the stunning Makgadigadi Pans National Park, which we visited one morning to witness the large herds of zebra and wildebeest moving towards watering holes. The lines of zebra were astonishing and for the duration of our entire drive through the National Park, there were constantly herds of zebra on either side.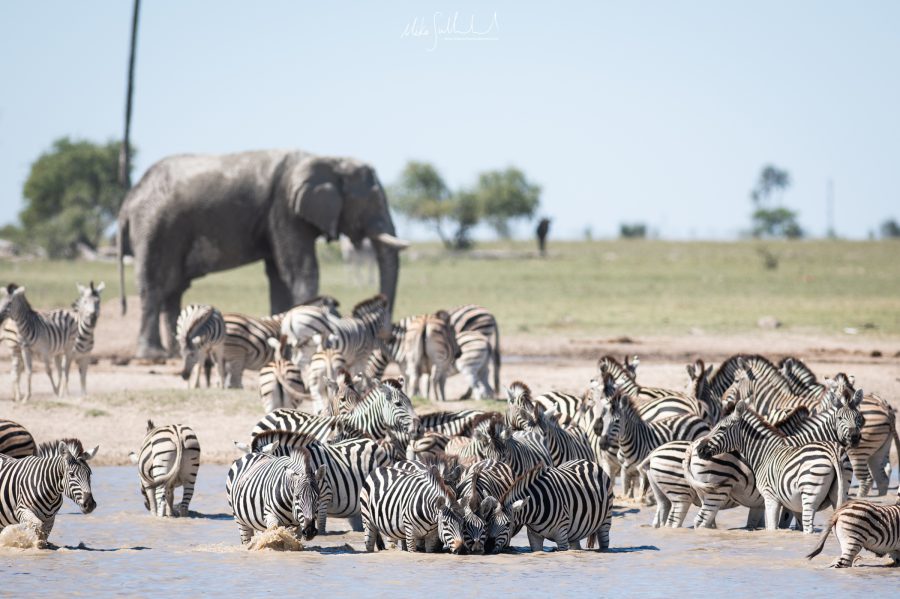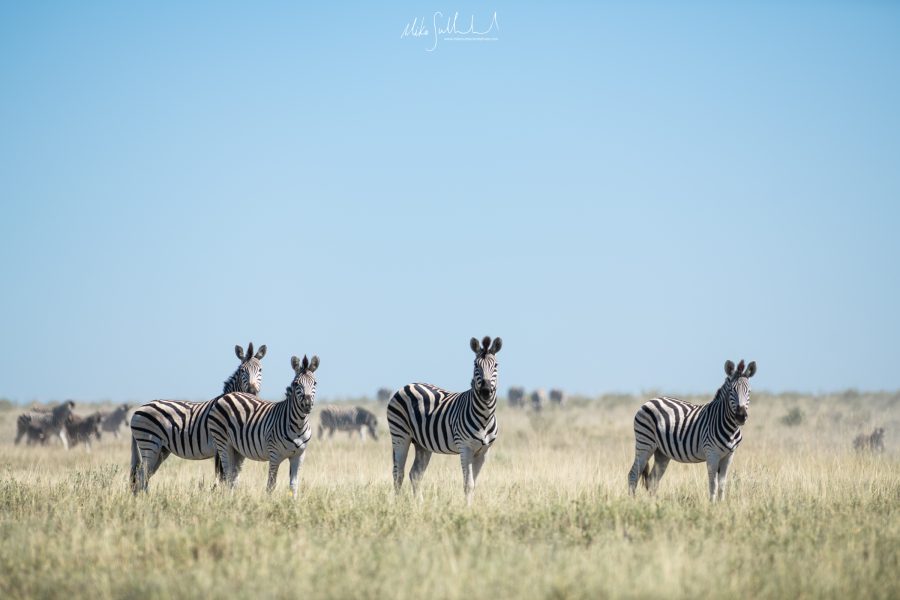 One of my most memorable experiences on this safari had to be the afternoon spent with local tribesmen, who historically lived in this area before being moved out to create official wilderness areas. Now the lodge works closely with these people, known as the Zu/'hoasi tribe. Offering a window into the past, guests have the ability to visit with them and gain vast knowledge of their traditional lifestyles.
Another highlight at Jack's Camp are evening drives, which allow guests to witness and listen t0 the incredible nocturnal wildlife that is ever-present in the region. We were fortunate enough to see two different aardvark, Brown hyena and aardwolf all before enjoying our last night in camp before our next destination.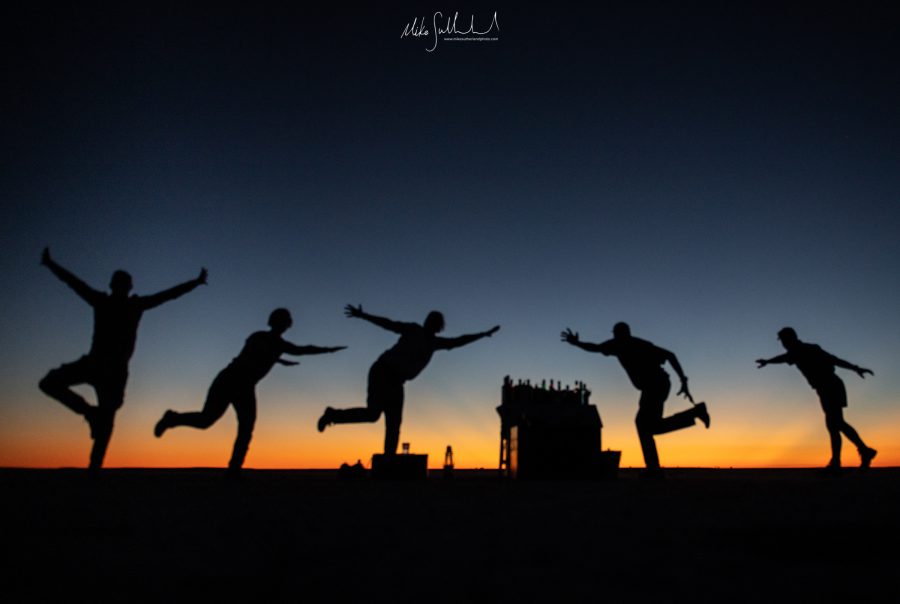 We bid a sad farewell to Jack's Camp and made our way back to the Okavango Delta to finish the safari with three nights at Vumbura Plains in the northern Delta. A perfect ending to what was already an epic trip. Vumbura Plains is a concession based on permanent swamp water and even with low flood levels, we were able to enjoy not only boating and mokoros, but passed through huge channels and flooded roads, turning our safari vehicle into a boat of sorts, gliding across the water.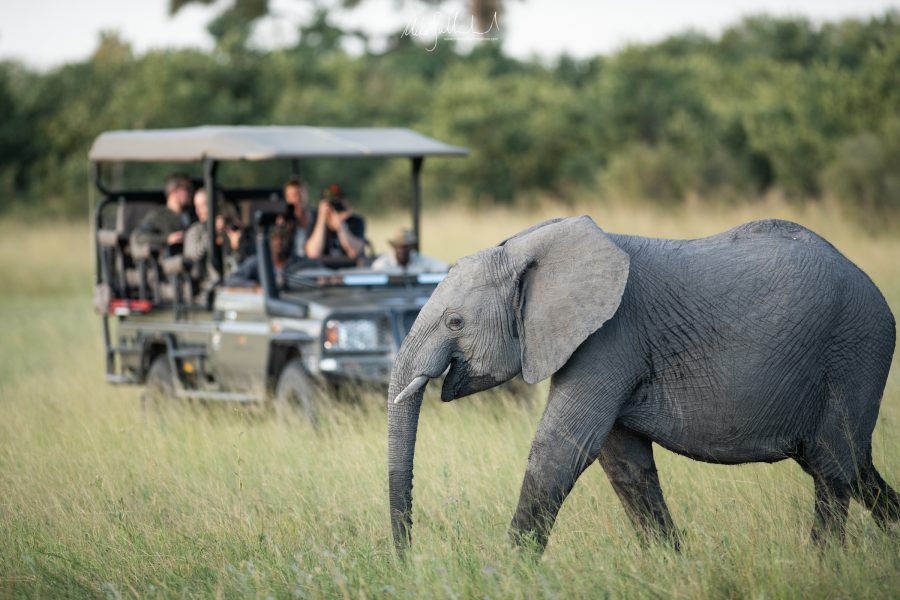 Animals in this region are well adapted to the watery conditions and we were delighted to see even lions and leopard cross through flooded areas. A safari goers' perfect destination: incredible wildlife, a mixture of land and water aesthetic and a stunning luxury lodge to top it all off!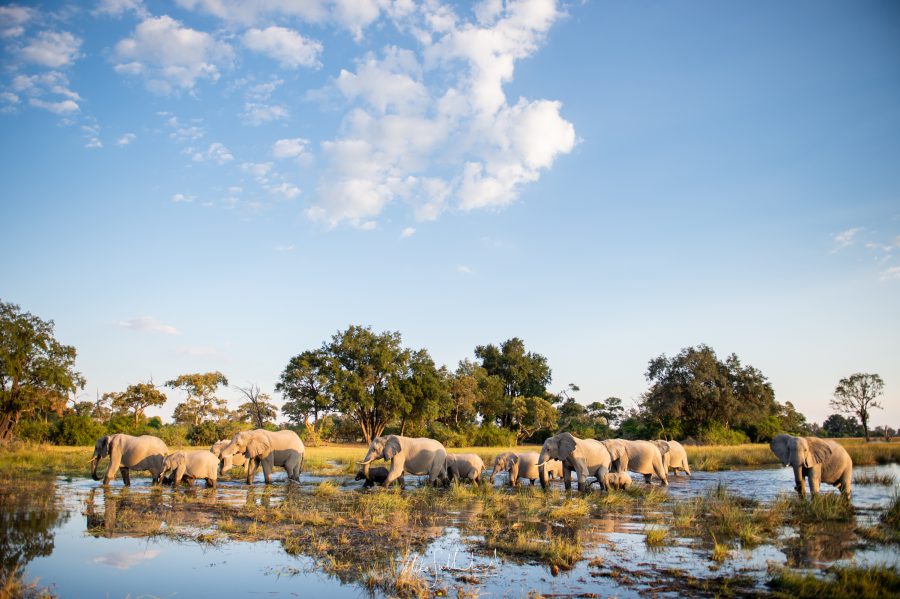 From small planes, open land rovers, boats and mokoros, we had our fair share of modes of transportation on this safari. However, our last and final surprise was a gentle hot air balloon ride over a semi-flooded area, just north west of the lodge!
An early morning wake up call and a short helicopter flip over to the launch site, the balloon was being inflated and prepared. We hopped aboard and made it to the sky just before the sun rose! Floating over a sand spit, with huge herds of elephant and buffalo passing below us, we were in genuine awe of everything around us.
The entire experience would not have been possible if it wasn't for the willingness and openness of Inge and Natasja, who opened their hearts to Africa and all her beauty. No two days were alike, no two experiences were the same. We took each day as it came and we were rewarded beyond expectation, with a lifetime of memories that we will all cherish for many years to come!