Inspiring Stories: Man Meets World
What inspires you? What drives you to wake up everyday and feel happy? What is one thing that you wish to achieve? These are questions that I ask myself all the time and, generally, I have a good idea of what the answer is. However, even though this is the case, I still feel like I need inspiration now and then. Personally, I find this inspiration can come from almost any source, whether it be from something obscure or something right in front of me.  There are currently a few stories and projects underway that we at Safari Architects, and myself of course, find particularly inspiring. Through this next piece I will be delving deeper into these, highlighting some of the greatest examples of dedication, hard work and sheer passion that I have ever seen.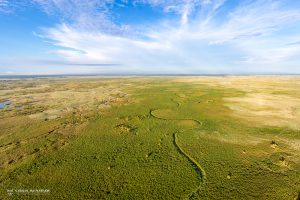 Many of  you who have been on safari with me, know that I love every part of Africa. However, the Okavango Delta is probably where a piece of my heart permanently resides. Having come from an Aquatic Sciences background, this might not come as a surprise! "Water, water everywhere!" as the saying goes. It was always a dream to be able to experience the Delta, as far back as I can remember. I used to watch countless documentaries from when I was knee-high to a grasshopper. Ever since then, I have been fascinated by this watery paradise and eager to see and experience all of it's wonders, including crystal meandering channels and pristine wildlife. Luckily, through my path with Safari Architects and various conservation partners and clients, this dream was and is constantly being realised. Sadly, what many people don't realise is that the Delta is under serious threat. The opening up of Angola to allow development after several decades of civil war, has put the Delta's source waters in danger. From Angola, the source water flows into the Caprivi strip, a narrow piece of land which belongs to Namibia. Here, much of the water is abstracted for farming and only hereafter does it reach Botswana. This is where, due to fault lines in the earth, it fans out into the Kalahari desert and forms the Okavango Delta.
Luckily, a group of dedicated explorers have spent the better part of a decade working on a project to protect this world heritage site. With National Geographic, they have traversed waterways from the source in the Angolan highlands through Botswana and all the way to the edge of the Delta. The "Into The Okavango" National Geographic documentary follows the team through the process of one of the the transects they created. It has premiered worldwide and has won top honours at film festivals globally.
The official website describes the project as such: The Okavango River Basin provides a vital source of water to about 1 million people, the world's largest population of African elephants and significant populations of lions, cheetahs and hundreds of species of birds. However, this once unspoiled oasis is now under siege due to increasing pressure from human activity. From National Geographic Documentary Films, Into the Okavango chronicles a team of modern-day explorers on their first epic four-month, 1,500-mile expedition across three countries to save the river system that feeds the Okavango Delta, one of our planet's last wetland wildernesses. The entire project will compose many of these transects, however the film is based on one of the first magatransects that was done.
The project is on-going and since then, they have done multiple transects through other source rivers. Click here to purchase and watch the full film, the trailer is linked below.
The next two feature stories are not so much conservation driven, but more along the lines of pushing boundaries and seeing what the world is all about and how we can explore it. The first is based around the Arctic circle, the other in Yosemite National Park. They both show elements of the above project in the Delta such as passion and dedication to nature, but in different ways. Have a read below and follow the consequent links:
I am an adventurer at heart and have always been keen to explore the planet and all its wonders. When I first heard about this documentary, about surfers surfing in polar ice conditions, I thought they must be crazy. However, when I finally saw the images emerging from this endeavor and the subsequent documentary, I was blown away! Watch the documentary's trailer below, and if you have Netflix it is available to stream or purchase.
Six surfers set sail along the frozen shores of Iceland, knowing that the worst storm to hit the country in twenty-five years was about to arrive. Enduring constant darkness and stormy seas, they discover perfect waves and make history by surfing under the northern lights!
The documentary might not necessarily have been conservation based, but it does provide brilliant inspiration to explore our planet further and exposure to the world's most wonderful treasures.
National Geographic describes the project as such: "From award-winning documentary filmmaker E. Chai Vasarhelyi ("MERU") and world-renowned photographer and mountaineer Jimmy Chin comes National Geographic Documentary Film's FREE SOLO, a stunning, intimate and unflinching portrait of the free soloist climber Alex Honnold, as he prepares to achieve his lifelong dream: climbing the face of the world's most famous rock … the 3,000ft El Capitan in Yosemite National Park … without a rope.
Celebrated as one of the greatest athletic feats of any kind, Honnold's climb set the ultimate standard: perfection or death. Succeeding in this challenge, Honnold enters his story in the annals of human achievement. FREE SOLO is both an edge-of-your seat thriller and an inspiring portrait of an athlete who exceeded our current understanding of human physical and mental potential. The result is a triumph of the human spirit."
I trust you enjoyed the above stories as much as I did. Be inspired, go do something different and have some fun!
Regards,
Chris and the Safari Architects team