A Safari of Surprises
There is an overused phrase, conjured up in the bush many years ago, which is often the answer to multiple questions from first time safari travellers. The phrase: "There are no two game drives alike. Everything is different, every time!" Even though this statement may be utilised extensively, for me, it always holds true. One cannot say "How could this get any better?", because each venture out into the wilderness brings new experiences, each incredible on their own, without comparison.
The month of May saw the Hamilton family journey out from the USA, to join our Safari Architects team on an eleven day journey throughout Southern Africa. The safari included world renowned destinations such as Mala Mala, Qorokwe Camp, Vumbura Plains and MannaBay in Cape Town. A mixture of the Sabi Sands, the Southern Okavango Delta, the Northern Okavango Delta and finally Cape Town. With a private aircraft at their side throughout their stay, moving between camps and countries was smooth and seamless to say the least!
So why was this a safari of surprises you may ask? What happened on this trip that had us all in awe, at every single moment? Read on to find out…
It all began on a mild autumn day as we landed on the Mala Mala runway, having to do a second approach due to some cheeky giraffes blocking the strip. Our first drive consisted of an abundance of wildlife including hippo and elephant herds! Then with great surprise we suddenly bumped into a female leopard and her cub! It seemed as if the mother was leading the cub to a fresh kill so we followed diligently until they indeed came upon it, settled in and began to feed.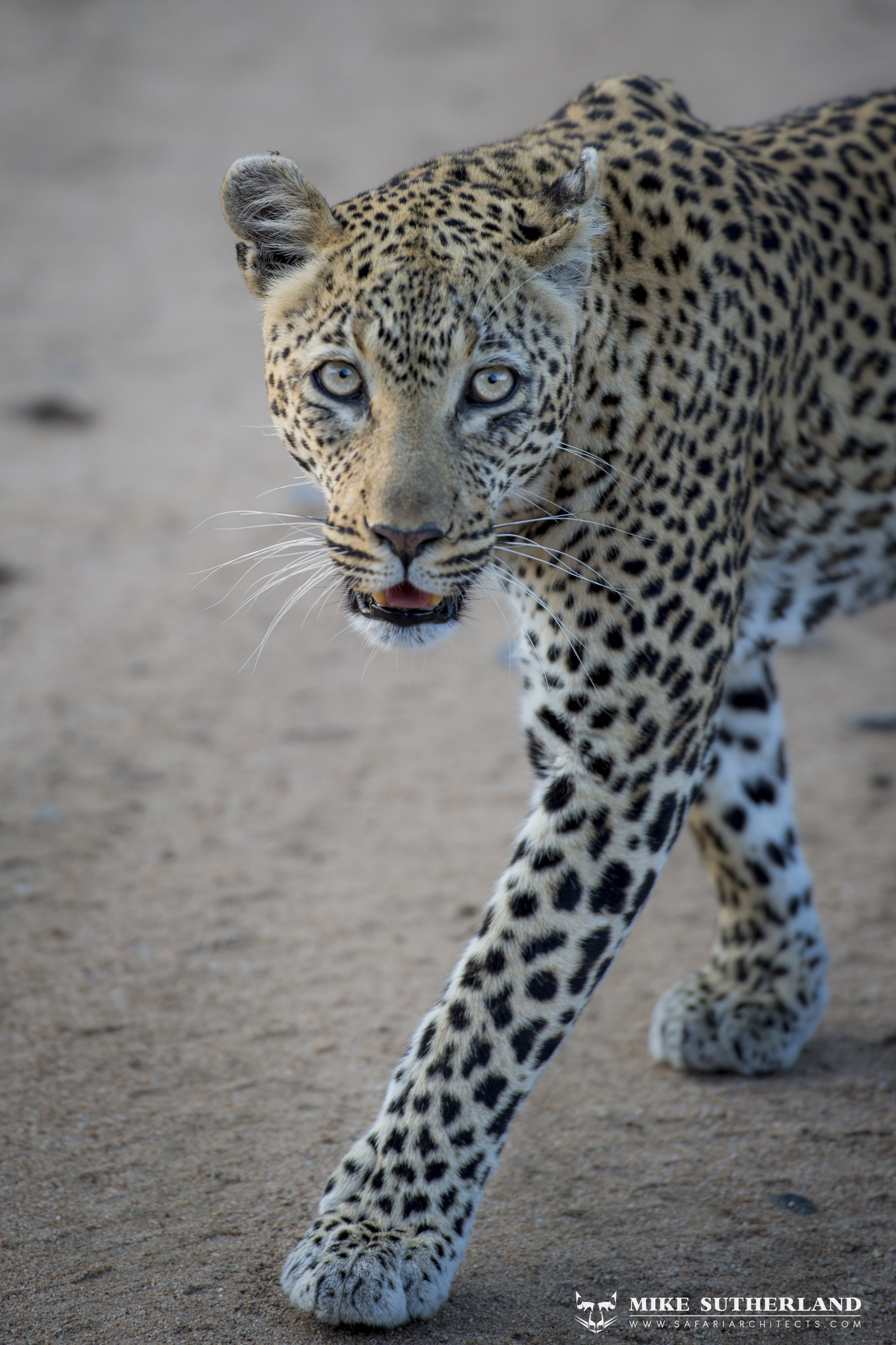 After some time we decided to leave the leopards to their own devices and slowly made our way back to camp to enjoy our first evening in Africa together. A perfect dinner under the stars was prepared for us, set beautifully against the sounds of the bush. We knew we were in for an exciting safari!
The following day was filled with action, excitement and awe. After a morning spent exploring the northern reaches of the property, we came across a dead nyala bull. Untouched and with no signs of a predator nearby, we investigated the area thoroughly but without success. We decided to return later that evening to see what scavengers may have been attracted to this potential feast.
Prior to us returning to the dead nyala, we came upon a leopard den. There we found three little cubs, waiting patiently for their mother to return from a territorial patrol. We sat patiently until a clan of hyena arrived and began to sniff around the area. We knew the cubs could be in danger, but their instincts are strong and they managed to evade detection. We decided to leave them alone, so as to not disturb their hiding place, and made our way back to the nyala carcass.
We were struck with luck once again when we arrived to find a male leopard and a hyena fighting over the carcass. Bones crunching, growling and screeching were ringing in our ears. The night was alive and exciting, yet all of this noise would  inevitably attract some larger predators within earshot of the area.
Moments later, whilst scanning the area with our flashlight, we picked up on the unmistakable shape of a lioness. A pride of four adult females had overheard the commotion and had come over to investigate. They rushed in and the pandemonium began! One lioness was after a hyena, right on its tail, and the other was set on the leopard. She chased the leopard up the riverbed, along the bank and in one leap it went up into a tall tree. Unfortunately, a bad choice of tree, as the leopard fell from its branches as quickly as it had gone up. The lioness was on top of the leopard as they came rolling down the banks in a cloud of dust and growls. Now, in total darkness and behind the cover of a large shrub, we were sure the leopard was dead or badly injured.
The lioness strolled out confidently and began to feed on the kill with her sisters. We sat, curious and panicked. What was the fate of the leopard? However, before we could go and investigate, a dominant male lion came hurtling in and an almighty fight broke out between him and the lionesses.
In order to prove his dominance, he laid claim to the stolen bounty and stood over it, roaring directly at our vehicle.
In shock and with little words, we decided to go and see if the leopard had survived the ordeal and as we rounded the bush, with baited breathe, we were fortunate enough to find the male snugly draped over the branches of a large tree licking some wounds on his behind. Hurt but alive, well to our relief!
We left with happy and with rapidly beating hearts went to enjoy the night sky, even taking the opportunity to photograph the milky way from a well chosen vantage point.
Our time at Mala Mala drew to a close with many more exciting sightings. We saw over seven individual leopards, four prides of lions, the kill, the fight, the roars and more. We were fixated on everything the bush had offered us and felt spoilt beyond belief after only the first few days.
However, our journey would continue onto the Okavango Delta for yet another adventure. One that would see us visiting two camps, in two vastly different, extremely remote parts of Africa.
We have said it before and we will say it again, and again: travelling Africa with a private aircraft is the best way to combine multiple location visits with ease. We skip queues, lugging heavy bags, complicated airport procedures with multiple legs and time spent in crowded planes. It is our way of maximising our time, doing exactly what you came here to do – experience Africa on the ground!
Next stop: Botswana! Qorokwe Camp is located in the south eastern parts of the Okavango Delta, on the Chitabe sand spit, a concession to the west of the Gomoti river with an ancient feeling of raw wilderness. This area was previously a hunting area and since the hunting ban in Botswana in 2013, the concession has been left to return to the sanctuary it is today.
The drive from the runway to the lodge is around 40 minutes, depending on what is seen along the way. With our luck and more surprises, we weren't shocked that it took us over two hours to arrive at camp. Around every corner was another plethora of wildlife to be viewed. Multiple species congregating together in the same areas, interacting and living alongside one another. It was truly a spectacle to behold.
This beautiful, brand new lodge, is perfectly placed overlooking a permanent vlei with wildlife teeming all around it. Elephants regularly drink from the edge and are sometimes even found on the walkways to guest rooms. The lodge is slick and simple and blends in perfectly with its surroundings.
A sunken fire boma plays host to evening gatherings whilst the bush performs for you in the background.
From a wilderness perspective, we were again spoilt for choice and enjoyed sightings of elephant herds reaching into the hundreds, buffalo herds as large as five hundred animals strong and not forgetting the swimming lions and flocks of endangered wattled cranes. It is a place of true abundance and we feel so privileged to have visited it.
A highlight from our stay was the scenic helicopter flight over the Gomoti River,  where we were able to get a better sense of the scale of the delta. The flood was now pushing into the southern reaches of the delta and the Qorokwe concession was beginning to flourish. Large herds of buffalo and elephant were viewed from the sky as well as hippo, giraffe, zebra and multiple other mammal species.
If you are ever planning on visiting the Okavango Delta, a helicopter flip is an absolute must-do activity!
During our safari, we had been exposed to a diverse array of habitats, wildlife and scenery. We left Qorokwe with heavy hearts but were excited to make our way to the Vumbura concession, in the northern delta. This area was rapidly filling with water when we arrived, as the flood pushed through the delta. Mid-May in the Vumbura concession is a beautiful time to visit, with water creating life all around you and wildlife popping out of every bush.
Our only nemesis on this safari was the elusive wild dog. We had searched high and low and came close a few times, but just couldn't seem to find them. So on our arrival at Vumbura we were beyond ecstatic to find a pack of hungry dogs resting in the shade on our way back to the lodge! We would subsequently spend the afternoon with them as they were harassed by a large elephant bull, before leaving to watch a pride of tree-climbing lions entertain us until the sun set.
From lions to wild dogs, boma dinners and dancing choirs, our time in Africa together was evolving into a magical experience, no two days the same, no two sightings the same. Whether in a vehicle, on foot, in a boat, and in the sky, we were treated to the best of the best.
Our final stop of this amazing journey would be South Africa's Cape Floral Region. An exploration of an urban jungle, where explorers once laid claim, slaves were traded, prisoners were housed and cultures were intertwined.
We learnt of the history, the struggles and the oppression. We visited monuments, museums and understood Cape Town for its past and then experienced its current culture and growing future. Secret bars, private tours, freshly brewed beer and the oldest steak house in the country. We visited them all!
Coming to Africa is an experience that will stay with you and your family for many years to come. The diversity of the places you will visit, the beauty of the wildlife you will see and the dynamic people you will meet will undoubtedly leave a lasting impression. If you come with an open mind and the willingness to explore and learn, your safari will most certainly be filled with amazing surprises.
We hope to host you on one of our incredible journeys soon!
Written and Photographed by: Mike Sutherland