Team
---
Bradley Thomet
Co-owner : Safari Architects
Brad's love for the bushveld started from a very young age. Many family trips to the world-famous Kruger National Park cemented this into a passion. Growing up he always wanted to be a safari guide but his initial career path went in a slightly different direction when he took up a senior role in sales and supply chain management. Whilst holidaying in the renowned Sabi Sands Private Game Reserve,  Brad met his current business partner Chris Renshaw who was his guide. The two struck up a friendship and over the next few years began discussing how they could combine their individual skills and mutual love for the African bushveld, into a successful business. And so Safari Architects was born. Both partners bring a unique set of skills to the business, ensuring they provide clients with the best experience possible.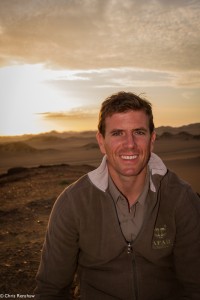 Chris Renshaw
Co-owner : Safari Architects
Chris's love for anything wild and adventurous came from a deep rooted attachment to the African continent. It all started from a mother who was brought up in Kenya, and a father who hitchhiked from London to Johannesburg. With that in mind, the consequent adventures and forays into the African bushveld made Chris fall in love with everything wild, natural and free. This inevitably lead to studying Zoology. After obtaining his Masters and all the relevant guiding qualifications, his lifelong dream of becoming a wildlife guide was realised. Many years of exploring, fun, and incredible safaris later, Chris met Bradley Thomet, his current business partner. A mutual love for wildlife, conservation and amazing luxury experiences brought about Safari Architects. Having both seen and experienced most of what luxury lodges can offer in Africa, they both had the ideal schooling in what luxury safari travel is all about. With the drive of fun and adventure, mixed with respect and knowledge of the African bush, added with a dash of charisma, Chris will take you on an African Safari that you will never forget.
Chris was recently awarded the Africa geographic Photographer of the year 2015 and has appeared on the discovery channel on a number wildlife documentaries.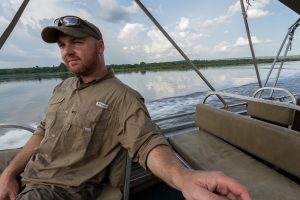 Mike Sutherland
Partner guide
Mike's journey in the bush began when he was very young. Travelling, like most young families to the Kruger National Park and other National Parks around South Africa, spending time with family and friends around the fire telling stories and learning of the beauty of nature we have right on our doorstep.
Fast forward a few years, after having completed a Post Graduate degree in Property Development and Quantity Surveying, he found himself at a crossroad between the pursuit of a Corporate career in a field he studied, or to explore the beauty of the wild, learn about this magical place we call "the bush" and having the privilege of showing guests this vast wilderness and go on an adventure with them.
Mike began his journey  as a Game ranger in 2009, since then he has worked around the country in game reserves in the Eastern Cape, Kwa-Zulu Natal and the Sabi Sands in Mpumalanga. He completed the renowned Inkwazi Ranger Training course at Phinda Private Game Reserve. He remained with &Beyond for 4 years, working at both Phinda Private Game Reserve (KZN) and Kwandwe Private Game Reserve (Eastern Cape) and spent time at Kirkmans Kamp (Sabi Sands). He was also fortunate to have spent 2 years working at Londolozi Private Game Reserve (Sabi Sands), where he began to specialise in photographic safari's and spent his free time blogging and assisting guests with their photography.
Having worked at over 15 exclusive Private lodges at reserves around South Africa and having travelled in Southern Africa, Mike has an intimate knowledge of luxury Safari experiences that create a holistic view of what this continent has to offer. An experience that is about family, laughter, exploration, learning and fun. Couple this with wildlife, photography and storytelling, and one can create not only a getaway, but an experience that has a lasting impression.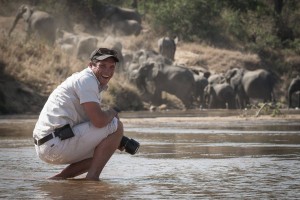 Richard De Gouveia
Partner guide
Richard started out his career as an environmental consultant, conducting environmental impact assessments for various companies. He had always been drawn to the bush and eventually, in 2009, decided to change direction and pursue a career in guiding.
He completed a 6 month live-in safari course with Bushwise and went to work at a lodge in the Kruger National Park for a year before moving on to Sabi Sabi Private Game Reserve for the next 5 years.
His passion for the bush extends way past just viewing the animals and is cemented in exploring the connection between the living and non-living elements of the bush. His favourite bushveld creature is without doubt the leopard, followed closely by the termite – which can only be understood after listening to Richards's in-depth explanation of both species.
His love of the bush is matched by his interest in photography and as a Nikon Ambassador, Richard really wants his guests to enjoy taking photos and tries to help them make the most of their camera equipment. It is his goal to have his guests leave with a deeper appreciation of all aspects of the bushveld, as well as with memorable photos of their time on safari.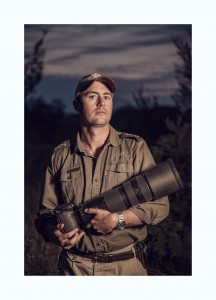 Brendan Cole
Partner guide
Brendan's love and passion for the bush began early on in life where many family holidays were spent visiting various National Parks around Southern Africa for weeks on end. Mostly the Kruger National Park.
After graduating with a Bachelor of Science degree, he found himself at a crossroad – continue studying or enter the corporate world? Neither of the two were chosen and the decision to pursue his ultimate passion and dream was made – a life of working and living in the bush.
This decision led him to the world-renowned Mala Mala Game Reserve where he completed his training and became a fully qualified Ranger. Over the next 4 years he guided and hosted many safaris and took great pleasure in sharing his knowledge on all that the African bush has to offer. A true passion for photography evolved, which opened a whole new experience for himself and his guests.
Understanding people, Brendan goes above and beyond to ensure a memorable and life changing safari experience is achieved.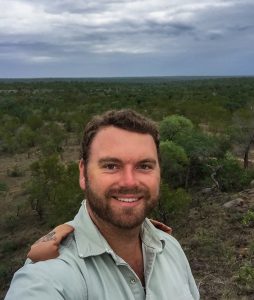 Mark Smith 
Partner guide
My parents and grandparents, who loved the bush, set the tone for my early childhood, and indeed my entire career. Many trips to the Kruger National Park, and walking in the majestic Matopos hills (Zimbabwe) with my grandfather tracking white rhino at age 10, instilled a deep love and understanding for the environment. Schooled in the suburbs of Johannesburg, and attaining BSc Honours in Environmental Science at the University of Cape Town, merely made me long for the bush even more.
I qualified as a guide from the renowned andBeyond Inkwazi Ranger Training based in Phinda Private Game Reserve in early 2008. The diversity of this beautiful reserve, with its myriad of habitats, unbeatable birdlife, and incredible mammal viewing, became my classroom, and base for the next almost 7 years. I worked at all 6 lodges within the reserve, and spent the last 3 years based at the exclusive sole use villa, The Homestead. I also worked for a short while in the Sabi Sands Game Reserve, at Exeter Private Lodges. Working for andBeyond allowed me to travel and experience our lodges in Namibia, Botswana, Tanzania, and India.
It was however at Phinda that my passion for photography, birding, and tracking animals on foot grew. I progressed to Head Ranger, and assisted with training of new rangers at the lodges.
Having left andBeyond and seeking new challenges, but still wanting to share my love for nature, I am extremely excited to have aligned myself with Safari Architects. I look forward to sharing my passion for this continent with you on your next safari.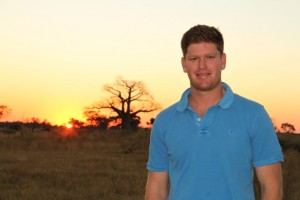 Alan Yeowart 
Partner guide and managing partner at Alan Yeowart safaris
Alan has been involved in the field guiding industry since 1996. For the last 9 years he has been with the world-acclaimed safari brand, Singita, where he headed up the group's Field Guide and Tracker Training and Development Program for all of Singita's properties. He is one of seven people to have attained the coveted Field Guides' Association of Southern Africa ("FGASA") Scout qualification (specialized knowledge and skills dealing with Dangerous Game & Senior Tracker) and is one of the most highly regarded trainers of field guides and trackers at present.
Alan is also an accomplished wildlife photographer, and has travelled extensively in Africa. His family owns a property in the Klaserie Private Nature Reserve, and his many holidays there engendered a love and respect for the bush.
Alan is married and lives in White River