Whereas our last post showcased the well-known beauty and photographic magic Mana Pools has to offer, through this blog I wanted to illustrate some of the lesser-explored and more secluded areas of this national park. What many don't know is that there are private concessions that run the whole length of the lower Zambezi River Valley. Great Plains Conservation has acquired the Sapi Concession, a truly wild tract of land that incorporates all elements of the breathtaking Zambezi valley. Our group embarked on what is known here as the Greater Mana Expedition, with a combination of three camps collectively hosting us on a six-night adventure through the concession. A festive group of close friends looking forward to doing some amazing exploring here together! In fact, due to my full-hearted enjoyment, I apologise for the lack of photographs. I truly hope what I did manage to capture, however, does these little-known areas of Mana Pools justice…
After boarding our Pilatus PC-12 and landing at the Chewore Airstrip, our adventure was well underway. We started at Acacia Camp before moving onto Sky Beds Camp and eventually ending off at River Camp. The expedition spanned six nights across these three incredible camps, all located in the Sapi concession. The ultimate goal was to visit and experience the lesser-known parts of this glorious National Park. There were no fences around us, meaning we had little limitation in what adventuring could be done. A combination of game drives, bush walks and sumptuous food stops were how we filled our days! Not to mention some lion tracking on foot which also got our blood pumping…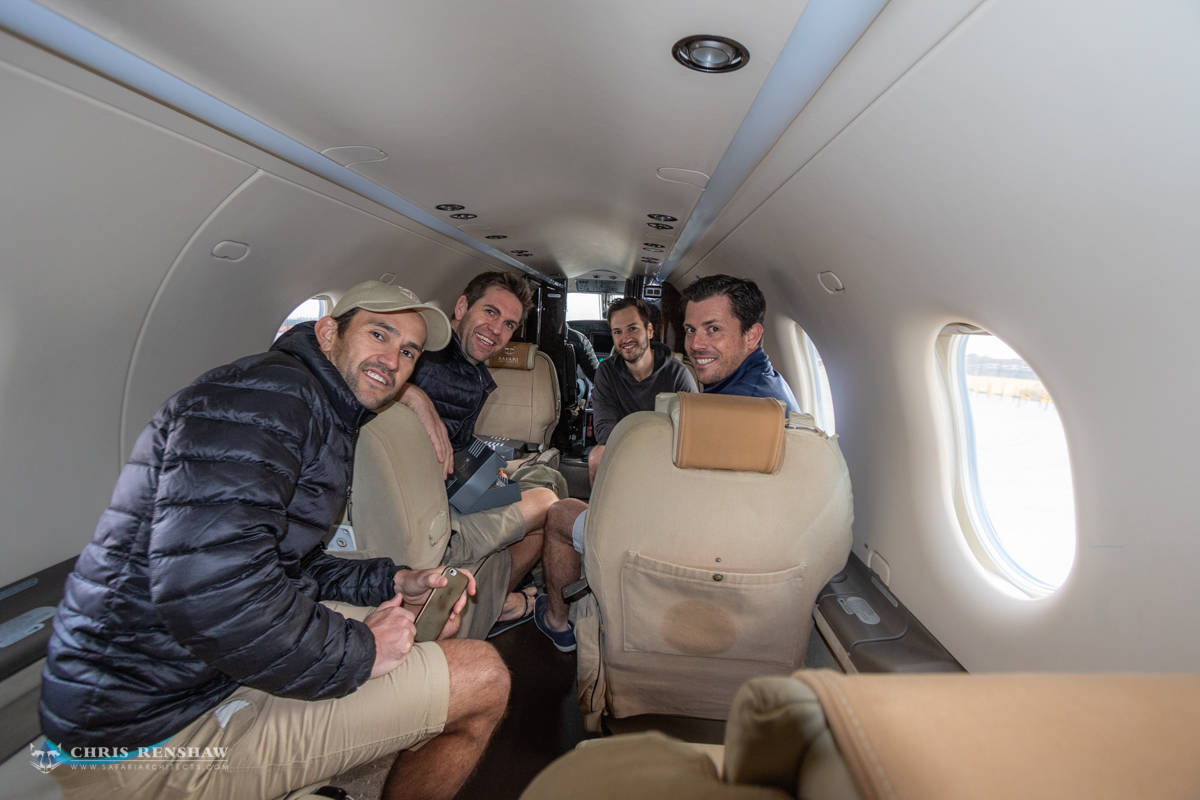 These scenes are typical of the floodplains that run the length of the Zambezi valley: the Mana elephants spend their time moving between the tree lines, the floodplains and the river to feed. These frequent movements of these resident giants make the perfect scene for on-foot game viewing, an activity Mana Pools is famous for. We explored, walked and marvelled at this beautiful and intense sliver of Africa, with the mighty Zambezi River always near by as constant companion.
On day three, we headed to our new camp, Sky Beds. This is in the drier interior portion of the concession, nestled in amongst some massive mahogany and African ebony trees. The concept is simple: you sleep on a raised deck under only a mosquito net, completely immersing yourself in true African wilderness. You will not need to leave the camp, however, we did some fantastic walks in the dry river bed, saw fantastic bird species and watched the natural watering hole below from the deck. This camp definitely had a truly spiritual feeling about it, all of us felt at one with the bush and completely rejuvenated when we departed. Oh, and let's not forget the pack of African wild dogs that we tracked on foot: they were relaxed but as the bush was thick we decided to keep our distance.
The last camp, River Camp, was my personal favourite. I am biased though… coming from an aquatic science background, I am an avid fisherman. Therefore, the thought of getting on a boat and spending time searching for monster tigerish was incredibly attractive! We also underestimated the amount of land animals we would see from the boats and close to camp itself! We were treated to a symphony every night – lions roaring, the rasping bark of a leopard, all reaching a crescendo with the high-pitched cackles of hyenas. The Zambezi valley was definitely alive and well!
Once out on the boats, the tiger-fishing competition commenced. Understandably after a few hours of no fish, spirits started to dwindle. Fortunately, however, the cooler box had some ice cold beverages waiting for us, so we quenched our thirst while waiting for the beasts to awaken and bite.
Eventually, our fish friends did get hungry, and once this happened amateurs became professionals and the "fish lust" had struck! We were also all intent on catching the biggest fish once we saw what lay in these waters. Well done to all who had luck landing and safely releasing some of these massive fish. In addition, I must say congratulations begrudgingly to Justin, who just happened to catch the biggest fish of the day!
Not many things can beat an African adventure with good friends whilst watching a golden sunset over the Zambezi River. Thank you Great Plains Conservation for the amazing experience and the vision you have so successfully implemented surrounding this special piece of Africa. It will thrive, and will continue to reward guests with life-changing experiences and unrivalled magic!
Regards,
Chris and The Safari Architects Team
Family safaris that are privately guided and chartered are what we do best and, we believe, the most fulfilling of all journeys. Every time I return from a trip like this, I get feelings of deep nostalgia, overwhelming joy and even a little sadness. Nostalgia, because it reminds me of the journeys I have done with  my own family and the memories we made together. Joy, because of the privileged position I am in to witness families take in the beauty of Africa and draw closer together from this life-changing experience. Lastly, sadness, as I have to say goodbye to people I have formed a bond with through experiences which undoubtedly bring individuals together. The Truwit family were no different! What a pleasure to share this journey with you in such beautiful places…
Cape Town was our first stop, and we certainly hit the ground running! A hike straight up Table Mountain boasted breathtaking views and some amazing photographic opportunites. The following few days we explored all that Cape Town had to offer us, from scootering down mountains and exploring Cape point, to getting eye-level with penguins and climbing Lion's Head, we certainly "adventured" the whole of the Cape. A highlight, however, was also seeing the other side of the spectrum: a trip to the Imizamo Yethu informal settlement proved extremely eye-opening, sharing many laughs and meeting some incredibly charming children, our hearts were full! Also, let's not forget "Jill's special friend" and the "poop shoe"… Our accommodation in Cape Town was world-class. Our villa at Ellerman House was nothing short of amazing, the cuisine was incredible and the people we met blew us away with their kindest and hospitality. All in all, Cape Town was unforgettable!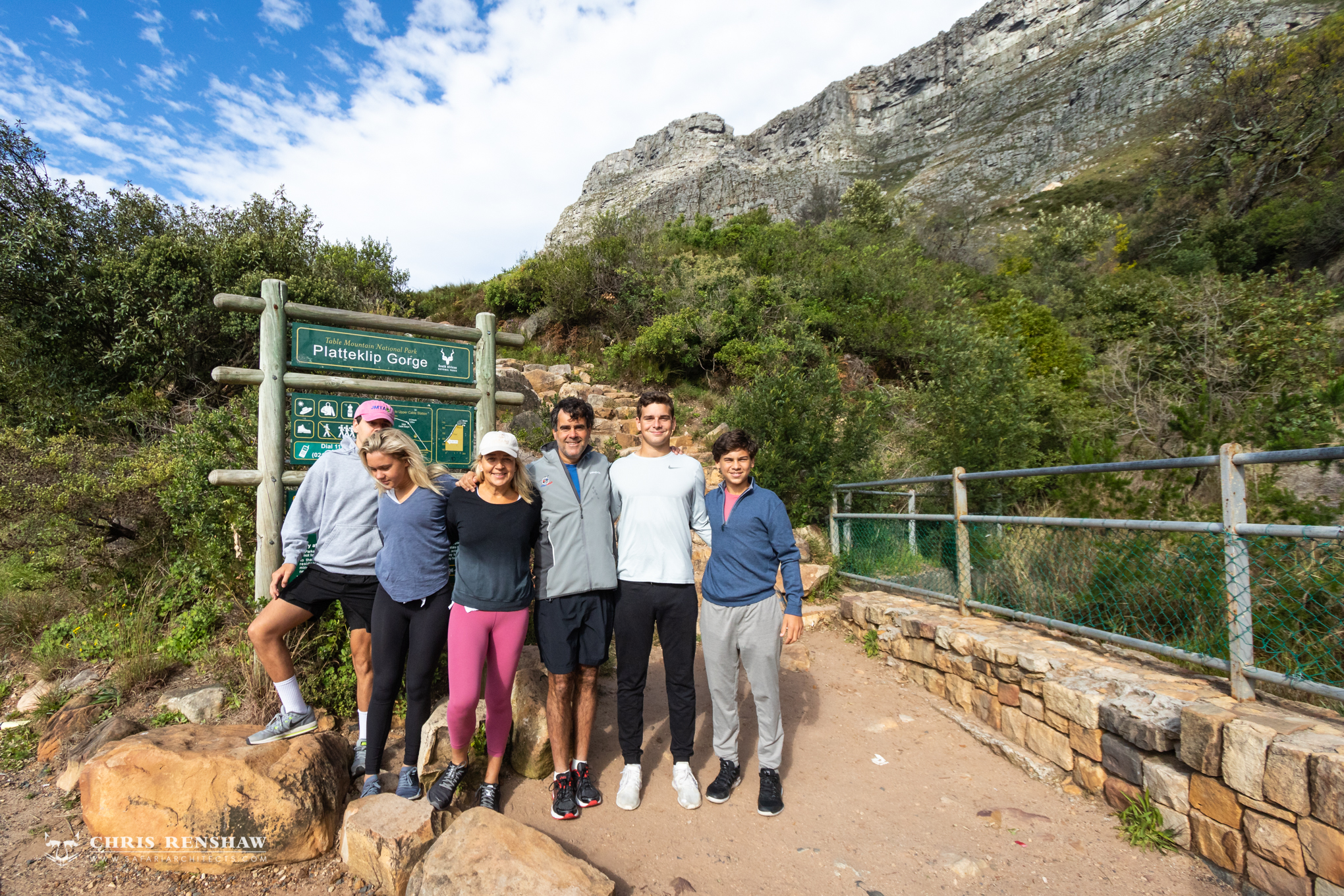 Namiba is vast, desolate and dry… but absolutely stunning at the same time! Dream-like landscapes are what make this ancient desert so beautiful; golden sunsets, magical sunrises and dunes that seem never-ending. Little Kulala was our home base and we spent the next few days maximising our time in this desert paradise. After landing and settling in, we set off on a drive in search of a perfect spot to watch the sunset (not hard to find in this magical place). A sundowner drink a top a mountain started things off for us, surrounded by a kaleidoscope of warm light and beauty! From up here, there was no doubt we were somewhere unworldy. A morning climb up "Big Daddy", the highest dune in the world, followed by a walk through the petrified trees of Deadvlei were must-do (and done) activities. Quad-biking in the afternoon light was also a highlight, and boy did the team own it! We finished our time here with a hot air balloon cruise through the skies, taking in the fire-red scenery below for the last time… Namibia, what a gem! 
The Okavango Delta is a pristine, wild place and is the biggest inland freshwater delta in the world. Crystal clear waters flow through a myriad of channels and nurture an abundance of wildlife. We were very spoilt and fortunate to be able to see a large amount of this wildlife and experience the many dimensions of this water desert. We were in awe when a large male leopard greeted us on the road from the airstrip, along with some giraffe, zebra and elephant – what a welcome! Once at our camp, Vumbura Plains, we settled in and marvelled at the setting which we would spend the next few days exploring. On our first drive we searched for lions, but without success. However, a troop of baboons proved to be the highlight as they played and entertained us with their clown-like antics. That night, lions kept us awake with their roars, almost inviting us to come and find them the next morning. Luckily, our patience was rewarded, and we saw them basking in the early morning light. Over the next couple of days, we also found their pride of females and cubs. Amazingly, they were visiting our aircraft on the runway!
A chopper ride is a must in order to understand the size and diversity of this watery paradise. From the sky, we marvelled at the lagoons and channels below, searching for crocodiles and hippos as we zipped through the air! Exploring the channels at ground level is also something one needs to experience. Both by motor boat and mokoro, we got an understanding of what life in this system is all about. We finished with a glorious sundowner drink stop with our feet in the ancient waters of the delta. Our visit to the Okavango was certainly nothing short of incredible!
The Sabi Sand game reserve, and specifically Singita Castleton, is a game-viewing mecca. The lodge itself is a sole-use homestead that has all the comforts of a luxury lodge whilst being completely private. As this was our last stop, we had a few animals that we still wanted to see. Rhino, wild dog and cheetah were the most sought-after, however, we got way more than we wished for. Not only did we see plenty of rhino, we had the rare opportunity to spend time at an African wild dog den site! We also found a mother leopard and her two cubs on a carcass, another male leopard, two male lions on a waterbuck kill and much more. Throw in a few extras like jogging in the bush, friendly tennis matches and a baking class (as well a breakfast on the cool sands of dry river bed) and you could say that life was pretty cool! The cuisine and wine pairings were fantastic, the setting breath-taking and the staff so warm and hospitable. We ended our stay with a boma dinner under the stars, traditional singing and dancing and a deep overall feeling of euphoria. What a special place to end our whirlwind safari!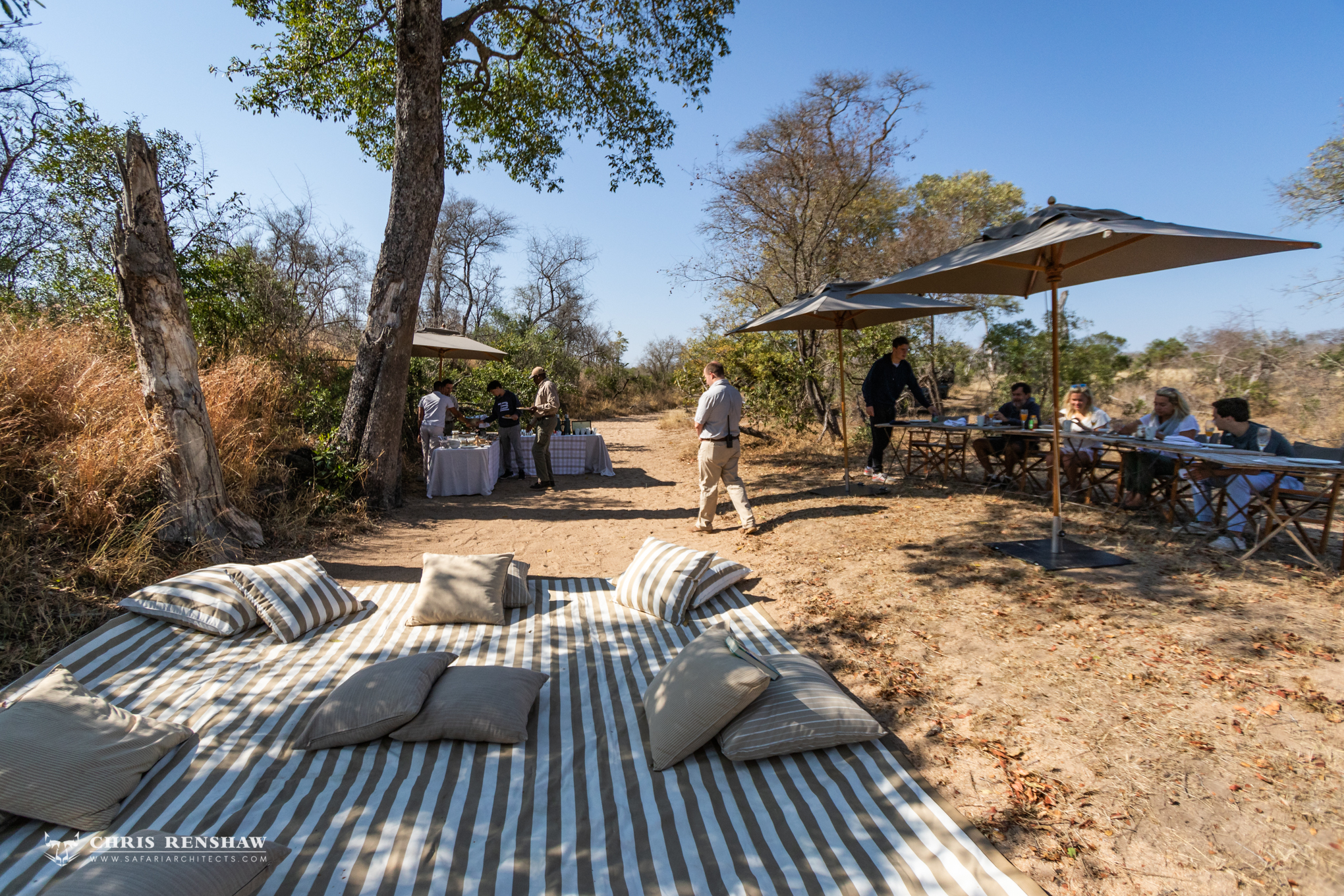 Farewell to a family that inspired everyone around them to have fun, get involved and just be happy. A truly wonderful family safari that left me, and undoubtedly them, with those amazing feelings I described at the start…
Thank you!
Regards,
Chris
Each year I try to make a pilgrimage to one of my favourite wilderness areas in Southern Africa, Mana Pools, in order to escape the world and reconnect with the wild. This year, I was lucky enough to be able to share this special place with the Rendell family. This African gem has been established as a favourite destination among avid travellers, and the Rendells were about to find out why!
As seasoned travellers to Africa, the Rendells were not short on excitement in getting to visit a new destination that had been high on their bucket list for years. For me personally, travelling with such informed and experienced guests also made this safari a stand-out one for me. They connected to Mana within moments of touching down on the runway and revelled in every experience, including plentiful game drives saturated with majestic wildlife.
Our camp was situated in the western part of the park, overlooking a stunning view of the Zambezi River and the glorious escarpment. With the sounds of hippo echoing through the forest, elephants wandering through camp all day and the excitement of being on foot with all of these marvels, we knew we were in for a life-changing week together.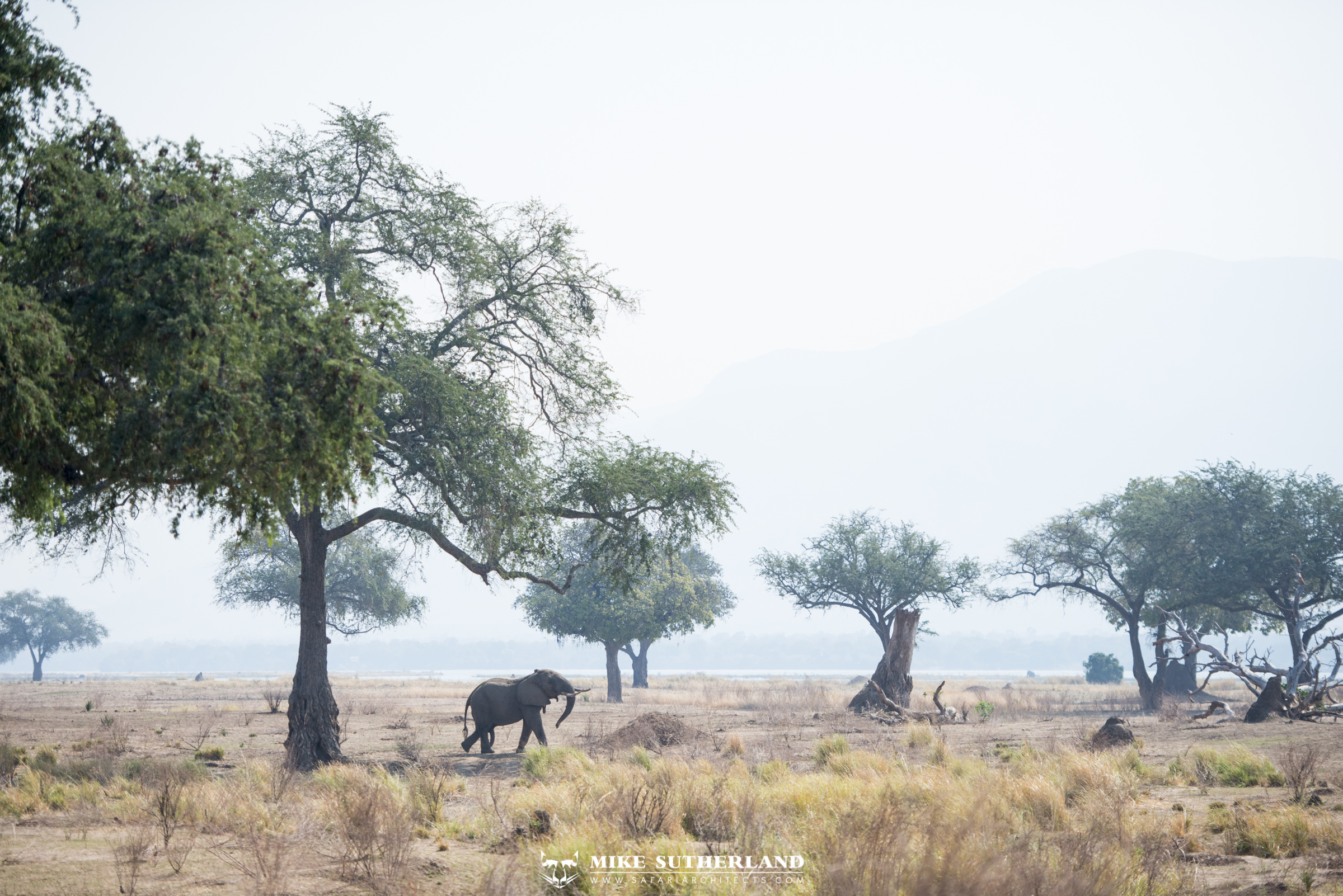 One of our very first encounters was with one of Mana's most well-known elephant bulls, Boswell. He has built up a reputation for climbing onto his two back feet and reaching up to the branches and pods of Albida trees. This technique is now being learnt by other young elephants in the park and is an act that has become very unique to this area. With that being said, not everyone has the opportunity to see this display with the naked eye! Therefore, when we were treated to some of these acrobatics on our first morning, we knew things could only get better!
A bull like Boswell has spent the last few decades in the presence of humans on foot and, as most are positive encounters (reinforcing a safe environment), he is unbothered by an audience. With this knowledge, spending hours with Boswell on foot and watching him go about his day feeling totally unthreatened and safe, is one of Mana's great gifts to its visitors.
Over the course of the week we had multiple encounters with these large elephant bulls and, more often than not, they were very close to camp. During the dry season, the vegetation begins to wither and die and the wildlife has to adapt to make it through this difficult time. Not only this, but it seems as if nature has a plan to assist in any way possible as there always seems to be something new on the menu.
In mid-August, during our time of travel, the Sausage Trees (Kigelia African)  were in full bloom and we began to notice that they were shedding their leaves and flowers. This made for endless fun as one of the large Kigelia tress in camp became a buffet for large bulls and elephant herds alike! They would quietly enter the camp, stroll toward the tree (which was right in front of one of the rooms) feed on the fallen leaves and flowers and then make their way down to the river for a drink to cool off in the heat of the day.
At Mana Pools, guests are exposed to so much that is out of the norm at many other safari destinations. Being on foot with wild animals generally being the most memorable, however another unique experience is to hop aboard a canoe and float down the Zambezi River. Being on one of Africas great rivers is an experience in itself, with hippo lining the river banks and elephants feeding on distant islands (occasionally even swimming across the channels back to the mainland) What a treat!
Our next encounter was unexpected yet breathtaking. As we rounded a small island we saw Boswell, the biggest bull in Mana, once again. However, this time he was MUCH closer that we had seen him before! He had been out feeing on an island and began to make his way back to the mainland, crossing a shallow section right in front of our canoes. It was a moment engraved in our minds and memory forever!
Walking in Mana is a well-documented affair and we decided to take full advantage of this favourite past time.  Over the course of seven days we spent over twenty hours on foot in Mana, even tracking lions for roughly 30km in total! Crossing the now dry flood plains from forest to forest, walking the length of Long Pool, birding and looking for unique opportunities to photograph wildlife, were all part of our magical journey through the "blue forest".
There is a something about this place that is so singular in its offering, so unlike anything else, that it will without question continue to welcome many visitors each year to experience its beauty. Mana Pools is a sacred place and an example of how the natural world should be embraced. As long as it is respected and treated with gratitude, with the priority being the wildlife and not the photograph, Mana will continue to win the hearts of every traveller who enters its land.
A huge thank you to the Rendell family for putting their trust in Safari Architects to deliver an unforgettable and magical experience. We look forward to hosting them again next year on another exciting adventure to see gorillas and chimpanzees in Uganda!
Written and photographed by: Mike Sutherland
Copyright © Dandelion by Pexeto