East Africa – the original safari destination pioneered by adventurers and infamous international explorers worldwide. Vast open spaces with rolling grasslands interspersed with great lakes and volcanic mountains and added to this, the millions of wildlife that call this place home. A true eden on this beautiful planet. We have mostly managed to protect this space from a modern and expanding world with magnificent lodges that keep the sustainable ecotourism model rolling. Chris went on adventure with a group of likeminded safari driven people, to explore its wonders
I began this East African Journey on my own initially in Nairobi, Kenya's Capital at one of the most unique hotels in the world – The Safari Collections Giraffe manor. To have high tea with a giraffe sniffing your scone and nudging you for a head rub (which is much larger up close) is something quite rare to experience! They are actually after the pellets the lodge provides for you to feed them, which they take rather appreciatively, long tongue and all. If you are lucky you will even get a sneaky giraffe kiss…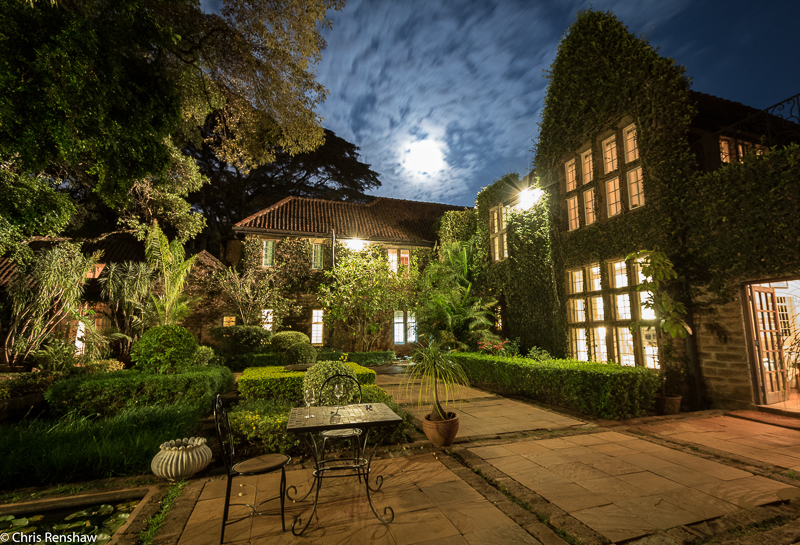 Next up was the Safari Collections Sala's camp in the southern most section of the Masai Mara National park. This is one of the most remote areas of the Mara and allows unrivalled and mostly private viewing of animals, which in the high season is something really worthwhile. The camp is on the Sand River, and the Serengeti can be seen on its southern bank. It really is a truly beautiful location, with amazing wildlife all around. This makes Sala's a must on any Kenyan itinerary.
Angama Mara, perched on the escarpment overlooking the Masai Mara below, has to have one the best lodge locations I have ever seen. The views of the expansive grassland and savanna below are simply breathtaking! Every morning at Sunrise this was accentuated with the beautiful golden rays of first light. This is where I met up with the rest of my team, the Africa Megafam Group, on a journey to see what East Africa has to offer. Well, who knew that this was to be the beginning of a fantastic and phenomenal experience with a group of soon-to-be-friends, having the time of our lives!
Introductions made and a brief outline of the trip done, we decided to take in the lodge and its surroundings. Nicky Fitzgerald, the owner of the lodge, graciously and enthusiastically showed us around. Nicky's experience working at African lodges definitely shone through. We were all blown away by the detail – small little clever additions, as well as the staff lodgings and the back of house projects that make lodge-life better for the all the people who work there. Oh, and the guest rooms are world class.
Tanzania was the next leg of our journey. We headed not far south of the Tanzanian border to the location where Legendary Expeditions mobile camp is setup. This camp follows the migration and we were lucky that some of the herds were still around before moving South for the rains.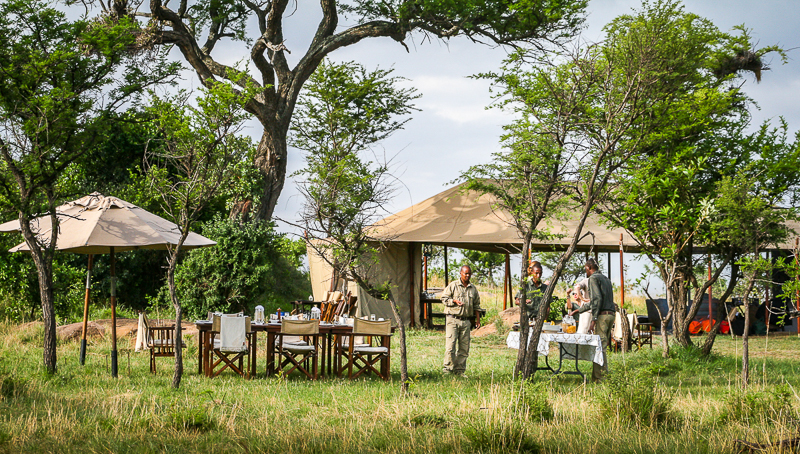 A 100% mobile camp that follows the migration, leaving no footprint, and placed in unique locations within the Serengeti. Image copyright Chris Renshaw.
Our team then proceeded onto Legendary Expeditions private concession on the South west of the Serengeti. Mwiba lodge was our glamorous and luxurious home for the next few nights. This unique lodge is located in an area that still homes many varying old African cultural communities who co-exist to work together with the lodges in protecting these areas and creating sustainable environments. Not only is a fantastic wildlife area, but the cultural experience was without doubt one of the highlights of the whole trip. A little cherry on top was a bush dinner and a festive night spent around a fire with great friends, followed by a bush sleep out on a granite dome, surrounded by the sounds of Africa under a canvas of stars above.
The two tribes that we were to interact with were known as the Hadzabe and the Datoga. The Hadzabe are hunter gatherers, whereas the Datoga are cattle farmers and pastoralists. Both tribes are very old and unique in their own way.
The Ngorongoro Conservation area was the next leg of the adventure, and Gibbs Farm was to be our lodging. A rather charismatic working farm, it proved to be delightful and a favourite among many in our group. A great place to unwind in the middle of a safari itinerary, with many activities to immerse ourself in. It is close enough to the Ngorongoro crater to do a day visit or a day hike to the crater rim, as well as hike to a cave created by elephants who gouged its walls for salts and nutrients. We decided on array of activities, as well as entering the Crater.
Little Chem Chem and Chem Chem lodge were the last of our safari stops on this magical trip. The owners, Fabia and Nicolai, have created something really special at their establishments. They have managed to turn a high-end ecotourism model into a vital cog in the conservation and linking of ecosystems in the area. Tarangire National Park and the Lake Manyara National park were separated by a main road and cattle grazing communities. There was historically a corridor linking these systems that broke down, but through concerted effort involving the community, these lodges have managed to restore it. Animals are now moving between these areas again and let's hope that it is kept open and this conduit for animal's movements can be maintained. The two lodges they have created in these concessions are as impressive as the conservation efforts they are driving. An amazing time was had by all, including memorable walks, sunsets and community interactions.
How do you return from such an amazing and life changing experience and get back to the reality of modern day living? I think the best way to do it is to reflect on the perceived quality of the life we have, compare it to all the cultures, experiences and wild places that you have seen, and then try remember that everything is relative and you must maximise every experience and try be a better, more humbled and grounded individual."
Thank you to all involved, Classic Portfolio, and the all the amazing suppliers mentioned above for a very successful and magical trip. To my fellow badgers, you guys rock! Here's to future moments when a memory pops up of a this great adventure, and a wry smile consequently crosses your face.
– Chris Renshaw
To arrive at a place, walk in the door and be at a loss for words, is not something one experiences many times in life. I had a moment like this recently on a team getaway to The Outpost Lodge in the Northern reaches of the Kruger National Park. Walking into my room at the lodge, a contemporary, wide open space with the most incredible view, made me hold my breath. And just for a second, it felt like I was flying – something I won't forget for a while.
The lodge, designed in a simplistic fashion, using clean lines, concrete and steel; lends itself to being at one with its surrounds. And it was this setting that we, at Safari Architects were privileged enough to have our annual team-build and strategy session. Just prior, Safari Architects had planned a beautiful, intimate wedding at The Outpost, which lasted 3 nights and 4 days. The couple were wed under a quiet, unassuming Pod-Mahogany. The celebration that pursued was nothing short of spectacular.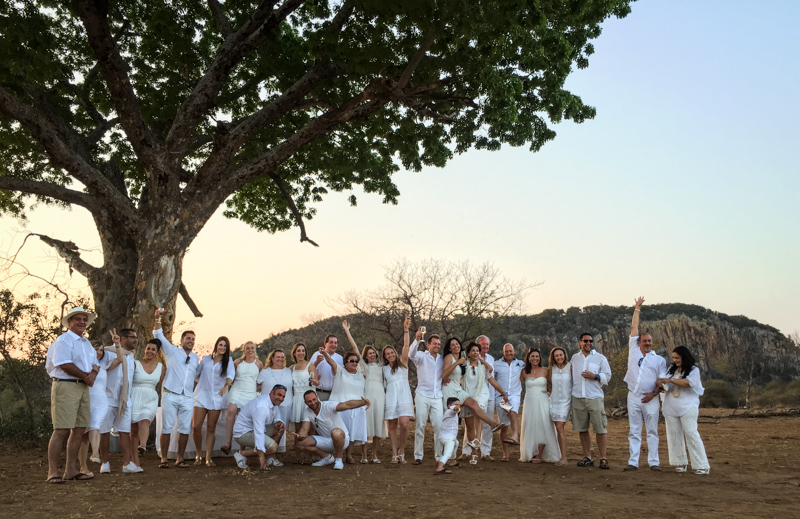 After spending months planning the festivities and several other safaris', we thought it would be a great idea to host our annual team building at this wonderful lodge to regroup, strategize and plan many more incredible holidays for our clients going forward. An amazing place to let nature's wonders be a catalyst to creativity and productivity.
The Makuleke Contractual Concession, also known as the Pafuri Triangle, is arguably one of the last true wilderness areas left in South Africa. Nestled in the northern most reaches of the Kruger National Park, bordered to the north by the Limpopo River in Zimbabwe; and to the east, Crookes Corner in Mozambique. It falls in the "triangle" between the Limpopo and Luvuvhu Rivers which offer a distinct and diverse ecological experience.
One of our goals for this particular trip, was to spend as much time on foot as we could. We focused our first afternoon drive on exploring the well-known and documented Fever Tree (Vachellia Xanthophloea) Forest on the banks of the Luvuvhu River. This forest is in fact, a very young forest and is the result of a large cyclone that moved through the area creating the perfect environment for the forest to germinate. It only dates back to the 1930's, but it's the most enchanting place.  The afternoon light, slowly moves through this yellowish-green forest, picking up signs of large herds of elephants, buffalo and even lions from a few nights before. With binoculars and cameras in hand, we took in this world around us. We encountered elephants on foot and were fortunate enough to see Bohm's Spinetails flying above us in a small clearing. We walked in silence as we observed all that was around us, but our excitement was difficult to contain.
After a day of travelling and an afternoon in the Fever Tree Forest, we welcomed a cool face towel and drink at the lodge, followed by a delicious meal and a good rest.
The Pafuri, now known as the Makuleke Contractual Concession, was home to the Makuleke people for roughly 140 years prior to their forced removal under the Apartheid policies of South Africa's former government. This then changed in the 1990's, and a successful land claim was awarded. One condition to this was that the land should be put under eco-tourism and managed by the Kruger National Park. The Outpost Lodge was awarded a 30-year concession by the local community, who now completely benefit from this project, through employment, education and financial gains from lodge profits. There is also an agreement in place, that once the concession period ends, the local community can take over the management of the concession it and its lodges; by then having the necessary skills to effectively run and operate them well into the future. This is a success story that we are starting to see all over the country and throughout Southern Africa.
Focusing back on the wildlife and the walking, we set our sights on exploring a lesser known gem, situated on the banks of the Limpopo River. Our guide Garry, explained his obsession with the Jackal-Berry (Diospyros mespiliformis) Forest and urged us to take a trip there. After 4-5 hours of walking through the flood plains of the Limpopo River, birding along the way, we reached our destination where we shared some great stories about our own time spent in the bush. We spoke of old experiences, and shared knowledge of where, what and how. There was a certain mystical feeling standing in the presence of the enormous Jackal-Berry trees, unscathed or damaged by any large mammal. It almost felt "cathedral-like".
From traversing Fever Tree Forests to Jackal-Berry Cathedrals; walking the banks of the Limpopo and Luvuvhu rivers and appreciating the quiet gorges; the time spent immersed in the wilderness, is what we were after. We enjoyed some time exploring the fringes of the Luvuvhu River by vehicle too, in search any great photographic opportunities by day and perhaps spotting the elusive Pel's Fishing Owl at night. Unfortunately, we were not lucky enough to come across the owl, but we were presented with one of our most exciting photographic opportunities of the trip. Unlike what we would have expected, a fairly relaxed elephant bull, feeding in front of us on the road, created a scene that led to some of the most moving images we've captured this year.
A giant dwarfed by a forest of light and colour. Shades of greens, browns and oranges gave the scene depth. Framed by falling vines, branches and leaves.
A visit to this part of Kruger National Park, would not be complete without experiencing the unique landscape of Lanner Gorge. An 11km long abyss created by years of the Luvuvhu River flooding. Water forging its way through sandstone and shales created this natural phenomenon. It is a relatively young gorge in geological terms, being less than 2 million years old. It is also rumored to be the final resting place of criminals and enemies of a local chief, who, allegedly threw people off the highest cliff to their death.
We visited this beautiful place to enjoy our last sunset of the trip. We sat and spoke about the history of the area, the diversity of the terrain and the magic it holds. We even enjoyed a gin and tonic with a relatively shy Eastern Rock Elephant Shrew, who took our attention away from the view for a few brief moments.
We welcomed the setting sun to round off this magical trip, tapped our glasses together and saluted the future of Safari Architects.
Written by: Mike Sutherland
Photographed by: Chris Renshaw, Mike Sutherland and Brad Thomet
A luxury hosted flying safari is the ultimate way to explore Africa. Think about it – what is the most precious commodity whilst travelling? Time. So with your own Pilatus PC-12 NG aircraft, this limiting factor is no more. You can be on a morning game drive in the Sabi Sands in South Africa, watching the magnificent Victoria Falls in Zimbabwe for lunch time and sipping on a gin and tonic in the Okavango Delta in Botswana whilst soaking in a breath-taking sunset, all in the same day. Add to this the most luxurious camps in Africa, with a guide that can facilitate all your needs, and you have a recipe for a life changing experience. Here are the highlights from our last such safari: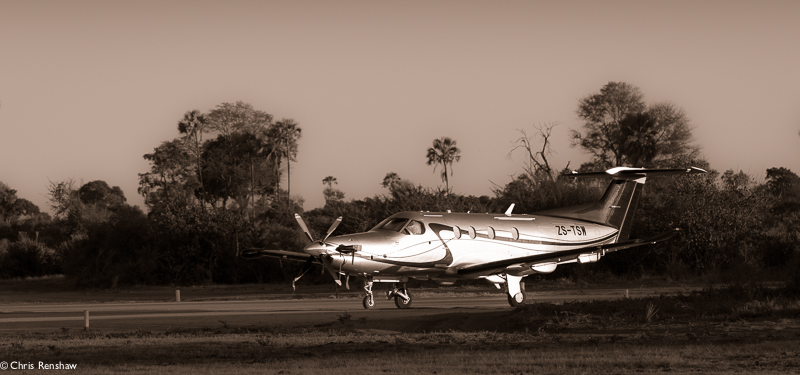 After collecting our guests straight off their International flight, we boarded our Pilatus PC-12 NG aircraft and were on our way. Flying into the Okavango Delta is an amazing experience. No matter how many times you do it, you are in awe of the sheer size of this magical place. The myriad of waterways, islands, channels and the lush green bush below draws you into the soul of the place and entices you to explore the mysteries that lay within it.
Little Tubu tree lodge on Hunda island, was to be our first stop. We had sole use of the camp, so our plans and movements were entirely up to us. Nestled between the waters of the flooded delta, this area is famous for its tree resting leopards. We were eagerly hoping to find some of these amongst the many other special species when exploring the region.
Our next destination in the Okavango Delta was the remarkable and truly beautiful  Abu camp. Abu Camp offers something extra magical to guests which comes in the giant grey form… I'm talking about elephants. The Abu story is one of hope and dedication. Elephants that have been rescued now live their life in one of the most elephant friendly habitats on earth. Although hand reared, this unique herd still gets the opportunity to live like wild elephants. They roam the Okavango Delta by day with their handlers and Kathy, their leader and matriarch and oldest elephant. Guests can walk with them in the mornings or afternoons, and then they return to their safe enclosures at night. Free to leave if they please, these elephants have been given a second chance in life, as close to the natural one as possible. We had the opportunity of experiencing this with these amazing creatures and were blown away.
Another fantastic way to explore the Okavango Delta, is by helicopter. We had two at our disposal with which we zig-zagged the myriad of channels and islands. We were even lucky enough to see two black rhinoceros form the air. These animals have been reintroduced to Botswana by a number of projects, one being the "Rhinos without borders" initiative.
After landing on an island and having some lunch under the shade of a giant Jackalberry tree, we went on a game drive looking for wild dogs and lions. We then finished off riding through the channels of the Delta by motor boat, with the wind on our faces, reflecting on a magical day.
Jumping back into our aircraft, Singita Ebony lodge in the Sabi Sands Game Reserve which was to be our next destination. This Reserve is internationally renowned for having some of the best predator viewing in the world, and Singita Ebony Lodge has been in top 10 best hotels globally for many years. It really offers a magnificent setting to spend the last three days of a safari. Complete luxury, surrounded by wildest Africa. As always the wildlife viewing was amazing, the cuisine delectable and the overall experience sensational.
After our last breakfast, we prepared for the trip back to Johannesburg so our guests could connect to their International flights. It's always tough to describe the feeling you get when you part ways with safari companions that you have experienced so much with. You become mutual admirers of this wonderful continent, shared in its beauty and splendour, and in doing so, take with you joint memories that you will forever treasure. 
Until next time…
Chris
Copyright © Dandelion by Pexeto